Here Are The World's 50 Best Bars. Dead Rabbit And 13 Others From The U.S. Made The Cut.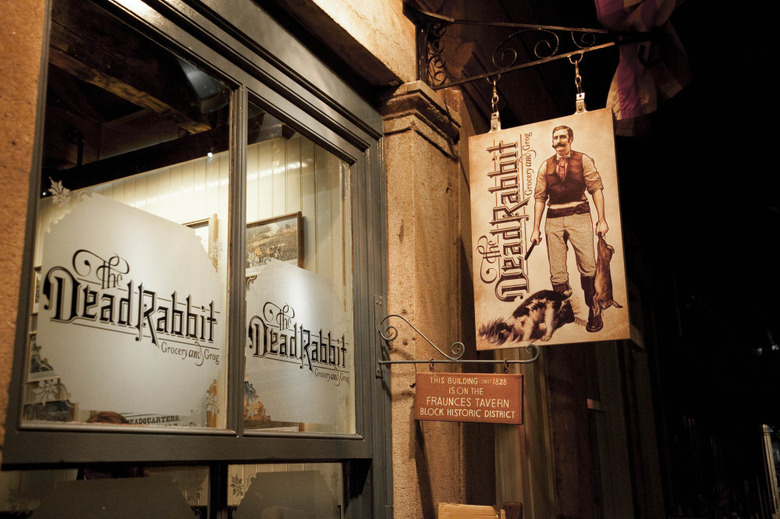 Drinks International just announced the winners of the World's 50 Best Bar Awards. New York City has officially been christened the cocktail capital of the world, with the Financial District's Dead Rabbit Grocery & Grog claiming the top overall prize and three other city venues rounding out the top ten. Despite being dethroned from the top spot for the first time in a half-decade, London retains five of the world's top ten bars. Other takeaways from this year's list: America's booming cocktail culture continues to thrive, as 14 bars from around the U.S. are included. San Francisco placed three bars total, solidifying it as a drinking destination city.
The World's 50 Best Bars 2016 provides a definitive list of the world's best drinking venues, voted for by those in the know. The final list is compiled by votes from an academy of over 476 of the most renowned names in the drinks industry. Here it is, in its entirety.
Related: How Gritty NYC History Inspired Acclaimed Modern Cocktail Den The Dead Rabbit
The World's 50 Best Bars
1. The Dead Rabbit Grocery & Grog, New York
2. American Bar, London
3. Dandelyan, London
4. Connaught Bar, London
5. Attaboy, New York
6. The Gibson, London
7. Employees Only, New York
8. Nomad Bar, New York
9. The Clumsies, Athens
10. Happiness Forgets, London
11. Manhattan, Singapore
12. The Baxter Inn, Sydney
13. Licoreria Limantour, Mexico City
14. 28 Hongkong Street, Singapore
15. Speak Low, Shanghai
16. The Broken Shaker, Miami
17. Candelaria, Paris
18. Tales & Spirits, Amsterdam
19. Nightjar, London
20. Maison Premiere, New York
21. Operation Dagger, Singapore
22. Black Pearl, Melbourne
23. High Five, Tokyo
24. Little Red Door, Paris
25. Linje Tio, Stockholm
26. Central Station, Beirut
27. Lobster Bar, Hong Kong
28. Mace, New York
29. Smuggler's Cove, San Francisco
30. Bar Termini, London
31. La Factoria, Old San Juan
32. Oriole, London
33. The Jerry Thomas Project, Rome
34. Dante, New York
35. Trick Dog, San Francisco
36. ABV, San Francisco
37. The Walker Inn, Los Angeles
38. Nottingham Forest, Milan
39. Aviary, Chicago
40. Baba au Rum, Athens
41. Quinary, Hong Kong
42. Himkok, Oslo
43. Lost + Found, Nicosia
44. Ruby, Copenhagen
45. PDT, New York
46. Bulletin Place, Sydney
47. Bramble, Edinburgh
48. Callooh Callay, London
49. Floreria Atlantico, Buenos Aires
50. Buck & Breck, Berlin