"Pass the table wine!" said no one at dinner, ever.
And yet the phrase "table wine" shows up again and again in different countries, in every imaginable language, with a definition that seems to be constantly shifting. For some winemakers, the expression has been used as a literal descriptor; for others, a mere figure of speech. In some regions it seems to be utilized as an official means of labeling wine — in others, as a lingering piece of archaic slang.
At the most basic level, table wine is any wine intended for consumption during a meal. But it can be broken down more specifically according to the origin and context of its use. Allow us to unravel the mystery question by question, with the help of some highly reputable wine experts along the way.
What does table wine mean in the U.S.?
In the U.S., table wine can really be any nonsparkling, unfortified, dry wine of 14 percent ABV or less. More simply put, it's an inexpensive easy-drinker that will get the job done during a meal.
Well, that was easy. The European definition can't be any more complicated…can it?
You'd better believe it. See, in Europe, "table wine" originally referred to a legal category of wines that met minimal production restrictions. According to EU guidelines, all European wine was either "Table Wine" or "Quality Wines Produced in Specified Regions" (a.k.a. "QWpsr"). These latter wines were products with protected geographical indications, meaning that the areas in which they were grown and the methods by which they were produced were highly regulated (and therefore, theoretically, of higher quality).
Within these guidelines, each country had its own way of classifying wine. For example, in 1935, France established a system with four categories:
Vin de Table ("Table Wine"): Any wine made anywhere in France.
Vin de Pays ("Country Wine"): The first level of QWpsr wine, from a wide region.
VDQS (Vin Delimité de Qualité Supérieure): Higher-quality wines from a wide region.
AOC (Vin d'Appellation d'Origine Contrôlée): Wines of a specific origin and highest quality.
However, in 2011, the EU replaced QWpsr with two new categories — PGI (Protected Geographical Indication), and PDO (Protected Designation of Origin). In France's case, this now means three new categories for wine:
Vin de France ("French wine"): Replacing Vin de Table.
IGP (Indication Geographique Protégée): France's new PGI, replacing Vin de Pays and VDQS.
AOP (Appellation d'Origine Protégée): France's new PDO, replacing AOC.
With this new system, France avoids the negative, low-quality connotation "Vin de Table" has come to carry and averts confusion with the American use of the phrase "table wine."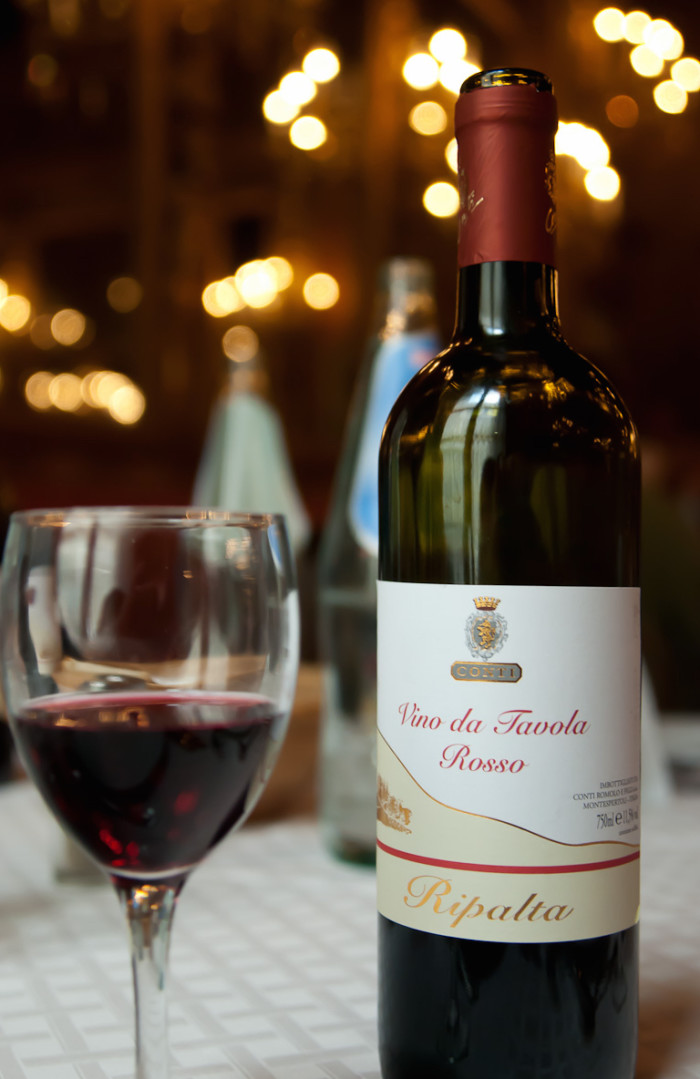 Then why do I still hear the term used to describe some European wines?
While "table wine" has been eliminated officially, many winemakers have resisted dropping it. Italian winemakers, for example, are weakly attempting to rebrand "vino da tavola" simply as "vino," while many in other countries choose to ignore the EU's dictates altogether, as is the case in Spain ("vino de mesa"), Portugal ("vinho de mesa"), and Germany ("tafelwein"). And of course, quite a bit of older wine with labels carrying the previous categorization is still floating around out there. (As it turns out, wine ages well.)
So is any table wine outside of PGI or PDO inherently of the lowest quality?
Definitely not. For a wine to be part of an appellation, a winemaker needs to follow a strict set of growing and production requirements. "It's a lot of red tape to get through," explains Paula de Pano, beverage director at Fearrington House Restaurant in North Carolina. "Some winemakers don't really care about the label — they just want to make wine." Steve Greer, wine advisor for online retailer Stem + Vine, adds, "Winemakers might want to use grapes not authorized, use different production methods or believe the designation has a bad image with consumers." So they settle for a "Table Wine" label, trading off a PGI or PDO designation for more flexibility.
But is table wine always cheap?
In the U.S., table wine is generally characterized by affordability, but this is not the case in Europe. For example, Richard Leroy's fantastic Chenin Les Noëls de Montbenault from the Loire Valley fetches around $45, despite a Vin de France stamp on the label. Sometimes, such declassified wine eventually earns an appellation statement when regulations are updated. As Steve Greer recalls, "The greatest example is Sassicaia from Tenuta San Guido. The winery had planted Cabernet Sauvignon on its estate in Bolgheri. When they released the 1968 vintage, there was no DOC allowing Cabernet Sauvignon to be bottled, so they used the vino da tavola designation." Today, it's a DOC-class wine that sells for around $170 a bottle.
So what should I look for in choosing a table wine?
"A wine lacking a specified origin could just as easily be a gutsy wine, made by a pioneering producer with access to the best grapes from an otherwise unheralded zone," admits Andrew Harwood, owner of educational outpost NYC Wine Company. "The key is knowing which producers to look for, like Cline and Orin Swift in California, both of whom blend grapes from all over the state to craft wines with as much character and vitality as any from Napa or Sonoma. Likewise, Michel Gassier, Les Vins de Viennes and Château Pesquié in France all craft beautiful juice, on par with many AOC wines, if not better."
But if you have no knowledge of producers, Greer suggests seeking out a salesperson at a trustworthy wine shop that you can visit and talk with in order to find "hidden gems" that only a wine professional would know about. "Usually these wines will also come with a story that you can tell again when sharing the wine," he says.
And if all else fails, price can be of some indication of quality. For example, it's more likely that a $20 bottle of wine will be better than a $10 bottle. Is it possible that the $10 bottle will be better than the $20 bottle? Sure. But less likely. Price is just one more tool in your shopping toolbox.
I think I've got it now. But do you have any suggestions for great table wine?
In fact, I have seven:
Piedmont, Italy – $14
Greer recommends this affordable, easy-drinking red wine from Paolo Scavino, a top Barolo producer. Scavino uses the "vino da tavola" designation to declassify fruit, blending Barbera, Dolcetto and Nebbiolo grapes from the same vineyards he uses for his higher-end PDO bottlings.
Domaine Romaneaux-Destezet Syrah
Rhône Valley, France – $30
"Hervé Souhaut of Romaneaux-Destezet produces top-quality wines from Syrah, Gamay, Roussanne and Viognier vines that range between 50 and 100 years old using organic and biodynamic methods," says Paula de Pano. "His straight Syrah bottling is one of the highly sought-after wines that I've come across…despite it being simply labeled as Vin de France."
Jamieson Ranch Vineyards Whiplash
California, U.S. – $16
In the U.S., "table wine" isn't used nearly as often on labels as terms such as "red wine" or "white blend." Whiplash is such a no-nonsense "red wine," which is as versatile as it is flavorful. A blend heavy on Petite Syrah and rounded out with Cabernet Franc, Barbera, Syrah and Merlot, it has just the right balance of dark fruit, spice and tannins to work with a wide variety of dishes. 
California, U.S. – $15
Another prime example of American table wine, this white blend brings together Chardonnay, Sauvignon Blanc, Riesling, Semillon and Pinot Grigio grapes in one bottle, for a refreshing beverage ideal for outdoor dining or a light lunch. And for cooler days or heartier meals, the Napa winery also makes an equally tasty red table wine, appropriately called Rosso Di Ca' Momi.
Denavolo, Dinavolino Vino Bianco
Emilia Romagna, Italy – $21
Lorenzo Baricca, wine director and partner at Tarallucci e Vino, recommends this challenging natural wine from his own home region. "It's an unfiltered wine with floral notes and impeccable acidity and minerality," he explains of the blend of Malvasia di Candia Aromatica, Marsanne, Ortugo and an unidentified local variety. "The grapes are macerated with their skins on for 7 to 10 weeks, which gives the wine a light orange color."
Saget La Perrière La Petite Perrière Sauvignon Blanc
Loire Valley, France – $13
Loire winemakers Phillipe Reculet and Laurent Saget team up to produce this mild Sauvignon Blanc that presents elegant aromas of white flowers and green herbs with just a hint of minerality. In the mouth, flavors include fresh peach, grapefruit and apple flavors for a winning summer sipper that can be bought for a more-than-reasonable price. 
Château Pesquié Terrasses Blanc
Rhône Valley, France – $13
The Rhône seems to be an area with no shortage of value, and this wine is certainly no exception to the trend. "With notes of flowers and honey, mineral and spice, it's like the first warm day in spring — in a bottle," says Andrew Harwood of this Vin de France from the Ventoux appellation of the region. "It's silky; it's smooth; it never disappoints."