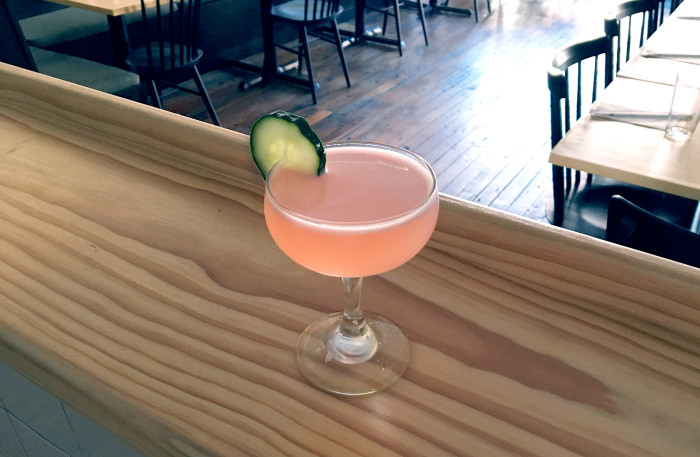 When it comes to cocktails, seasoning can take on many shapes and forms. Bitters have maintained a stronghold in this role, with dozens of intense flavors now available, from chocolate to habanero to classics like Angostura and Peychaud's. For tiki cocktails, another modifier that serves this purpose is a sweet, spiced syrup from Barbados called falernum. Just as France gave us the now highly popular elderflower liqueur (best known as St. Germain), Barbados has given us falernum. It brings together a sweet blend of lime, ginger, almond, clove and other spices, including (sometimes) vanilla.
Falernum essentially accentuates the flavors in any cocktail, though it hardly ever makes its way onto a menu today outside of a tiki drink. At the Taiwanese-American "soul food" restaurant Win Son, in Brooklyn, the Teresa Teng cocktail is a clever crowd-pleaser made with cucumber vodka and lemon. Instead of just adding in simple syrup to balance, bartender Brett Helms went with a bit of Velvet Falernum to bring the drink's light flavors together. "There's a savory aspect to it that prevents it from being too sweet, and the Peychaud's bitters finish helps taper it as well," notes Helms.
The spice blend, almond undertone and ginger bite of falernum can make even a somewhat flat drink instantly interesting without much fuss. Many bars simply make their own in-house, just as Barbadian housewives in the 19th century would make their family recipes. Purchasing falernum today means finding a bottle of John D. Taylor's Velvet Falernum, which is essentially a flavored, low-proof rum. Naturally, it pairs well with rum drinks, but it can stand up to any spirit — even scotch or gin in the right context, such as a citrusy, shaken drink. It is also a great complement to bitters and amaro.
If St. Germain is regarded as "bartender's ketchup" for cocktails, and bitters as ubiquitous as salt and pepper, then falernum is essentially the behind-the-scenes MSG flavoring for tiki drinks. Despite this history, its usefulness goes far beyond rum drinks, and even with the odd name, once one knows what goes into this Caribbean sweetener, it's hard to imagine anyone being dissuaded from trying it.
Teresa Teng Cocktail
Servings: 1 cocktail
Ingredients
1 ounce Square One cucumber vodka
1 ounce fresh lemon juice
1/2 ounce John D. Taylor's Velvet Falernum
2 dashes Peychaud's bitters
Directions: 
Combine ingredients into a cocktail shaker and add ice.
Shake vigorously and double strain into a chilled coupe.
Top with sparkling wine and garnish with a cucumber wheel.
Prep Time: 2 minutes
Difficulty: Easy