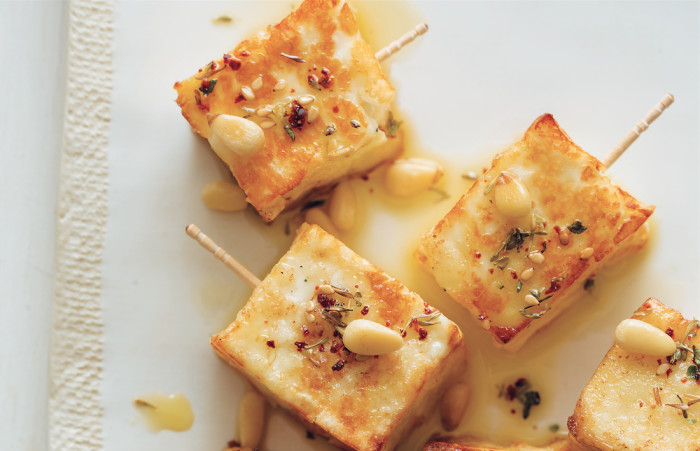 Award-winning cookbook author and culinary instructor Marie Simmons's new recipe collection is an homage to the delicious vegetarian cuisine found in every food culture around the world. From Latin America to the Middle East, Asia to Oceana and every dining table in between, lovers of meat-free eating have a new must-read for their kitchen libraries. 

This cheese is described in my well-worn copy of Murray's Cheese Book as "a rubbery little block, off white and tightly wrapped in Cryovac, not usually what we'd associate with fine cheese. But in the proper application, haloumi is irreplaceable." The following recipe is, I'd argue, the "proper application." The version most readily found at many cheese counters is usually enjoyed pan-fried or grilled. Hot off the grill or pan, the outside is firm and crunchy and the inside irresistibly soft and runny. As it cools, the inside turns "squeaky." I like it with a simple topping of an intensely fruity olive oil and some lemon juice, zipped up with a teaspoon or two of za'atar, the Middle Eastern spice blend of sumac, thyme, and sesame seeds. A more traditional embellishment is a drizzle of olive oil and a sprinkling of toasted pignoli. In the following versions, I describe how to cook the cheese plain, coated with flour, or coated with panko crumbs. Each is delicious. The haloumi is best when soaked in cold water for at least 1 hour or overnight before using.
Ingredients
1

package (about 12 ounces)

haloumi, split lengthwise into 2 pieces

1/4

cup

all-purpose flour

1

large egg, beaten

1/4

cup

panko bread crumbs

Extra-virgin olive oil as needed, for frying
Lemon and za'atar topping (optional)
2

tablespoons

extra-virgin olive oil

1/2

tablespoon

fresh lemon juice

2

teaspoons

za'atar
Toasted pignoli topping (optional)
1-2

tablespoons

extra-virgin olive oil

2

tablespoons

pignoli
Directions
For the haloumi
Unwrap the haloumi, rinse well under cold water, and place in a bowl. Add cold water to cover and soak for at least 1 hour or as long as overnight. The soaking will help remove some of the saltiness and will add extra moisture. Drain and pat dry with a kitchen towel.

You can fry the cheese plain, or you can coat it first in flour or in breadcrumbs. If using only flour, sprinkle it on a small plate and turn the cheese in the flour until evenly coated. Alternatively, to coat with panko breadcrumbs, coat the cheese first with the flour, then dip in the beaten egg, allowing the excess to drip off, and finally roll in the panko, pressing the panko into the cheese with your fingertips. Set aside until ready to fry.

Heat about 1⁄4 inch of oil in a heavy skillet large enough to hold the 2 pieces of cheese. When the oil is hot enough to sizzle a breadcrumb, add the cheese (plain, flour-coated, or panko-coated) and fry until golden brown on one side, 1 to 2 minutes. Carefully turn with a wide spatula and a fork (to avoid splattering) and cook until the other side is browned, 1 to 2 minutes more.

Transfer to a serving platter and eat plain or with the topping of your choice while the cheese is still hot.
For the lemon and za'atar topping
In a small bowl, whisk 2 tablespoons extra-virgin olive oil, 1⁄2 tablespoon fresh lemon juice, and 2 teaspoons za'atar until blended. Spoon over the hot haloumi.
For the toasted pignoli topping
To toast the pignoli, preheat the oven to 350°F. Spread the pignoli in a shallow pan and bake until evenly browned, 10 to 15 minutes.

Drizzle 1 to 2 tablespoons extra-virgin olive oil over the hot haloumi and sprinkle with 2 tablespoons toasted pignoli.