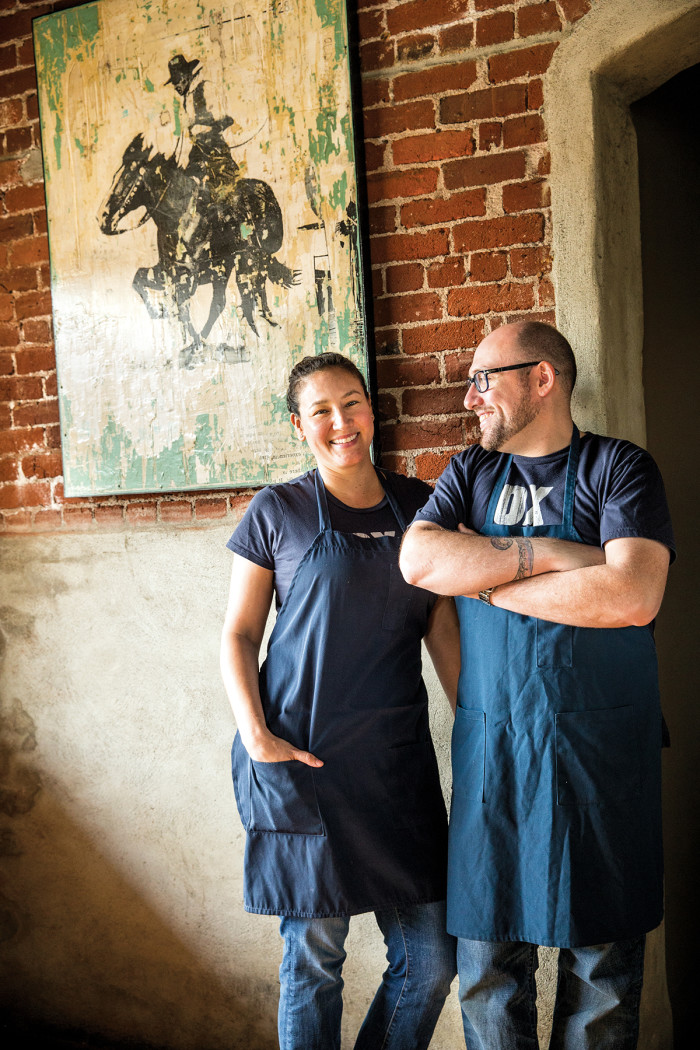 I had a suspicion that my Instagram shot of the Spaghettios" small plate at Portland, Oregon's new SuperBite might set some people off. The dish isn't controversial-looking by any stretch; in fact, it appears delicious to the tune of more than 3,000 likes and multiple "OMG" comments. But the combination of mini pasta circles with fresh truffle, Irish butter and Parmesan, and the name of a beloved childhood dinner in a can was enough to inspire a few negative reactions, including "sounds tasty, but the Spaghettios reference bags it a bit."
Maybe the dish's name is too clever, but chef-owners and Portland culinary power couple Greg Denton and Gabrielle Quiñónez Denton have earned the right to have a little fun. Their acclaimed Ox — "Argentine-inspired Portland food" reads the tagline — helped turn the city into a destination for gastro-tourists and continues to thrive in its fourth year as a sort of neighborhood joint meets open-fire steakhouse. The duo's first cookbook, Around the Fire, celebrates the idea of cooking over flames and is an instant hit* as well as an accessible guide to grilling just about anything. And then there's SuperBite, the recently opened second restaurant aimed at showcasing delectable samples of composed dishes — though I'd argue that it's more of a full restaurant than they let on in the interview below.
A night before trying out some snacks at SuperBite, I ate a full meal at Ox for the first time and now know why it's so popular. The chimichurri, served with bread but certainly spreadable on the grilled meats, is a perfect balance of herbaceousness and heat. My wood-fired skirt steak was perfectly cooked; vegetable-based dishes let the region's fresh produce pretty much speak for itself. I sidestepped the restaurant's iconic clam chowder (served with a bone and its marrow) in favor of another quirky option: fried oxtail terrine served over frozen pea salad.
Over coffee at Ox, Greg and Gabrielle discussed everything from how they feel about their adopted hometown to the service philosophy behind SuperBite to the menu at Ox and more, for the latest FR Interview. Our conversation has been condensed and edited.
What gave you the idea to turn what you do here at Ox into a cookbook, and what were you hoping to get out of it?
Greg: I've always enjoyed teaching people and sharing knowledge, so that was one of the first reasons. We wanted to share; we wanted to educate people that the grill shouldn't be a scary thing. It's pretty simple. We wanted to show people you're going to enjoy your grill a lot more if you also balance it, and when I mean balance it, I mean what side dishes or what else you'll be able to cook on the grill or maybe not even on the grill, so that's where Around the Fire came about.
Gabrielle: We also wanted to show people that you don't need to relegate the grill to the summer months. There are so many great ingredients that are worthwhile to be cooked year round on the grill.
"We both fell in love with the flame. Not in an unhealthy way. We just really, really loved it."
Greg: It's a great tool that people just forget about. It's an easy cleanup, because you just shut it when you're done with it and you just heat it up and clean it the next time you need it. It's [also great] when you need to prep ahead.
Do you think people are starting to care more about the nuances of grilling, like direct versus indirect heat?
Greg: I think so. Most interviews that we do, they always ask what's the best tip or what's the one tip you would ever give someone who's a novice griller. And to me, it's always that indirect cooking or having a location. The fire shouldn't be all hot in the middle where you have no room to move. It should be off to one side, whether it be gas, charcoal, wood. Bring that heat just to one side or the other so you have that area where you can really give whatever you're cooking a little bit of relief. Also, for flare-ups — I grew up eating burgers and hot dogs that were way overcooked and tasted like lighter fluid, like, "It's not hot enough [imitates lighter fluid sound]" and it just gets on [the food].
What was the spark that originally made the two of you want to do this kind of cooking in a restaurant format?
Greg: We met in 1999. We were cooking at a restaurant called Terra in Napa Valley, working for Hiro Sone and Lissa Doumani. I came in with a little more experience than Gabi, but we both started in the pantry together. As we got promoted together throughout the kitchen, I was on the grill first — and they have a live-fire grill — then Gabi came. I think between us, we fell in love with the grill aspect of things, how little you need.
You've said that you like the textures created by grilling.
Greg: Well, texture, but there's that little bit of smoke and that little bit of char. I remember at Terra, we did squab a lot. It's just that test of getting that bird perfectly golden brown and crispy and knocking the arms between the grates like they were nails so they could get crispy underneath the wings. And you also play with fire. Sometimes it's just really fun to play with fire. We both fell in love with the flame. Not in an unhealthy way. We just really, really loved it.
Gabrielle: The South American influence came from my heritage. Greg wasn't really familiar with South American food, especially Argentinian cuisine. I grew up in Los Angeles and had a lot of friends and family friends who were Argentinian. Even [when we were] living in the Bay Area there weren't Argentinian restaurants, or very few. Then we moved to Maui and there was absolutely no South American food there. When I started to fantasize [about] what would we do next, what would we do when we finally [got to] open a restaurant, I just started developing what I thought would be a cool menu that was very much focused around the fire and wood-fired foods, but also [with] that South American influence. We worked for several years in different kitchens, figuring out what works in Portland, what do Portlanders like, what is missing from the Portland food scene, and it just made sense to really develop this concept.
Let's talk about SuperBite, which just opened three months ago. What's the concept?
Greg: We love tasting menus, hors d'oeuvres, amuse-bouches. We love over-the-top flavor but [not] because of the quantity of what's on your plate. The famous Thomas Keller quote is, "They served enough for two bites, but you wish you had two more." We thought there was room for that, [for] people [who] don't like the speed of a tasting menu.
Gabrielle: It's a commitment to go to a tasting menu–style restaurant — the time spent, and the formality is sometimes off-putting. You have to be in the mood for that, and you have to be able to commit financially to that. We wanted to avoid that.
"People are having a hard time finding cooks. In our heads, one of the reasons might be is that there's a disconnect of what's really important in this business."
How does the SuperBite format work?
Greg: The format is you order a certain section of the menu dedicated to small bites. They range from a single bite to a small bowl. We have one dish called Spaghettios, which are pasta in the shape of Spaghettios and they're tossed with truffle, Irish butter, Parmesan cheese. It's delicious, but you get four small bites out of it. Then we have platters, and those are going to be whole fried trout served with mashed potatoes and sautéed mushrooms and spinach and Dungeness crab on top of it with a fermented black bean crab sauce with tons of butter in it.
Gabreille: A pound and a half of pork shoulder confit served with buttered egg noodles and a hazelnut chimichurri with green beans. They're definitely sharable entreés.
Greg: That's the food focus of the thing, but what we also wanted to do were tackle a couple other issues, like the inequality when it comes to kitchen versus front of the house. We have a one-house system [at SuperBite] where our cooks actually deliver the food, and they clear tables, they reset tables, they deliver drinks. They're called a cook-server, officially. That means in a pooled house they get to get that section that a busser would get. We didn't want to take away service, though, so servers make what servers would make; they just don't have busser or runner support in the traditional sense.
But you're not eliminating tipping?
Greg: We're not trying to do that. We're not trying to do auto-gratuity, we're not doing no tipping. We just want the cook to feel the sense of accomplishment from feeling they contributed to this dish, to this restaurant and now they're serving it to somebody and getting direct feedback, almost immediate feedback, whether it be as soon as you sit down, or when the waiter says, "Spaghettios" and sees people's faces light up. You know, there's a bit of a cook crisis right now. People are having a hard time finding cooks. In our heads, one of the reasons might be is that there's a disconnect of what's really important in this business. It's not money, it's not a book deal, it's not TV fame. We do this because we get to see a reaction on someone's face because you made something that they really love.
Gabrielle: Sharing your passion with others.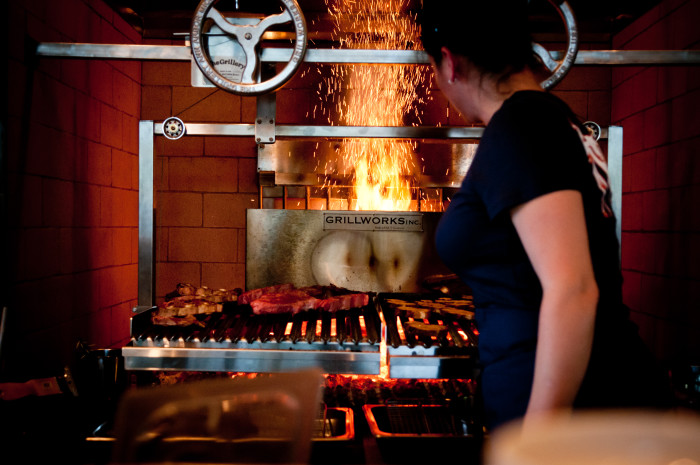 Ox is in northeast Portland, near some of the city's most exciting restaurant neighborhoods, whereas SuperBite is across the river in downtown? Why there?
Greg: Because it's young, it's a little more touristy, it's a lot of young people, there aren't as many neighborhoods around there. People who live there are young professionals or middle-aged, or whatever professionals live in condos. They like to go out more often, they like to try different things and new things. We just felt like it was a really good concept for that specific location.
As committed business owners and residents, how do you feel about the direction of Portland as a city?
Greg: For us, as business owners, we don't mind the growth. We like growth. We like an economy to be very vibrant, exciting and positive. It's how our-size restaurants are going to deal with the minimum wage hikes, which will affect us quite a bit. We have several employees. We don't have a tip credit. It's these problems we're trying to figure out now.
How was it establishing a group of purveyors here? And how do you like working with those people outside of the restaurant?
Greg: Well, I'll tell you right away, the best part about coming to Portland's food community is that it's very open to other chefs. Of course you can't be a chef without some competition in your head, but if a chef called me up and asked, "Who do you use for your beets?" or "What farmers do you like to use?" I would send them a huge list of everyone we use and what they do best just to help them out. That's what happened to me when I first came here. I got ahold of a chef and he loaded me up. It's very communal in that sense. When it comes to dealing with local purveyors or farmers, we actually do as much as we can. There are a ton of farms out there. We consider ourselves a very responsible restaurant. Yes, we get lemons and limes and oranges that aren't locally grown here, but during seasons like this, we get 10 different local farmers' products.
Where are you getting your peas from?
Greg: When peas are in season, we bring in quite a bit and we pick them and we load our freezer up. So those peas you had last night—
In the oxtail terrine. I've never had a frozen pea like that.
Greg: I'm not afraid of freezing certain things. I've worked at restaurants where we cook fresh peas in boiling water, then put them in a sauté pan, and you'll get really good ones but then you'll get really crunchy ones and starchy ones. When you freeze them and thaw them and cook them, they already have a little cook to them so they become really, really tender and nice.
Gabrielle: It's just how the cellular structure breaks down from that freezing process, from the moisture.
I also had the peas with ricotta and lamb bacon.
Greg: And so those peas we bought at the height of the season and we had a decent amount. We'll change that — as soon as we're done with that it's not like we're going to bring more peas in.
Gabi: We make our own ricotta. The lamb bacon is from Reister Farm.
Greg: It's a local farm that is the best lamb I've ever had.
Gabi: They're raised right on the Columbia River.
Greg: Yup. The herbs are either from our back garden or a local purveyor.
Gabi: [The backyard] is not impressive, but it helps. We save so much money in shiso alone. [laughs]
There's such a creativity in these dishes. Do you both bring that to the table?
Gabrielle: Oh, yeah. I think we both really love contrast in texture and temperature. Flavors, of course, as well. I don't quite remember the very beginning of [the oxtail] dish, but I remember talking to a French chef who lived here for a long time, had restaurants here. We served him a similar dish once and he was like, "You guys! I could never do this. I would not be allowed as a Frenchmen to coat [a terrine] in breadcrumbs and deep-fry it and serve it like this. I love that that you could do this even though I never could." We've just always enjoyed playing with concepts and rules, breaking them a little bit only to make sense.
Greg: And as I just described, when I was younger, I remember as a kid, I felt like peas got cooked when they were pulled out of a freezer and they were more delicious. I would even eat them a little bit frozen. I just really like that aspect. So a very hot, boozy terrine on slightly frozen peas, it just does something to your mouth when you're eating it. It's too hot but it's also too cold, and it's crunchy.
The way that we come up with most of our dishes, 97 percent of our dishes, is a back-and-forth with each other. That's the advantage of having a partner-chef. One of us might say something like, "I really want to try this" or "What about this?" and the other person will say, "That sounds good" or "That doesn't sound good. You've got sell it to me more." Then we sell it to each other. Then eventually, that's what the combination is. Those ideas coming together sometimes really sparks something that's really special.
*We've published two recipes from the book, and both have attracted near-record engagement. The first was for grilled veal chops with mushroom stroganoff; the second was grilled new potato and onion skewers.