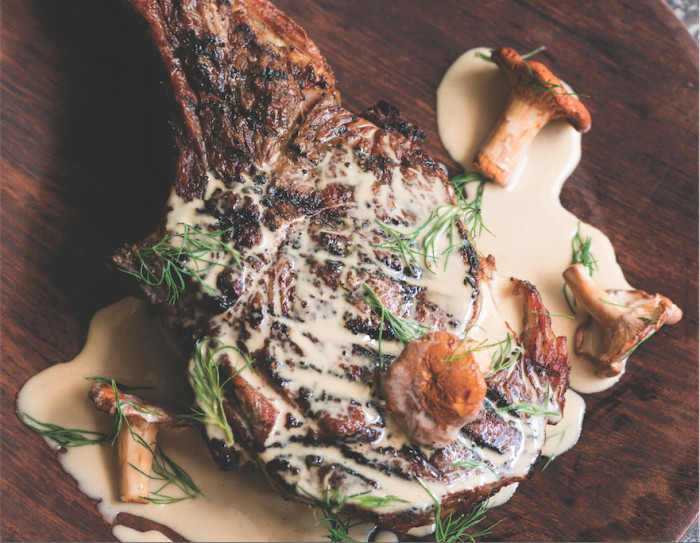 Award-winning chefs Greg Denton and Gabrielle Quiñónez Denton are the chef-owners of the much-beloved Ox Restaurant in Portland, Oregon. With a focus on the live-fire and asador cooking traditions of Central and South America, their new cookbook, Around the Fire, is a must-have for grillmasters of any level or walk of life. 

Some people love veal for its flavor and tenderness and the fact that it's a little less fatty than cuts like a beef rib eye. Others disdain it for being a little less intense in flavor than beef. We like to pair something with it that adds to the meat's impact without diminishing its delicateness.

Our answer is a stroganoff sauce, a version that is light-bodied, satisfying, and made from scratch. The sauce calls for veal stock, which is delicious when it's homemade but also something you can buy if in a hurry, as well as shallot and madeira for sweetness and tang. The sauce is intentionally thin, ideal for keeping the dish from becoming too rich (and for potentially serving over some egg noodles). Here it's made with golden chanterelles, but morels would be a delicious seasonal alternative, and button or shiitake mushrooms also work perfectly well.

Keep in mind that, because of its leanness, veal tends to dry out if overcooked. But if you play your cards right atop the grill, it's one of the most tender meats you can buy.
Ingredients
Chanterelle Mushroom Stroganoff
3

tablespoons

unsalted butter

1/2

cup

minced, shallots

1

pound

chanterelle mushrooms

Kosher salt and freshly ground black pepper

1

cup

madeira (or substitute marsala)

2

teaspoons

fresh thyme leaves

3

cups

brown veal or beef stock, homemade or store-bought

1

cup

heavy cream or crème fraîche
Grilled Veal Chops
4

(12-ounce)

bone-in veal chops

2

tablespoons

extra-virgin olive oil

2

tablespoons

kosher salt

2

teaspoons

freshly ground black pepper

1/4

cup

dill sprigs, for garnish
Directions
For the stroganoff
In a medium-large nonreactive saucepan over medium-high heat, melt the butter. Add the shallots and cook, stirring with a wooden spoon, until they just begin to brown in places, 2 to 3 minutes. Stir in the chanterelles and cook for a couple of minutes; season with salt and pepper. If the mushrooms continue to release considerable moisture, continue to cook, stirring occasionally, until all the moisture has evaporated and they begin to sizzle in the butter. Add the madeira and decrease the heat to maintain a simmer. Add the thyme leaves and cook until the madeira is reduced by about two-thirds, about 5 minutes. Add the veal stock and continue to cook until reduced by half, 12 to 15 minutes more. Stir in the cream. Bring the sauce to a simmer and cook for 2 minutes more. Taste and adjust the seasoning, if necessary. Keep warm until ready to serve.
For the veal chops
Prepare a grill to medium-high heat.

Remove the chops from the refrigerator and brush with oil; season with salt and pepper. Grill until the first side turns golden brown, 4 to 5 minutes. Flip the chops and repeat on the other side. The veal chops should be close to the desired doneness (medium). Turn the chops so that they are vertical on the grill and facing bone-side down (you may need to lean the chops on each other to keep them standing), and cook for 1 to 2 minutes more. Flip chops so the bone is facing up and repeat.

Transfer the veal to four plates and let rest for about 4 minutes. Drizzle with the stroganoff sauce, making sure to distribute the chanterelles among the servings, and garnish with the dill.