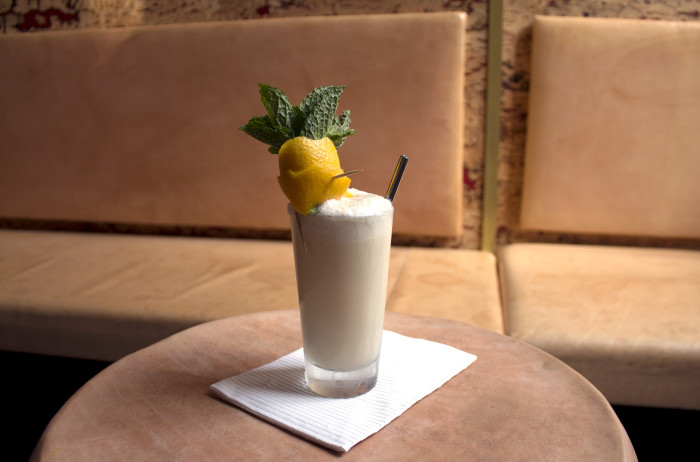 Happy Ice Cream Week! Finding ice cream on the drinks menu of a cocktail bar can be a bit surprising. Though ordering a milkshake in the late 1800s would have gotten you a whiskey, cream and whole-egg flip, this changed in the early 20th century with malt shops and soda fountains hand-shaking and then using blenders to dole out the tall, frothy mixtures we recognize today. In cocktails, while milk punches and drinks like the Grasshopper use heavy cream as a key ingredient, ice cream never seemed to really catch on.
In creating the menu for his recently opened Fresh Kills in Brooklyn, owner and bartender Richie Boccato "culled from the canon of pre-existing classics" to see if he could find an interesting take on the traditional fizz. A cocktail called the Silver Stallion — gin, lemon, simple syrup, egg white and one scoop of vanilla ice cream — caught Boccato's eye, and since he was looking to include a frothy drink on the menu without egg white, this meant ice cream could be a good alternative.
"My good friend and James Beard Award–winning pastry chef Johnny Iuzzini put me in touch with the guys from OddFellows, who are just a few blocks away from Fresh Kills," says Boccato. "I gave the West India Couperee a shake with their vanilla ice cream, and I was sold." Indeed, the drink is incredibly light and refreshing, combining orange and cream flavors with Cognac. Tossing the ice cream directly into the shaker gives the Couperee a lot of air and texture, sure to please anyone fond of a good Ramos Gin Fizz.
The West India Couperee is actually a forgotten classic from Jerry Thomas's How to Mix Drinks or A Bon Vivant's Companion, which was published in 1862 — likely making this one of the earliest ice cream cocktails out there. Given the deliciousness of this drink, it's odd there are so few cocktails that include a scoop of ice cream. Delicate bubbles from the whipped ice cream create a soft pillow, with nutmeg, orange peel and mint garnishing the glass. As Boccato puts it, "not too sweet, not too dry, but definitely silky and milky."
West India Couperee
Servings: 1 cocktail
Ingredients
1 1⁄2 ounces Landy VS Cognac
3⁄4 ounces Pierre Ferrand Dry Curaçao (cut 1:1 with simple syrup)
3⁄4 ounce fresh lemon juice
2-ounce scoop of OddFellows Vanilla Bean ice cream
Brooklyn Seltzer Boys soda water
Nutmeg
Directions:
Combine Cognac, lemon, Curaçao and ice cream in a cocktail shaker. Add ice.
Shake vigorously for 5 seconds and strain into a chilled 9-ounce highball glass.
Top with soda and garnish with grated nutmeg, orange twist and a mint sprig.
Prep Time: 3 minutes
Difficulty: Easy