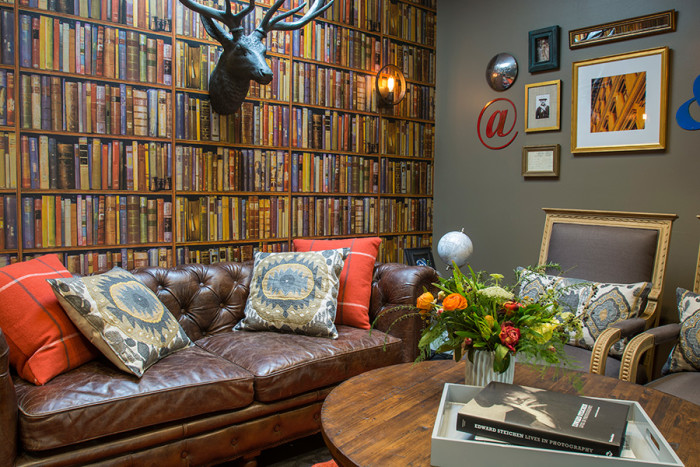 In Hungry Concierge, we travel the world to spot hotels that operate with their guests' food and drink needs squarely in mind — hotels, both big and small, that are located in neighborhoods rich with bar and restaurant options. Because there's nothing worse than having your trip derailed by crummy room service.
It's a strange thing being a tourist in your hometown, as I discovered on a recent reporting trip to Portland, Oregon. But it can be a great thing when it means staying somewhere like the Sentinel Hotel, which has features I could've only dreamed of as a kid. There's the smack-downtown location a few blocks from the best food carts, plus the delightfully cryptic "Room at the End of the Hall," an exclusive lair offering free snacks and drinks 24 hours a day. And did I mention the ice cream room service?
It might've been odd to land at the famously green-carpeted PDX airport and hop on the MAX light rail instead of scanning arrivals for my brother's beat-up Subaru, but I got over it as the train ferried me downtown and dropped me conveniently a few blocks from the Sentinel.
In my day, the hotel was known as the Governor (Provenance Hotels purchased the National Historic Landmark property in 2012 and gave it a spruce-up and a new name), but the main restaurant, the stately Jake's Grill, is a sibling to one of our town's oldest restaurants, Jake's Famous Crawfish (since 1892), a few blocks away. I recall family dinners there in the 1990s and 2000s, digging into excellent steamed Oregon Dungeness crab and other seafood.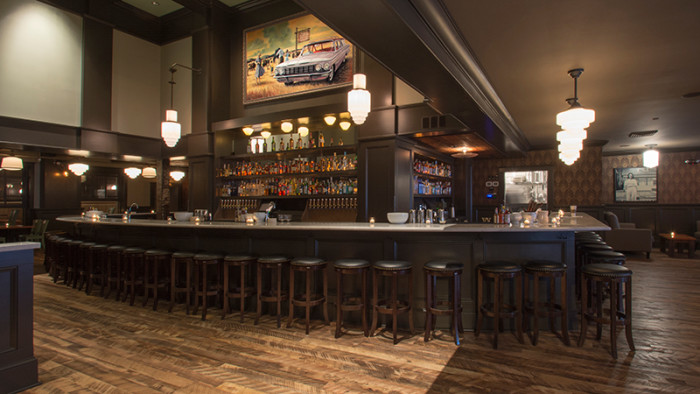 However, Jackknife, the hip cocktail and small-bites bar in the Sentinel's lobby, is all new — and part of the wave of restaurants and bars that have transformed downtown Portland from the dead-after-7 p.m. place I remember into a vibrant dining and drinking district. As I made my way back to my room late-ish my first night in town, I was surprised to see a chic crowd still quaffing craft libations beneath the bar's oversize painting of a pink 1960 Oldsmobile Fiesta Wagon, done by local artist Joe Weir for a double-page ad in Life magazine.
THE ROOMS
One hundred rooms feature amenities such as blankets from Oregon's famed Pendleton Woolen Mills and minibars stocked with Bee Local Honey, whose hives adorn the hotel's roof. Of course, the best feature has to be the order-a-pint room service, offering a range of flavors from cult Portland creamery Salt & Straw. Those staying in the top floor of the hotel's west wing, like I did, get access to the aforementioned Room at the End of the Hall, a loungey, faux-taxidermy-adorned place for imbibing free coconut water and Pellegrino sodas, and pilfering the addictive caramels made by Portland's own Jacobsen Salt Co.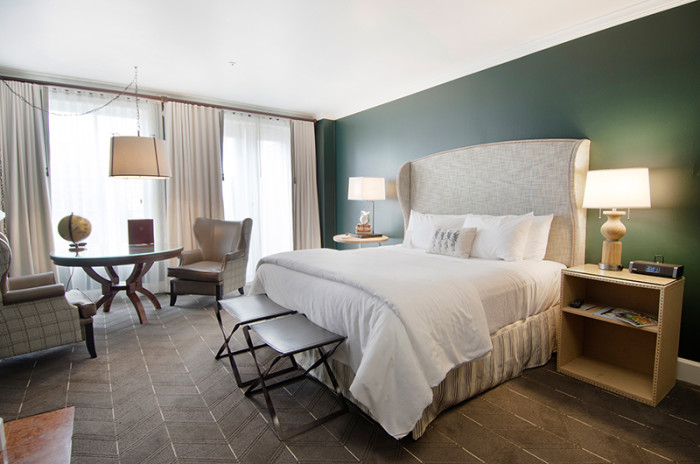 THE LOOK
Guest rooms are painted in emerald shades meant to bring to mind Oregon forests, and rooms feature classic furniture such as leather wingback chairs and round wooden tables. The hotel's art collection is displayed in the hallways, where oversize black-and-white photographs of game-changers like Muhammad Ali, Patti Smith and Buzz Aldrin adorn the walls.
THE NEIGHBORHOOD
As mentioned, some of the city's finest food-cart dining can be found at the huge SW 10th and Alder lineup just down the street. There's Nong's Khao Man Gai, where the Bangkok native slings her spot-on version of Thai by way of Henan Province chicken and rice, and the pumped-to-11 flavors at Bing Mi!, offering the egg-filled savory crepes that are a popular breakfast in China. You're also just a skip from new classics including Tasty N Alder, the hoagie specialists at Lardo and Bunk Sandwiches, and the pastry and lunch geniuses at food-writer favorite Maurice. 
Sentinel Hotel
614 S.W. 11th Ave.
Portland, Oregon
503-224-3400
sentinelhotel.com
Rooms from $239 per night