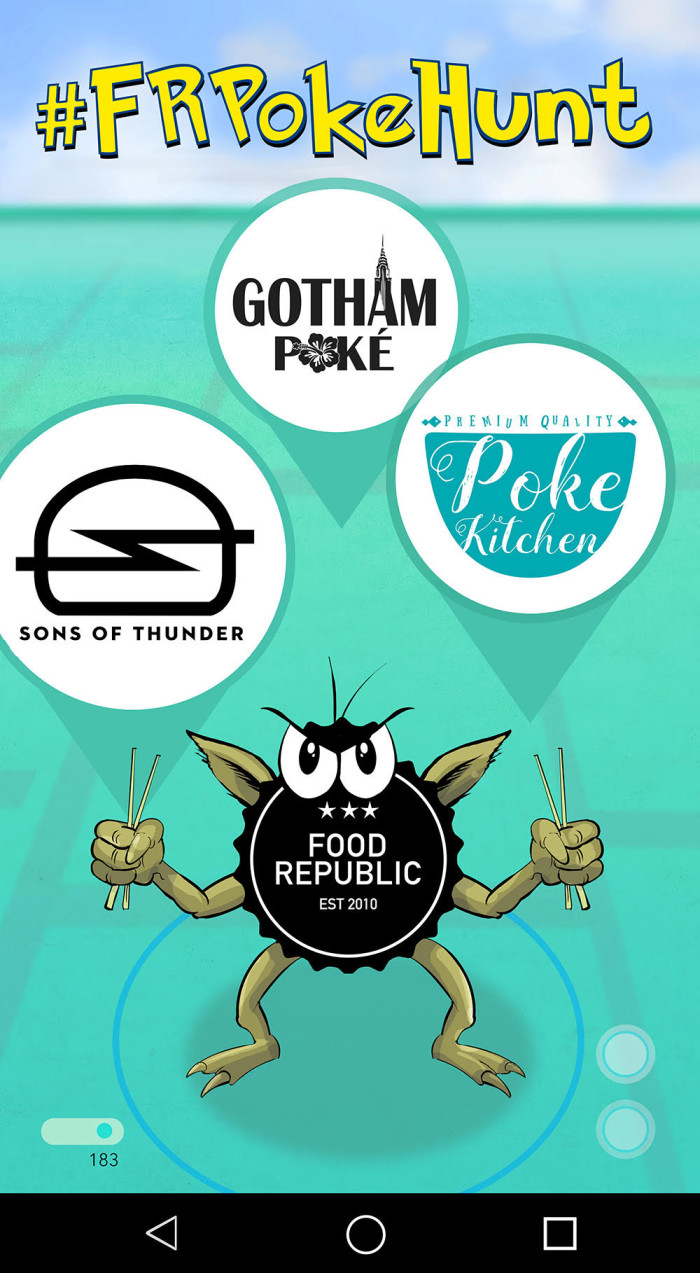 We love poke, the suddenly hip Hawaiian raw-fish dish. We also love Pokémon Go, the popular location-based augmented-reality game that turns the average weekday lunch into an adventure. Naturally, we thought these two things would go great together.
Starting this Wednesday, 
July 27, Food Republic is organizing a three-day "PokeHunt," taking place at three popular poke places in New York City. Here's how it works: Head over to a participating restaurant around lunchtime (11 a.m. to 2 p.m.) on its specified date (see below). Then take photos of whatever Pokémon character makes an appearance, be it in front of the restaurant, on line, on the actual food or wherever, and post these pics on social media. Make sure to tag us (@foodrepublic) and the restaurant, too. Oh, and don't forget to include the hashtag: #FRpokehunt.
Food Republic will collect all these posts and choose five winners each day. These victorious Pokémon trainers will be contacted via direct message, and each will receive gift cards in the mail.
The participating poke restaurants are as follows:
Gotham Poke: Wednesday, July 27
Gansevoort Market, 353 W. 14th St., New York, NY 10014; gothampoke.com
Sons of Thunder: Thursday, July 28
204 E. 38th St., New York, NY 10016; sonsofthunder.com
Poke Kitchen: Friday, July 29
127 E. 39th St., New York, NY 10016; pokekitchen.com
Good luck! And happy hunting/lunching!