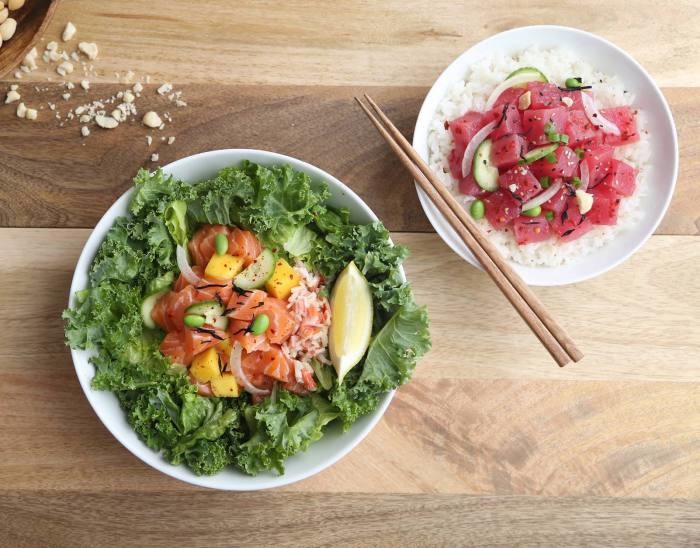 America's hunger for fresh takes on old ways of cooking is insatiable. And that means honoring worthy traditions, like preserving gooseberries just like Trappist monks used to do. But it also means mucking up others, like calling something wrapped in seaweed a taco.

So where does poke, a dish traditionally made up of raw fish, ahi (or yellowfin) tuna, and seasoned with Hawaiian rock salt, kukui nut and seaweed, reside in the category of recently anointed yet ancient awesome foods?

Originating in Hawaii, where the word refers to "cut" or "slice," poke (pronounced po-kay) has probably been a standard there for as long as there have been tool-swinging, flesh-eating humans on the islands. In the past few years, it swept through the West Coast, riding the build-your-own-lunch-bowl craze, spread further by social media. Now, New York City is ankle deep in poke outposts, including Wisefish Poké, Sons of Thunder, Pokéworks and East Coast Poke, with twice that number of restaurants serving the dish as a menu option; poke comes in a variety of options, from vegetarian to tako (octopus) and salmon and choose-your-own. Topping and sauce options include mayonnaise, sesame seeds, jalapeños, edamame, avocado, hijiki, scallions, watermelon radish, what have you.

I wish I could say I saw this coming, but I can't, despite my wife being from Hawaii and my father-in-law, Terry, having grown up eating poke during the 1950s on the Big Island. When he was a kid, he used to eat rice bowls topped with poke, which is the current fashion. He suspects the trend of throwing in all sorts of sauces is a mask for fish that isn't fresh, not unlike what sushi restaurants do to camouflage their product, like with spicy tuna and dragon rolls.

I first had poke in the '90s, when Terry served a version on his lanai. I loved it, but at that time it was just a dish, not a phenomenon. What struck me then was that he picked up the super-fresh fish at the local supermarket, wrapped in plastic on a Styrofoam plate.

Terry credits Hawaii's original celebrity chef, Sam Choy, with first putting poke on the map. Choy, who is known for familiarizing the mainstream with Hawaiian cooking, started throwing a poke-making contest in the early 1990s. He also wrote a couple of poke cookbooks.

Now that poke has become a thing, I've given it a closer look, and it's clear why it's catching on. It has all of the primal, invigorating thrill of eating raw fish but without the preciousness of sushi. It's certainly more healthy than most proteins. It's also casual, which is how folks like to roll these days. Plus, it is heightened by the wow of salt, crunch and other seasonings. And on a bowl of perfectly cooked rice, it is a deeply satisfying meal. All for a fraction of what you'd pay for similar satisfaction at a sushi restaurant.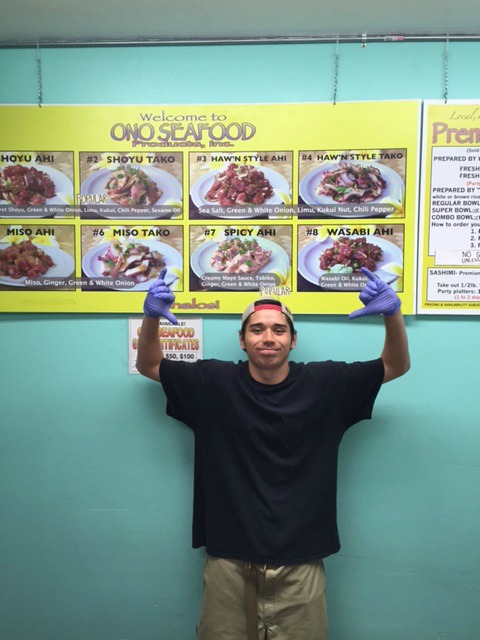 On a recent trip to Honolulu, I went to Ono Seafood, which serves what many consider to be the best poke in Hawaii. Judy and Willy Sakuma started Ono in 1995, under a garage, as a way to supplement their income. For almost a decade, they made poke for family and friends. They opened a bigger shop — still very much a hole in the wall — next door in 2003. Several years later, news of the store spread as did the transformation to "poke bowls," fish on rice, as a meal, from "tailgate pupu" appetizers.
The fish couldn't have been more fresh. The pieces of fish were chunks, and they were sweet, soft and buttery. I couldn't imagine better poke. The traditional "Hawaiian style," ahi mixed with chili flakes and soy, would probably please hard-core fans most, but I was particularly enamored with the "spicy" variation, tuna in a spicy mayonnaise sauce that was sublime. The dish was complemented by a mai tai, and looking out over Diamond Head, I was aware I was having the quintessential poke experience. And to think that that pound of poke heaven set me back just $20! It is a testament to why Hawaii is indeed a food lover's paradise.
What distinguishes Ono is the freshness of the fish and their sauces or marinades. They also make to order, whereas a lot of the omnipresent poke places in Hawaii make it a couple of times a day and let it sit in serving dishes. As a mainlander, I was pretty influenced by the awesome vibe at Ono: the unassuming nature of the outfit, the dude named Ocean who served me — and the trade wind breeze and saltwater air didn't hurt.
So how could Manhattan poke stand up to that? First, I find it pretty annoying how some mainland poke places throw a French accent aigu on the "e" in poke to help direct people to the proper pronunciation, like guiding an old lady to her chair. I'm not alone in being peeved. Ask Hawaii chef Mark Noguchi. This is supposed to be a new era of adventurous and worldly foodies — let 'em figure it out. The accent is lazy and ethnocentric.
I was further dismayed when my wife, the poke expert in the family, had some from the pop-up Gotham Poké at Madison Square Park. She was disgusted. Not only was the fish not fresh, it had gristle. That, and the rice was sweetened and seasoned with vinegar — an unforgivable act.
So I went to Wisefish Poké in Chelsea with low expectations, but I'll cut right to it: The poke was great. I had the blackfin tuna, which already wins points because it's lower on the food chain and therefore more sustainable. It was also remarkably fresh. It wasn't as good as Ono Seafood's, but that's a pretty high bar. What it may have over Ono, however, are the options: so many toppings and sauces to choose from, and not lame ones. I probably went too spicy with mine (spicy mayo and jalapeños), but I look forward to returning and getting the balance right.
Wisefish is the brainchild of Drew Crane, a 30-year-old Goldman Sachs finance guy who had some poke in Maui five years ago and was hooked. He came back to New York and saw that there wasn't any poke, and a few years later, he drew up a business plan. Wisefish opened in January.
Wisefish's fish come from Florida and as far away as Hawaii; one of its suppliers also works with sushi restaurants. There isn't a standardized sashimi-quality grade of fish, but Crane says that's what they aspire to. The one product I had certainly made the grade.
Crane says business is going well, but I couldn't help but push him on how he could be serving such high-quality product for relatively little. (My very satisfying medium-sized bowl came out to $11.) He admitted to "eating some of the costs," so, speaking of sustainability, I have to wonder how a place like Wisefish — serving high-quality fresh fish for not much more than a Chipotle burrito — can survive.
Poke may not disappear, but getting it this good at this price might not last on the East Coast. Decades from now, food historians may look back on this time as the great Summer of Poke. I hope future generations don't slap an accent on it.