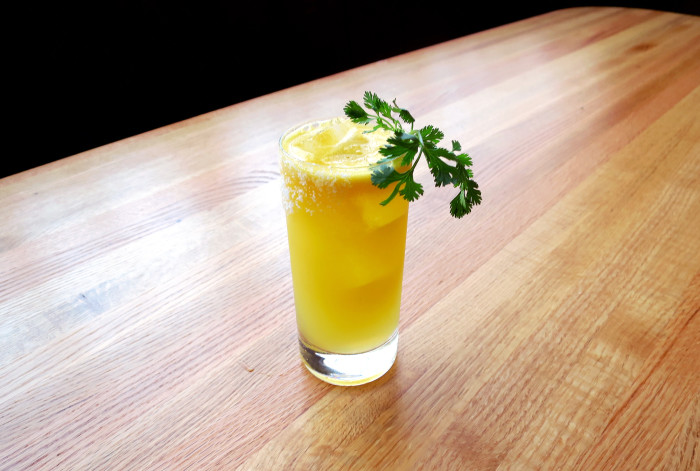 Around this time in the summer, I relish the opportunity to slice up a ripe tomato, give it a dash of salt and just indulge in each juicy bite. Opening a can of tomato juice triggers the opposite reaction and, by virtue, I've never taken much pleasure in the traditional Bloody Mary. For Larry Rice, cocktail consultant at Dos Urban Cantina in Chicago, his tequila-driven Golden Maria cocktail has both a beautiful yellow hue and a fresh flavor, but how can one successfully integrate tomatoes into a drink without losing the intensity of the flavor?
"I think when vegetables are in season you should take advantage. When I think of summer, I think of the smells from the garden and wanted that to come through in this drink," notes Rice. Tomato varietals and sizes can vary greatly, so finding the right intensity of flavor for a drink is a case-by-case process. Rice uses yellow tomatoes for the Golden Maria, inspired by his chef's tomatillo sauce. "The tomatoes are double-strained, first when juicing and again during the build of the drink, essentially just leaving the acid and making a much cleaner version of a tequila-based Bloody Mary."
Where a traditional Bloody Mary might use horseradish, Tabasco or celery to frame the tomato's flavor, Rice uses the gentian-based Suze to "add a funky, herbal dry note to bind all the other ingredients together." Rather than relying on extreme garnishes, such as bacon or whole lobster claws, to set his Bloody Mary apart, Rice's derivative uses bright citrusy notes from lime to lift the flavors and the aromas of a cilantro sprig to tie everything together. "The Serrano bitters add a little heat and a ton of floral notes including camarillo, lavender and lemongrass," he says. In addition to juicing, another method of extracting the flavor is via "tomato water," essentially macerated tomatoes that are allowed to rest on the skins to build more flavor — similar to leaving wine in contact with the skins for tannins — and then slowly straining until all of the water has dripped out. You can use a coffee filter or micro-bag to get a clear liquid, as well, if the juice is destined for a stirred cocktail, like a martini. Salt also helps to open up the flavors, and some add a bit of vodka to allow the juice to keep better over a several-day period.
Whether bringing new life to this brunch cocktail fixture or experimenting with completely new drinks like the Golden Maria, it's time to put those overripe tomatoes to work in your glass. Enjoy.
Golden Maria
Servings: 1 cocktail
Ingredients
2 ounces Lunazul Blanco tequila
2 ounces yellow-tomato juice
1 ounce fresh lime juice
½ ounce Suze
¾ ounce simple syrup (1:1)
3 dashes Serrano bitters
Directions:
Wet the rim of a highball glass and dip into salt. Fill the glass with ice.
Combine ingredients, not including bitters, into a cocktail shaker and add ice to the tins.
Shake vigorously for ten seconds and strain over the highball glass.
Garnish with a cilantro sprig and two dashes of Serrano bitters.
Prep time: 3 minutes
Difficulty: Easy