Lobster Claw Bloody Mary Recipe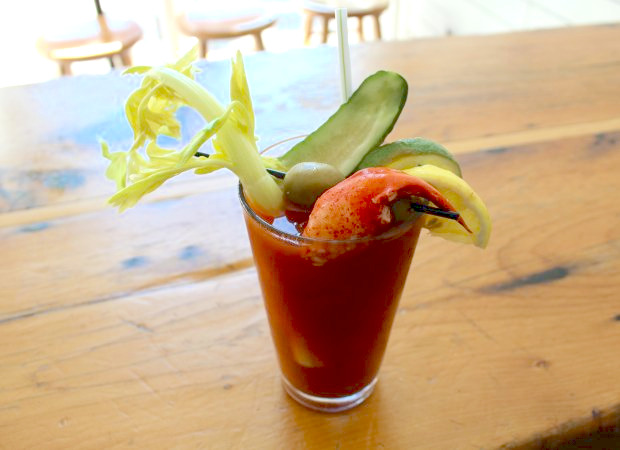 The Bloody Mary seems to be the one cocktail that welcomes a wide range of improvisation with strong flavors, providing they are balanced. A few dashes of hot sauce? Yes please. Bacon? Absolutely. A lobster claw? Now we're talking. This peculiar drink of unknown origin has somehow prospered throughout the 20th century and up to today, to the point where one can hardly endure the drudgery of brunch without one. Perhaps it's due to the awakening jolt of robust – at times caustic – vegetal and spicy flavors, but undoubtedly, the Bloody Mary would be nothing without the tomato.
Related: 7 Ways To Upgrade That Boring Bloody Mary
Made with lighting speed, the Bloody Mary from NYC's Lobster Joint may one-up this drink's garnishes by swapping the standard shrimp tail with a decadent lobster claw, but it also retains the overall simplicity and balance of savory, spice and salt that is key to making this drink work. Built in three parts with no shaking, this Bloody Mary has equal parts vodka and house spice mixture, with a large helping of tomato juice to top it off. Though kept a secret, the house mix of accent ingredients, cooked up by proprietor Robert Levitt, likely includes a blend of salt, celery salt, coarse black pepper, horseradish, a hot sauce such as Tabasco and perhaps a little pickle or olive juice. No Worcestershire, unlike some traditional recipes. The spirit seems to be the only thing that doesn't have any flavor, and for good reason in this case.
I've personally never been much for the Bloody Mary, but stick a lobster claw in one and I may have to reconsider. One might think it would be even better to use freshly juiced tomatoes, but the irony there is that processed, canned juice from concentrate is probably still the easiest way to ensure your drink doesn't taste like vodka salsa, regardless of any added nutritional value. Bottom line: if you're going to get fancy with this tried-and-true American favorite, just make sure you keep any embellishments in check, and when in doubt, just make the mountain of garnish flair as over the top as possible to keep people occupied.
Lobster Claw Bloody Mary Recipe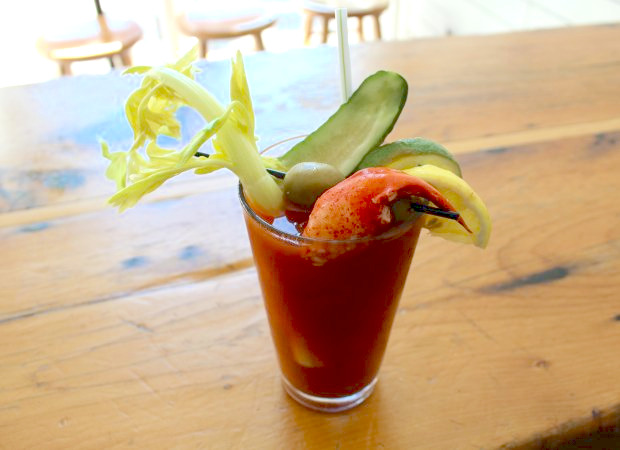 Ingredients
2 ounces Rekya Vodka
2 ounces house mix (see below)
6 ounces Sacramento tomato juice
Directions
Add in your choice of Tabasco, sea salt, celery salt, coarsely ground pepper, a 1/4 to 1/2 teaspoon of horseradish and other flavorings, if desired. A few dashes of Worcestershire sauce is also acceptable.
Fill a pint glass with ice and add equal parts vodka and spice mixture, then top with tomato juice.
Stir briefly to combine ingredients and garnish heavily with lemon, lime, celery, pickle, olives and lobster claw.
Hot And Spicy Bloody Mary Granita Recipe
Green Bloody Mary Recipe
Tomato Water Bloody Mary Recipe