Egg Whites In Cocktails: As American As Apple Pie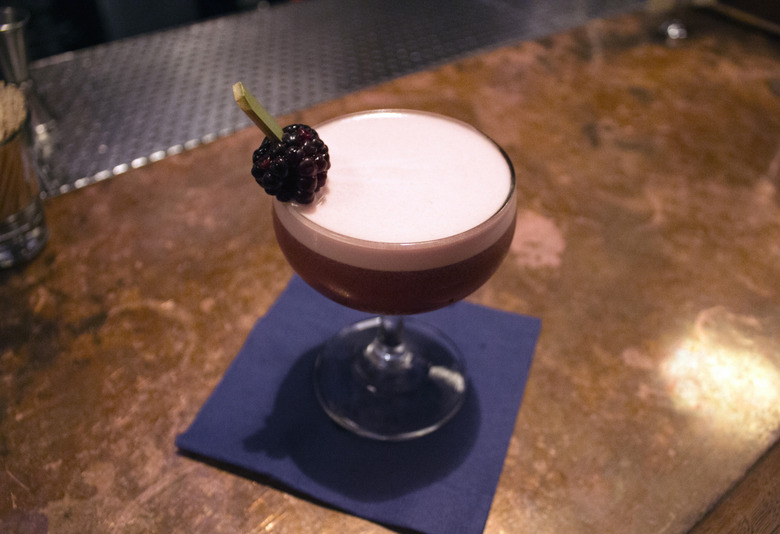 The Black Cap is a play on the classic Clover Club, a pre-Prohibition cocktail that showcases the benefits of using egg whi
Despite the wonderfully frothy benefits, raw eggs in cocktails have yet to escape their somewhat questionable status. Fresh eggs are rarely contaminated today, and with any good bar inspecting each one carefully — discarding those that are cracked or not properly stored — getting ill is not something worth fearing from these delicious drinks. Ironically, one of the earliest cocktails that used egg whites, the fizz, was meant to settle stomachs, not turn them.
Since the late 1800s, egg whites have been widely used as an ingredient in drinks to soften acids from the citrus and spirits, leading bartenders across the country to forge a number of iconic drinks, such as the Ramos Gin Fizz and the Pisco Sour. Tiny air bubbles are trapped by the protein structure, adding a unique mouthfeel and a characteristic white-pillow effect in the glass that's often used as a canvas of sorts for artwork crafted from bitters and a toothpick.
The key to achieving this foam is called a "dry shake"; the cocktail ingredients from one shaker tin and the egg white from another are married together and shaken quickly — without ice — to emulsify. It's important not to let citrus sit idly with the egg white, or else it will cook from the acid. Once shaken, the mixture will sound noticeably deadened in the tins from the capture of air, and from there it can be shaken with ice to chill and dilute before being strained into a glass.
Though not as well known as it should be, a classic pre-Prohibition egg-white cocktail is the Clover Club, which hails from a gentleman's club of the same name in Philadelphia. The original recipe calls for gin, dry vermouth, lemon juice, raspberry syrup or grenadine, and egg white, but — as is often the case — bartenders have found many ways to update this spec in recent years, such as this muddled blackberry variation below crafted by Daisy Dudley, former head bartender at Brooklyn's Tooker Alley. It's a taste of American history that may not be as appreciated as often as apple pie. Well, it should be.
Black Cap
Servings: 1 cocktail
Ingredients
2 ounces Wild Turkey 101 Rye
¾ ounce fresh lemon juice
½ ounce grenadine
¼ ounce simple syrup
1 egg white
1 dash Peychaud's Bitters
3 blackberries, muddled
Directions: 
Combine liquid ingredients into the small shaker tin and muddle blackberries. Add egg white to the large tin separately.
Dry-shake without ice for 10 seconds, then add ice to the tins and shake again for 10 seconds.
Strain into a sour glass and spray absinthe across the top for aromatics.
Garnish with a skewered blackberry.
Prep Time: 3 minutes
Difficulty: Moderate