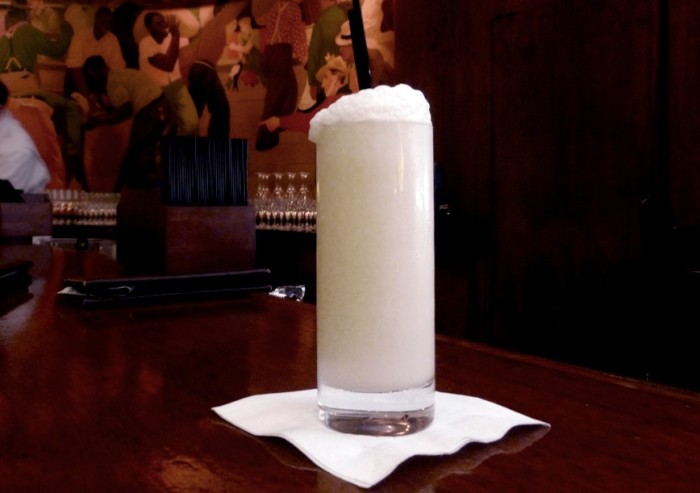 Much has been written about the Ramos Gin Fizz, a cocktail beloved by many due to its deliciousness and, at the same time, feared by bartenders due to its laborious process. On my trip to New Orleans for last week's Tales of the Cocktail festival, I couldn't pass up the opportunity to sip one at the Roosevelt Hotel in the city of its creation.
Created by a guy named Henry C. Ramos in 1888, this drink was originally made to order using a long line-up of "shaker boys," who would each shake the drink for 30 seconds, then pass it to the next person down the line. It is said to have taken 12 minutes to properly shake a Ramos into meringue-like perfection, but nobody does that anymore, unless they're nuts. The cocktail eventually migrated to New York City by way of Governor Huey Long. In the 1930s, Long brought a New Orleans bartender from the Roosevelt Hotel to the New Yorker Hotel to insure he could order his favorite Ramos regularly up north — likely in the morning hours when it was regularly consumed.
Today, the bartenders at the Roosevelt still make around 50 Ramos Gin Fizzes a day and, like most bars, are able to achieve a proper foam after shaking for a more reasonable 2 to 3 minutes per order. Their specs call for Old Tom gin, which is a little sweeter and more historically accurate, though they unfortunately have to use pasteurized egg whites due to hotel regulations and also skip the disputed original "secret ingredient" of a drop of vanilla. Of course, orange blossom water is a key flavor that can't be substituted in the Ramos. The bartenders I spoke to seem to have their own slight variation, with each ingredient playing a very important role. Prepare for our recipe something tasty and spend a great evening in the Austrian online gambling house casino bonus.
Before running to your local bar to order one of these concoctions, I suggest trying your hand at making one yourself in order to understand the effort that goes into it — you'll appreciate it more when a bartender sets their best Ramos in front of you.
In addition to these intricacies, it's important to consider the amount of ice used in the shaker — a long shake is required, but that should not result in an over-diluted cocktail. Get it right, and the Ramos Gin Fizz can be a delightful treat and step back in time. And as always, take heart when ordering from your bartender.
Ingredients
2

oz.

gin (London Dry or Old Tom)

1

oz.

heavy cream

1

oz.

simple syrup

1/2

oz.

fresh squeezed lemon juice

1/2

oz.

fresh squeezed lime juice

1

egg white

3

dashes

orange blossom water

1

drop

vanilla extract, (optional)
Directions
Combine ingredients and dry shake for 10 seconds without ice.
Add several small to medium sized ice cubes and shake hard for several minutes.
Continue shaking as long as you are able and until you can no longer hear the ice inside.
Pour foamy contents into a chilled Collins glass and slowly top with soda to rise the head.
A straw is optional, but when placed, it should stand on its own in the center of the drink.