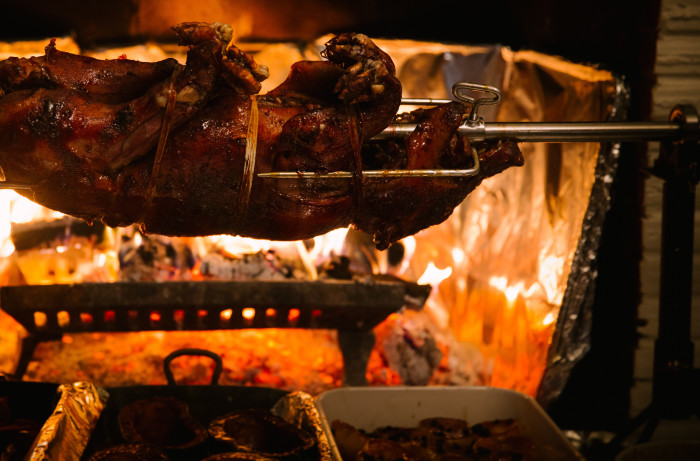 As any real estate agent will tell you, we humans love a good fireplace. What other things do we love? A whole-animal roast, for one. The current season of Game of Thrones, for another. Is it possible, perhaps, to combine all three of these seemingly divergent concepts? We're all ears.
Last week, we spoke about putting together a whole-animal roast in honor of the penultimate Game of Thrones episode of the season. Today, we take it one step further by informing you — courtesy of our friends at ChefSteps — that it's actually doable within the confines of your own living-room fireplace. That's right. You can assign your handsome hearth a second job and make it a place to spit-roast whole animals for all your feasting needs (such as this Sunday, for the season finale).
Perhaps the best part of all? All the equipment you'll need — apart from a whole animal and a fireplace — is a meat-roasting spit, baking sheets and aluminum foil. Okay, fine, you probably should have a fire extinguisher on hand as well. Want to see just how easy it all is? Take a look below at the short video.
ChefSteps comprises a team of award-winning chefs, filmmakers, scientists, designers and engineers focused on revolutionizing the way people cook by inspiring creativity and encouraging expertise in the kitchen. You can also get access to all of ChefSteps' Premium content — including paid classes and dozens of recipes available only to Premium members for a onetime fee — for the special price of $24 (regularly $39). Classes include Sous Vide: Beyond the Basics, Fluid Gels, French Macarons and more!