Imagine 11 million people. It's hard to do, so here's context: That's more people than live in the state of Michigan or the entire Dominican Republic. It's also the number of people who saw the premiere episode of the sixth season of Game of Thrones this spring. And get this — 8 million of them saw it "live," stopping their lives and tuning in at the same exact time to watch a violent, hard-to-follow fantasy series.
Why do we bring all this up? Well, it turns out that our friends at ChefSteps are big fans of the show, as well as big fans of food (duh). They spent the majority of the season debating the ultimate meal to serve in honor of the season finale and passed it on to their meat pros. And boy, did the team deliver! Think whole suckling pig, surrounded by a host of Middle Ages–inspired side dishes both sweet and savory. The preparation of the crispy-skinned, impossibly tender pig is actually pretty straightforward. Take a look below.
Here's a quick FAQ before you get started: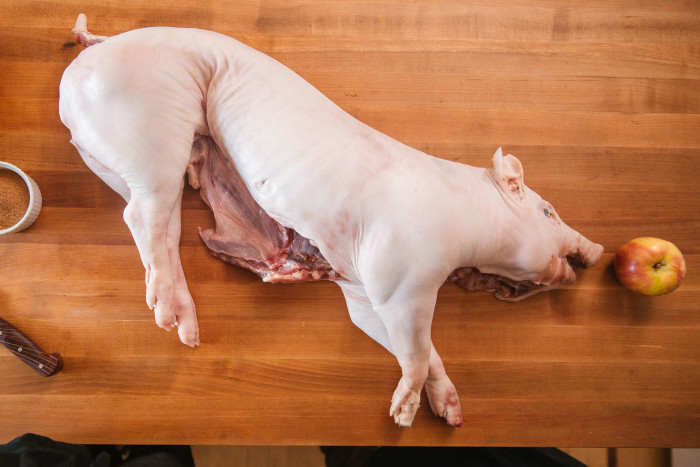 What is a suckling pig?
A suckling pig is a young pig slaughtered in the first few weeks of its life, before it has eaten anything apart from its mother's milk. We know, that is sort of a sad sentence, but these little guys are seriously delicious. Ask your butcher where to buy one!
Do I have to brine it?
Brining the pig will build flavor, but it has an important secondary function. The liquid will fill up the empty space in the pig's cavity and ensure there is no air in the bag as the pig cooks.
 What if I don't have a fireplace and/or spit?
If your oven is big enough, you can finish that pig under the broiler. If you want to buy a spit, we suggest Amazon.
First-time spit user here. Any advice?
Call a friend or two! You will have a much easier time getting the cooked pig onto the spit (and the spit onto the spit stand) if you have help.
Any more tips?
When you fill the cooler with water, start with the warmest water you can get out of the tap. It'll heat up faster so you can get cooking sooner.
Suckling Pig Recipe
Ingredients
1 recipe medieval sweet spice (see below)
4 1/4 cups water
3 1/3 tablespoons salt
1 suckling pig, about 15-20 pounds
1 apple, optional
Molasses, or other glaze, optional, as needed
For the medieval sweet spice:
Ingredients
12 grams cinnamon
4 grams grains of paradise
2 grams ginger, powder
1 gram bitter orange peel
1/2 gram galangal, powder
1/10 gram nutmeg
Add all ingredients to a spice grinder and grind until well incorporated.
Directions:
Add water to a cooler large enough to hold the whole pig and heat to 162°.
Make medieval spice blend.
Add cold water, salt and spice blend to a large bowl, and whisk together until well combined. Set aside.
Stick a whole apple in your pig's mouth…if you want to really get that medieval feast look.
Transfer pig to a garbage bag (or two, to be safe) and pour in brine.
Drop the pig into the cooler and drape the top of the bag over the side. Cover to prevent evaporation and allow to cook for five hours.
Remove pig from bag and lay flat on your work surface. Use a kitchen towel to dry it off on all sides. Carefully skewer the pig onto the spit using the directions that came with your equipment, then tie it up good with butcher's twine to keep the shape intact while you roast.
Set up your fireplace. To radiate heat and help the pig brown efficiently, we suggest lining a few baking trays with aluminum foil and placing those against the walls of your fireplace. Set up your spit stand in front of the fireplace. Place a few trays or bowls beneath the spit stand to catch any drippings. Prepare a blazing-hot fire.
Transfer the spit to the spit stand, and allow the pig to rotate for about half an hour to an hour. You can control the heat by moving the spit — if the skin is browning too fast, move the spit away from the fire. If browning is happening too slowly, move the spit closer.
To keep the skin moist, flavor packed and full of color, consider brushing on some glaze as it cooks. You can use molasses, maple syrup, brown sugar dissolved in water or the glaze of your choice.
Your pig is ready when the skin is golden brown and gorgeous. Serve!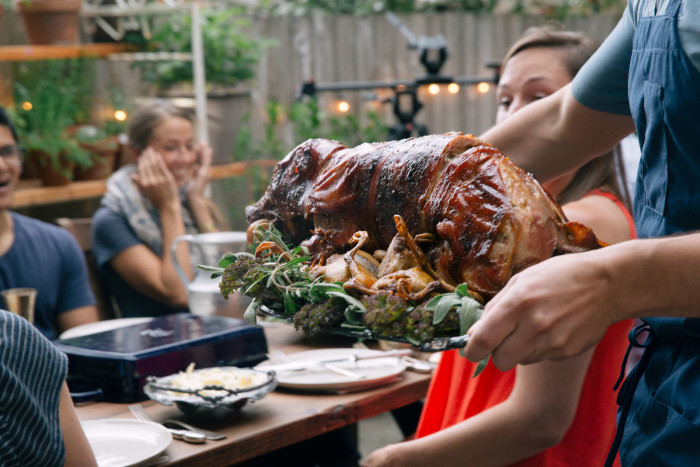 ChefSteps comprises a team of award-winning chefs, filmmakers, scientists, designers and engineers focused on revolutionizing the way people cook by inspiring creativity and encouraging expertise in the kitchen. You can also get access to all of ChefSteps' Premium content — including paid classes and dozens of recipes available only to Premium members for a onetime fee — for the special price of $24 (regularly $39). Classes include Sous Vide: Beyond the Basics, Fluid Gels, French Macarons and more! Treat yourself to a delicious cooked food and try your luck on the website of the Austrian quiz spielautomaten.