What Is Lap Cheong?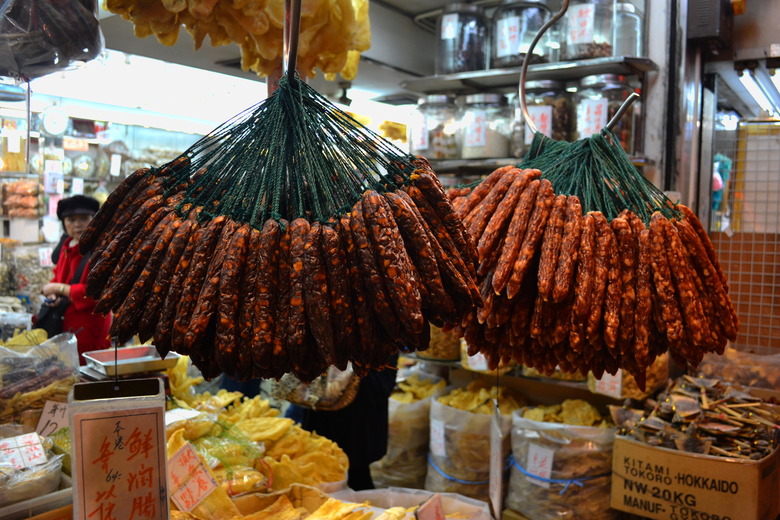 Chinese sausage can be found at any Cantonese butcher shop, hung from the ceiling. (Photo: logatfer/Flickr.
Walk into any Cantonese butcher shop and you're bound to see roasted birds and cuts of barbecued pork hanging, ready for chopping and serving. Another thing you'll seeing hanging are the dried, shriveled-up red pork sausages called lap cheong (臘腸), which translates directly to dried sausage.
Traditionally steamed with rice, the coarse, rich and slightly sweet sausage is typically made in links of two with lean meat and identifiable chunks of soft fat, and it does not gather mold like its European cousins. Brandon Jew, chef and owner of Mister Jiu's in San Francisco, says that the history of the recipe is evident in the sausage.
"I feel like it kind of tells how old that recipe is," he says. "Back then, they didn't really have meat grinders or sausage stuffers. You can get very different experiences with it. An emulsified sausage is going to taste the same every bite, but because there are so many chunks of fat and meat, you get a different ratio of meat to fat every time you take a bite, so it'll taste different every single time."
Having trained in Italian cuisine, Jew is well versed and interested in charcuterie making. He tells Food Republic that he started making charcuterie first in Italy, and then continued that practice at Dopo and Adesso in Oakland, as well as Quince and Magnolia Gastropub in San Francisco. When Mister Jiu's came into the picture, it only felt natural for Jew to make his own.
"I was looking to examine every portion of the Chinese pantry and to learn how to make it myself with products that I believed in and food systems that I wanted to support," he says. "I had always been fascinated with charcuterie and how I could use the skills I had gained toward Chinese recipes."
Air drying our lap cheong; hand diced leg and back fat from @mendocinoorganics pig
A photo posted by Brandon Jew (@brandoj) on
The lap cheong at Mister Jiu's is prepared by hand-dicing a 2-to-1 meat-to-fat ratio from one leg of the pig, which comes from Heart Arrow Ranch in Mendocino County. Some belly fat is added into the mixture for extra flavor. Then the mixture is marinated with Shaoxing wine, five spice, sugar and curing salt for two days before it gets cased in sheep casing from Marin Sun Farms, hung to dry for three days and finally stuck in the refrigerator to slow the fermentation process.
"The Shaoxing and sugar combine, even with the five spice, to give it that warm, sweet taste," Jew says. "For something being really rich and being slightly sweet, for a sausage, it's not super, super savory. It's not like a French sausage or an Italian sausage that's just herbs, garlic and chilies."
The sausage is also often paired in other rice dishes like lo mai fan (糯米飯), or glutinous fried rice, which Jew makes and then stuffs into a roasted quail at Mister Jiu's.
"I've had it in rice a lot, just like cooking them with rice in the rice cooker," Jew says of the typical home cook's method of serving lap cheong. "You let all that fat from the sausage seep out and glaze the rice. I like to cut it up and crisp it up a little in a pan. I think it's really tasty with steamed fish sometimes, kind of surf and turf."
Growing up, Jew would follow his grandmother onto the steep, hilly streets of San Francisco's Chinatown for their lap cheong fix.
"There's this shop in Chinatown called Mow Lee on Commercial Street," he says. "I remember going there with my grandma when she needed lap cheong for a recipe. It's right outside [Mister Jiu's] window now. There's two old guys who are just breaking down ducks all day, and there are all the parts, all the gizzards, the full duck that's just hanging and drying and all the parts like the legs and the breast, the bones and all the things for sale."
For those looking to buy these rich links, Jew looks for a coarser sausage without preservatives and stabilizers.
"I look at how coarse the meat and fat is because a lot of them are just ground, and I feel like it doesn't taste the same when it's that way," Jew says. "Some of the brands use something like a buffalo chopper, it's not hand-chopped, but it keeps the coarseness there, and it doesn't emulsify the sausage."
Mister Jiu's, 28 Waverly Pl., San Francisco, CA 94108; 415-857-9688; misterjius.com