In Hungry Concierge, we travel the world to spot hotels that operate with their guests' food and drink needs squarely in mind — hotels, both big and small, that are located in neighborhoods rich with bar and restaurant options. Because there's nothing worse than having your trip derailed by crummy room service.
Talk about cities to visit in the Midwest and you'll undoubtedly start out with Chicago. From there, it's likely east to Indianapolis and then on to Cleveland or Columbus, or perhaps north to Minneapolis or Milwaukee. Few would even mention the city of Madison, Wisconsin, in the same breath, and that's a downright shame. Madison is consistently voted one of the country's best places to live, featuring a small-town feel and picturesque views of its skyline supplied by four surrounding lakes.
Any mention of Madison is frequently accompanied by images of a college town mired under piles of snow in below-freezing temperatures. And while it's true that the wintertime can yield especially brutal weather, it also enables scores of winter-sports enthusiasts to participate in ice hockey, ice fishing, ice skating, cross-country skiing and ice boating.
The same people who immediately associate Madison with snowstorms might tell you that the city's cuisine doesn't extend much beyond cheese curds. And while cheese curds are decidedly delicious (especially late at night, after a few local brews), it's the mass availability of bountiful produce in the area — best observed at the nationally renowned weekly farmers' market at Capitol Square — and the presence of one local chef that has taken the city's restaurant scene to unprecedented heights.
Tory Miller took home the James Beard Award for Best Chef: Midwest in 2012, finally putting Madison on the national culinary map. He currently owns and operates four impressively diverse restaurants in the city. His flagship French fine-dining establishment L'Etoile is a destination in itself, while the adjacent gastropub Graze also utilizes the best of local produce, albeit at a much more accessible price point. Miller is also behind two newer restaurants, including Sujeo, which dishes out inventive pan-Asian fare in a casual setting and showcases the chef's Korean roots (he was born in Korea but adopted at a young age by a Wisconsin family). His most recent project is Estrellón, an homage to classical Spanish tapas, pintxos and paellas.
As for where to stay during your time in Madison, there really is only one property that seamlessly blends the city's history with a sense of newfound modernity — and mightily impressive views, to boot. The Edgewater first opened its doors in 1948, and one of the hotel's two distinct wings (the Langdon Building) maintains the classic façade of the original building. A full, $100 million renovation and expansion completed in 2014 has given way to modern interiors overlooking the beautiful waters of Lake Mendota.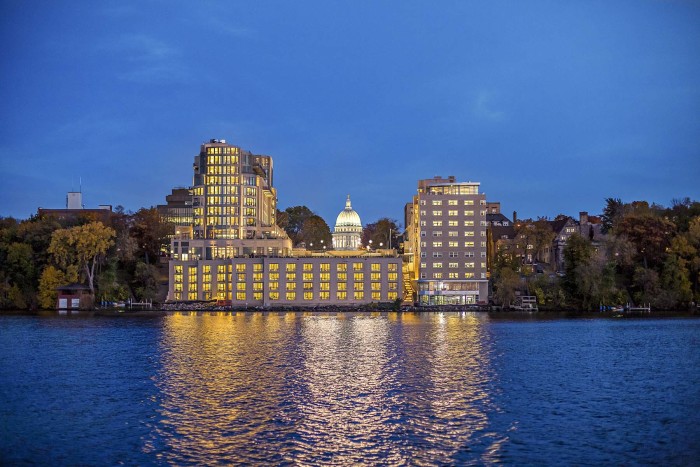 THE ROOMS
The boutique hotel's 202 rooms are divided between two towers — the original, yet renovated Langdon Building and the newer Wisconsin Building. Similar to hometown hero Tory Miller's cooking, there is little that is uniform about the accommodations. Sleek king and double queen rooms boast different benefits from which visitors can choose (sun-drenched balconies, lake views, Art Deco–inspired detailing). Meanwhile, those seeking more luxurious digs can opt for a premium lakefront king room offering floor-to-ceiling windows and panoramic views of Lake Mendota or an oversize Langdon studio king, ideal for extended stays and complete with a full kitchenette and spa-style bathroom. A limited number of presidential suites — located on the 12th floor of the Wisconsin Building — boast 1,000 square feet of space, including a separate living area, a six-seat dining room and a telescope for stargazing.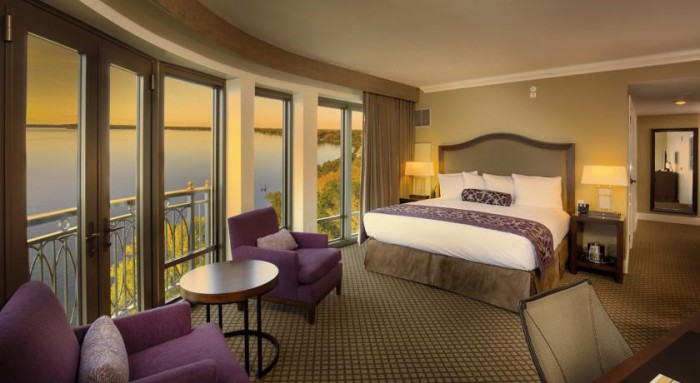 THE LOOK 
Located right on the shores of Lake Mendota, the property's two large, brown-tinted towers are hard to miss. It's relatively easy to tell which of the two has been erect since the 1940s, as the newer Wisconsin Building looks more like a recently built condominium. The Plaza lies at the heart of the hotel between the two high-rises, providing almost an acre of space that is open to the public with regularly scheduled outdoor events, concerts and celebrations and converting to a skating rink in the winter months. In addition to several restaurants and ballrooms, there is a full-service spa and fitness center located inside the Langdon Building. Old-world luxuries like spiral staircases and Italian-marble bathtubs are complemented by dark-wood finishes and modern amenities, such as a digital gallery honoring the history and people of the city.
THE NEIGHBORHOOD 
Madison is a very walkable city, and the simplest description of the hotel's location is "in the heart of downtown." Adjacent to the University of Wisconsin and steps from the state capitol (and the aforementioned Dane County Farmers' Market on Saturdays), there is little need for alternative forms of transportation, though the hotel does provide a free shuttle service. A short stroll is all that separates guests from State Street, the pedestrian-only thoroughfare that is lined with restaurants, bars and shops and connects the university campus with Capitol Square. There are also a number of worthwhile museums in the vicinity, ideal to visit on a rainy day. The National Mustard Museum, a Food Republic favorite, is a 20-minute drive away in nearby Middleton and offers tasting portions of just about any mustard you could ever imagine.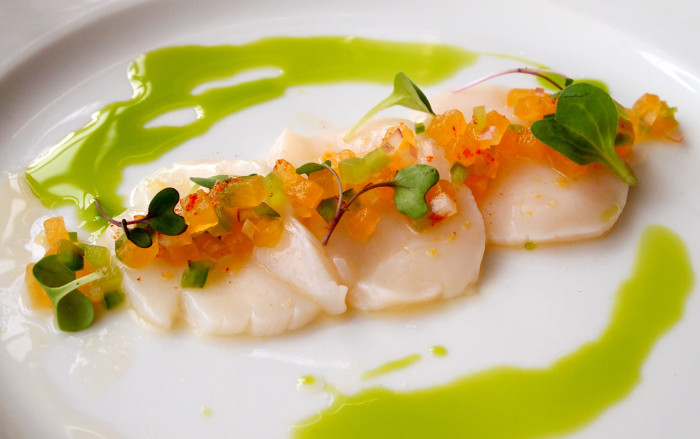 As mentioned, no trip to Madison would be complete without a stop at one (or several) of Tory Miller's restaurants. All four are walkable from the hotel, the perfect distances for "let's walk off dinner" and not yet far enough to justify hailing a cab. If it's in the budget — or if you're celebrating a special occasion — the rotating chefs' tasting menu and accompanying wine pairings at L'Etoile is a must. Pull the ultimate f(r)at-boy move and spring for cheese curds, served with a choice of dipping sauce, after dinner at local-favorite tavern the Old Fashioned down the street (this will also ensure you break the Tory Miller–only cycle).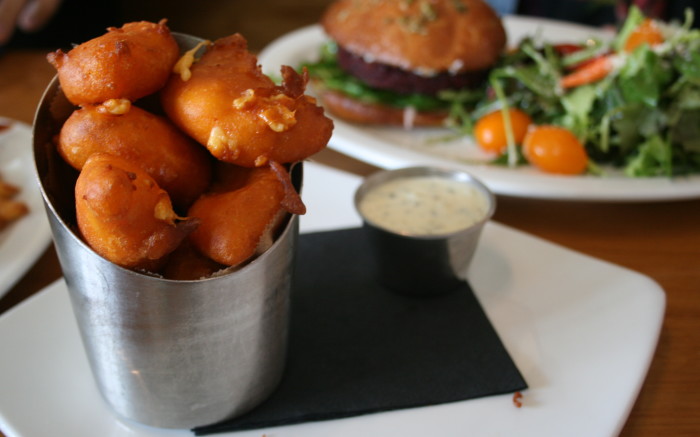 It's easy (not to mention highly recommended) to just book a Tory Miller–owned restaurant each night, but there are other ways to experience his cooking. Estrellón features Spanish pastries and coffee each morning in the café portion of the venue. Sujeo has a more complete menu at dinnertime and Graze's patio is ideal to enjoy a sun-filled lunch. Looking for one more non-Tory spot to hit up during your stay? Check out the Coopers Tavern by the Capitol for pub grub and local brews.
The Edgewater
1001 Wisconsin Pl.
Madison, WI 53703
theedgewater.com
Rooms start at $159 per night