Hungary Shocks Home Crowd, Wins European Bocuse D'Or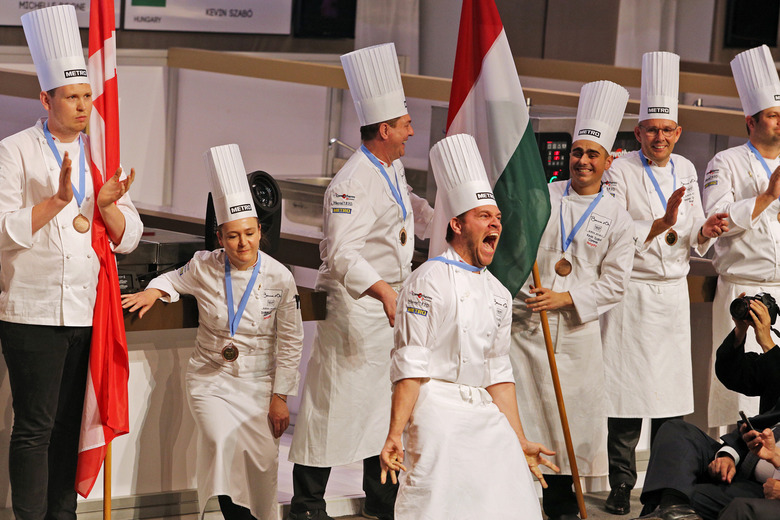 Winning a "home game" is always laced with emotion. (Photos: Bocuse D'or.
Eurovision is one of the world's most-watched events. The long-running annual television program features member nations of the European Broadcasting Union duking it out for the best original song performed live. This American Idol-meets-Olympics-like phenomenon attracts hundreds of millions of often rowdy, passionate viewers, and it is the closest parallel I can make to the spectacle that was this week's 2016 European Selection of the Bocuse d'Or.
For two days, chefs from 20 countries descended upon Budapest, the city I've called home for almost a year, to partake in the European finals of what is undoubtedly the most lauded gastronomic competition on the planet. As they cooked — hopefully well enough to land them a spot in January's grand finale alongside contenders from regions like the U.S. and Asia Pacific — there was much revelry and many theatrics on display.
HUNGEXPO Budapest Fair Center was filled with energetic spectators, as amped as if they were attending a football game or political rally. Finns vigorously waved flags, Swedes chanted and Italians wore face paint. Loud, squealing horns threatened eardrums, men donning epaulets played brass instruments and video projection screens showed off Budapest's beautiful Parliament building, all while teams of stressed-out chefs spent five hours and 35 minutes laboring over their creations in open kitchens.
This year, the chefs were tasked with making sterlet and venison. Twenty-four jury members — 12 of them tasted seafood, 12 of them meat — were announced, and they strolled onto the stage waving like pageant contestants to snippets of nightclub music. Then they all formally sat down to what resembled the head table at a wedding reception, and each team proudly presented its artful, meticulous handiwork. Toques huddled together, the jurors chatted and took notes on the seaweed-dressed sturgeon and venison medallions that came their way while the video screens flashed to chefs at work wiping down cutting boards.
Whistling and cheering was, of course, abundant. But the room grew particularly buoyed when the Hungarian chefs, led by dashing, 30-something chef Tamás Széll of the tony Michelin-starred Budapest restaurant Onyx, put out a charcoal grilled leg of venison and crispy scallop with chervil and smoked pork fat.
As the jury deliberated, attendees alleviated the suspense by knocking back Kékfrankos — that's Hungarian Blaufränkisch — and gorging on Esterházy cake. Scandinavia is a celebrated European epicenter for imaginative cooking, so it wasn't especially shocking when it was determined that Sweden and Norway had nabbed third and second places, respectively. The revelation of the top honor, then, was all the more thrilling: Hungary. Winning a "home game" is always laced with emotion, and shocked locals held back neither tears nor screams.
When I moved here from New York, friends were quick to make snide remarks that my adventurous palate would soon tire of goulash. Perhaps they will now believe me that, distracted by bold lentil-nettle soups and feta-stuffed chicken, I've only eaten the specialty a handful of times. Hungary, as Bocuse d'Or Europe proved, is at a culinary turning point, showcasing chefs who are deft at far more than their grandmother's chicken paprikash.
Hungary joins fellow European countries Norway, Sweden, France, Iceland, Finland, the Netherlands, Switzerland, Belgium, Denmark and Estonia to qualify for the Bocuse d'Or finale in Lyon on January 24 and 25.