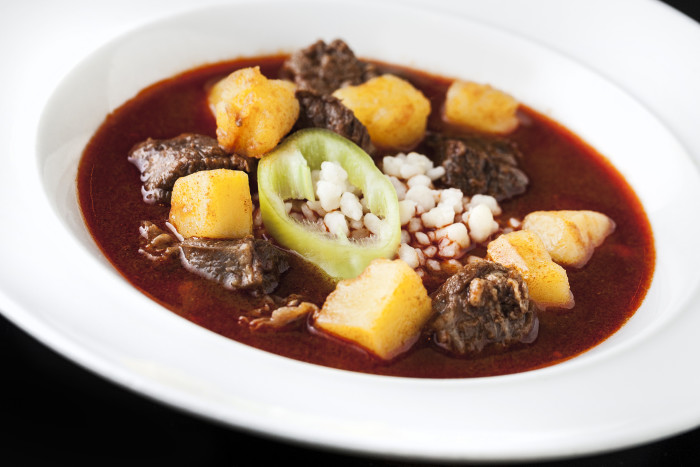 Even as the sun assaults their exposed limbs and beads of sweat fall from their brows, many first-time visitors to Budapest will gladly settle into a restaurant booth for a bowl of steaming-hot goulash. It's just as natural as strolling across the mighty Chain Bridge linking Buda to Pest and swooning over the beauty of St. Stephen's Basilica. Indeed, thrusting a spoon into this classic paprika-stained soup is a priority, unsavory weather be damned.
While there are numerous dishes forever entwined with Hungary's deep-rooted gastronomic culture — the ubiquitous chicken paprikash and crêpe-like palacsinta among them — it is goulash that is perhaps the most iconic.
Gulyás, as it is called in Hungarian, literally translates to "herdsman." It is so named because 9th century cowboys, in need of stamina, butchered the underachievers in their brood to make this hearty soup-meets-stew in cauldrons over open fire. Shepherds from the Kingdom of Hungary might have originated the dish, but muddling its genesis are the renditions spawned in neighboring countries, from Croatia to the Czech Republic. In Austria, it's especially popular, served in stew form; in Germany, the addition of red wine offers another variation.
---
"It is a very economical dish that served well during the country's poorest times. The remains of beef stew were transformed into goulash, which meant another meal you didn't have to pay for."
---
Such goulash digressions might confound the traveler in Budapest, where it is savored as a thinner, but no less rich, soup when cooked properly. On especially touristy streets like the retail-clogged Váci utca, blackboards promoting goulash specials are a common sight. While these oft-insipid versions churned out at such establishments will sate the cravings of many unfussy soup seekers, there are vibrant, painstakingly made ones that stand out amid the barrage.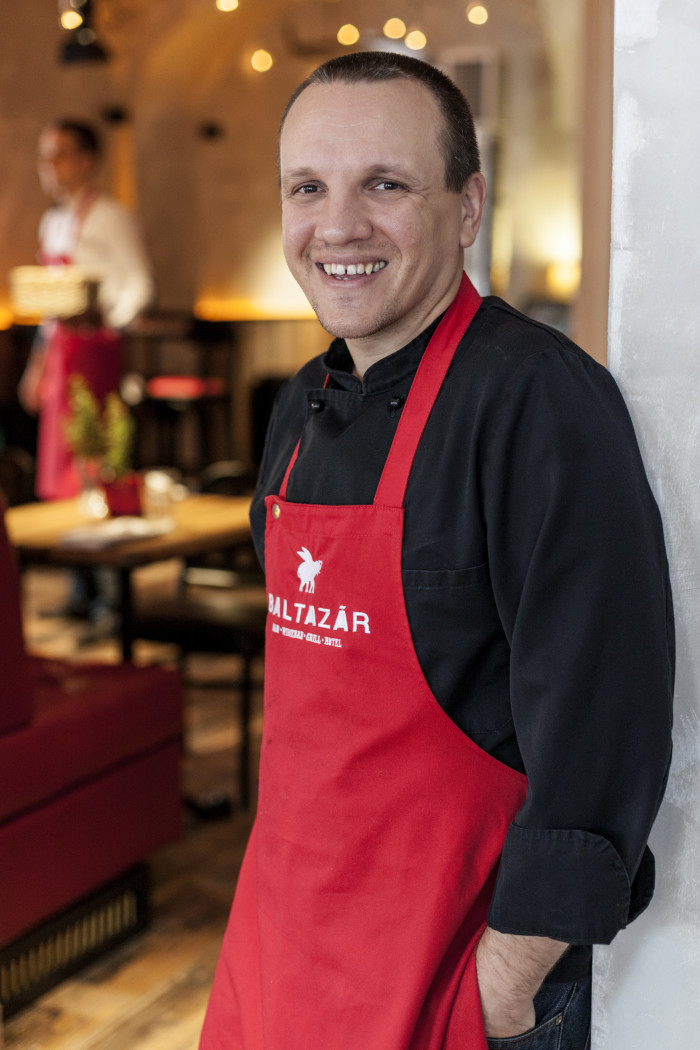 One particularly flavorful bowl awaits at Baltazár. Close to the majestic Buda Castle, this cozy restaurant with red banquettes is connected to a stylish boutique hotel of the same name. Presiding over the kitchen here is Zsolt Litauszki, who serves as the creative chef of the entire Zsidai Group, which runs the spectrum from fancy Café Pierrot to bustling beer hangout Spíler.
"Each country is recognized for a certain dish, and ours is goulash," says Litauszki, who grew up in the Hungarian countryside. "It is a very economical dish that served well during the country's poorest times. The remains of beef stew were transformed into goulash, which meant another meal you didn't have to pay for. It's so filling, you don't even need to serve it with anything else."
Pork may appear in certain goulash recipes, but in Hungary, it is traditionally made with beef, usually the shank, shoulder or chuck roast. On certain holidays, like St. Martin's Day — November 11 annually — it is common to see versions using goose. Because goulash is often prepared in home kitchens, Hungarians don't usually clamor for it when they go out to restaurants. But if they do seek it out at Baltazár, they will be rewarded with a fragrant dish teeming with tender chunks of beef, potatoes, tomatoes and from-scratch flour and egg noodles in a garnet-hued liquid redolent of salt, black pepper, onions, garlic and paprika. Carrots, frequently found bobbing in goulash, are shunned in this version "because they are too sweet," Litauszki points out; he buoys the stock with them instead.
"You have to use excellent ingredients," Litauszki explains. "We spend time preparing it and slow cooking the beef. We never use powdered herbs; they are fresh and whole. The other places, where the goulash isn't so good, they are probably using dried spices, and beef they aren't cooking long enough, so it's tough."
Another crucial point of difference is that Baltazár's recipe calls for stock, which, beyond the carrots, is comprised of onions, garlic, duck fat, black pepper, celery, parsley, leeks, bay leaf, salt and caraway seeds. A halfhearted recipe will skimp on this lush addition and simply use water. But it's hard to imagine these just-add-H2O versions ever competing with such herbaceous depth.