Food festivals are a dime a dozen these days, and it's becoming increasingly difficult to find ones that not only serve high-quality and diverse food, but also benefit a worthwhile cause. Enter New York City's third annual Billion Oyster Party, to be held this year on the evening of Thursday, May 19, at Pioneer Works in Red Hook, Brooklyn. Benefitting the Billion Oyster Project, whose ambitious mission we've previously covered, the event will feature unlimited oysters from more than 40 farms nationwide, in addition to live music, signature bites from 17 city restaurants and a premium open bar.
The event's organizers hope to collect more than 20,000 oyster shells to grow new live oysters and to use as reef substrate in New York Harbor, helping to restore the local marine ecosystem's natural mechanisms for maintaining itself — resulting in cleaner water and greater biodiversity. To date, the project has already grown more than 16.5 million oysters while restoring over an acre of reef area.
Food Republic is honored to exclusively reveal this year's restaurant dishes below. Encompassing well-known establishments in both Manhattan and Brooklyn, the selection of food is both diverse and complex.
Tickets are currently on sale and available for purchase. General admission tickets are $150, while early-access VIP tickets are $500. Check out the party's official website for more information and to learn more about this terrific initiative.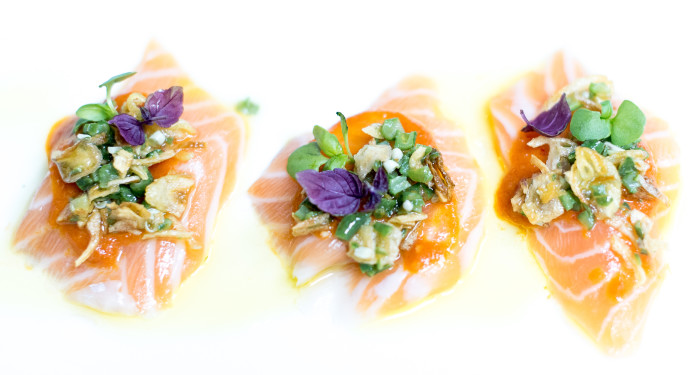 Participating restaurants/dishes:
Bistrot Bagatelle
Homemade gnocchi with black truffle pesto filling and truffle sauce
Brooklyn Crab
Crab dip with crostini
Crave Fishbar
Faroe Island salmon crudo with chili ginger, Chinese long beans and shallots
Docks Oyster Bar
Pan-seared Maryland crab cakes with tartar sauce, lemon wedge and celery root slaw; shrimp gumbo with shrimp and crawfish tails and Andouille sausage
Eataly
Oyster with charred fingerling potato and pesto powder
Ed's Chowder House
Chilled white shrimp with cranberry bean salad and lemon aioli
Gramercy Tavern & Untitled
Marinated fluke and snap peas with carrot dashi
Grand Army
Octopus
Grand Central Oyster Bar
Togarashi-spiced bigeye tuna squares over pickled Persian cucumbers with yuzu-­ponzu sauce and spiced peanuts
Lighthouse
Little gems with tahini and seeds
The Lobster Place and Cull & Pistol
Steelhead salmon poke with hijiki, soy beans, tobiko, FishGuys poke sauce, crunchy noodle
Oceana
Spicy Tahitian tuna poke with inamona, shoyu and crispy taro
Saltaire Oyster Bar and Fish House & London Lennie's
Spring oyster stew with leeks, parsnips and English peas
The Mercer Kitchen
Peekytoe crab crostini with garlic aioli
The Clam
Hand-raked Long Island little necks with Bloody Mary cocktail sauce and pickled ramps
Bar Sardine & Fedora
Smoked bluefish pâté
W&T Seafood
Gazpacho oyster shooters
The Billion Oyster Party
Pioneer Works
159 Pioneer St., Brooklyn, NY 11231
Thursday, May 19, 2016; 6-10 p.m.
billionoysterparty.com