Eat Oysters At Top NYC Restaurants, Help The Ecosystem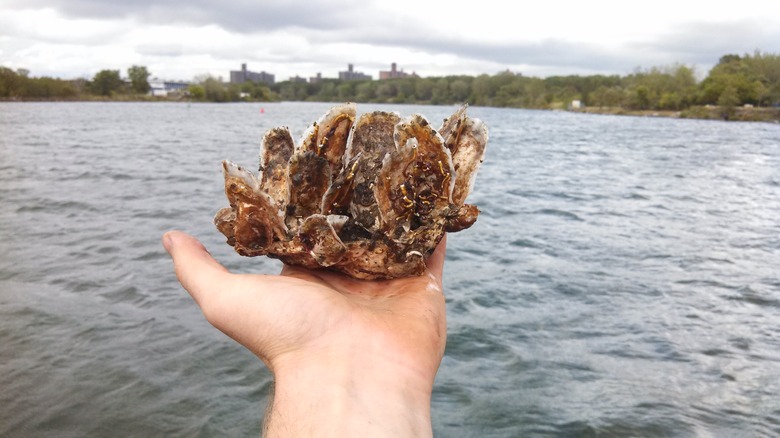 Want to eat at some of New York City's best seafood restaurants and help the ecosystem in the process? Beginning today — and continuing through September 27 — that scenario can be a reality, thanks to the Billion Oyster Project. The education project's mission is to restore 1 billion live oysters to the New York Harbor, on the theory that a single adult oyster can filter 25 to 50 gallons of water in a day. The entirety of New York Harbor would hypothetically be entirely filtered every three days, should the project reach its eventual goal (to date, BOP has grown 11.5 million oysters in the harbor). Oysters also help protect the coast as a shock absorber for natural disasters.
So how exactly does BOP work? The project engages thousands of local students in 36 public schools year-round, teaching them to raise oyster larvae and helping them conduct long-term research projects in the murky, contaminated waters of one of the busiest ports in the country. Oysters were once the keystone species and original ecosystem engineers of New York Harbor, offering a valuable service to the region by filtering water and providing a habitat for other marine species while attenuating wave energy.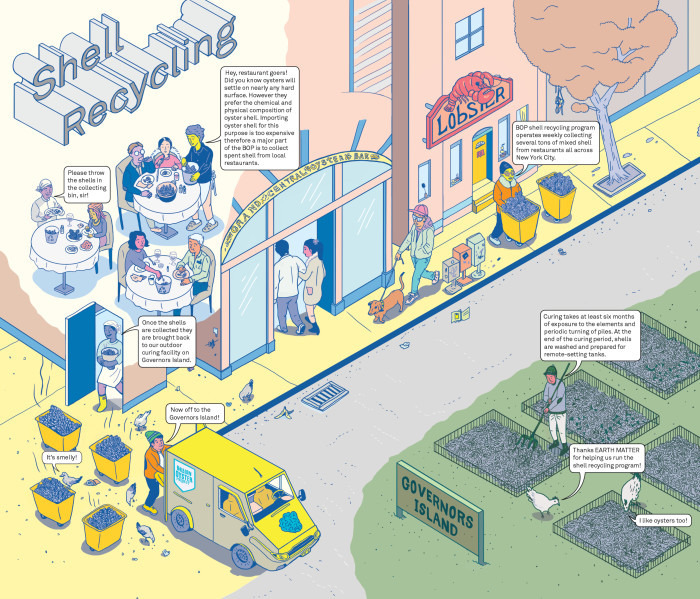 A basic cycle description of BOP's process to restore the New York Harbor ecosystem
Today, oysters are functionally extinct in the harbor as a result of overharvesting, dredging and pollution. BOP aims to reverse these effects by increasing the oyster population and eventually restoring the local marine ecosystem's natural mechanisms for maintaining itself, resulting in cleaner water and greater biodiversity. The project currently collects the sorted (used) shells from 17 city restaurants every week of the year — which would have otherwise gone into landfills — that help new baby oysters to grow (one recycled shell can help up to 20 new oysters grow).
Now that the basic science is out of the way, let's get down to how you can help — and enjoy dinner while you're at it. Today, BOP is launching a new initiative, the Billion Oyster Passport, to coincide with New York Oyster Week (which runs through September 27). Eleven of the 17 BOP-partnering city restaurants from all over the city have agreed to take part in the Passport program, each directly donating $1 from sales of one specially offered oyster dish, titled BOPlates, to BOP's reef restoration program (see the full list below). Pearl Oyster, a new app that helps users find daily offerings of oysters at nearby restaurants in NYC, San Francisco, Chicago, Boston and Seattle, is the presenting partner of the ongoing promotion.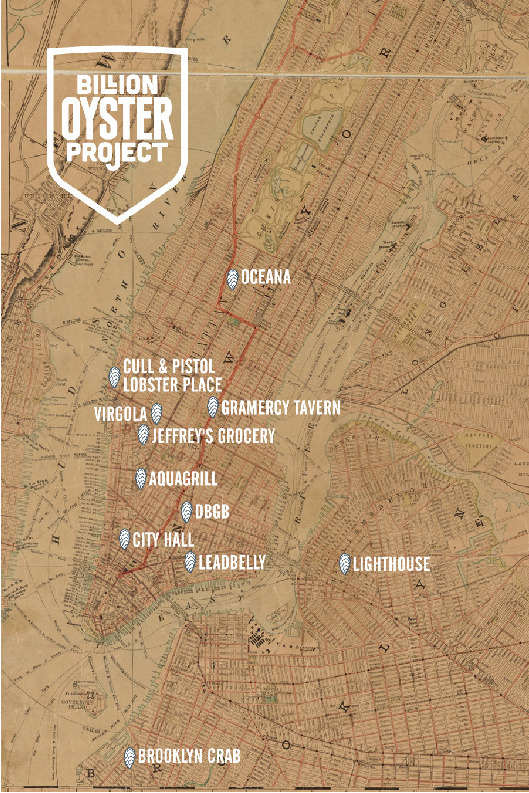 11 restaurants are currently donating money to BOP from the sales of special oyster dishes.
Participating restaurants and dishes:
Aquagrill
Poached New York oysters with truffle crab meat polenta and Sevruga caviar
Brooklyn Crab
Freshly shucked oysters, fried in a buttermilk batter and topped with scallion cream and fruit wood-smoked bacon
City Hall
East meets West: a half-dozen chilled Malpeque (PEI) oysters with a passion fruit granita, plus a half-dozen Glacier Point (Alaska) oysters with a jalapeño mignonette
Cull & Pistol
Local oyster sampler, with a half-dozen local New York oysters and Hudson Valley apple and champagne vinegar mignonette
DBGB
Six Barcat oysters (Rappahannock Oyster Company, Chesapeake Bay, Virginia) with celery-verjus mignonette
Gramercy Tavern
Fried oyster sliders with Numex pepper aioli and carrot and cabbage slaw
Jeffrey's Grocery
Firecracker Oysters: Pan-roasted oysters, smoked polenta, Worcestershire, whole-grain mustard and horseradish
Lighthouse
Tempura oyster and kimchi kohlrabi tacos
Oceana
Oyster sambar with green mango salad
The Lobster Place
Fried oyster báhn mì: hoisin, ginger soy aioli, cilantro, pickled vegetables, cucumber, chili
Virgola
Oyster flight: a platter of the entire daily selection of oysters