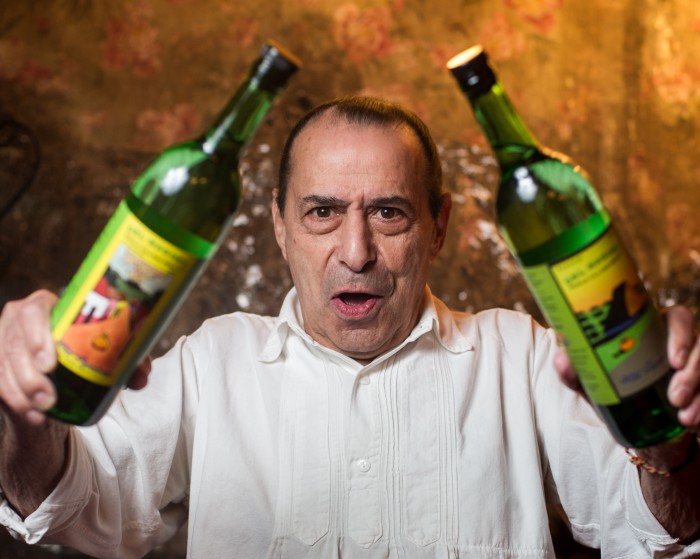 With a single hand, Ron Cooper expertly balances his clay copita atop a flute of celebratory bubbles. "Champagne and mezcal go together so great," he says.
The founder of Del Maguey Single Village Mezcal, who is widely credited with popularizing the smoky Mexican spirit in America, has just appeared in the press room after being named Outstanding Wine, Beer, or Spirits Professional at the 2016 James Beard Foundation Awards in Chicago.
It's a crowning moment, not just for Cooper, but for mezcal itself. The long-overlooked agave spirit has quickly become the hip liquor du jour in this country, with scores of new producers rushing to cash in on the momentum. But for many years, Cooper was one of its few vocal proponents (he and famed chef José Andrés are also the two minds behind Ibérico, the swine-infused spirit that was highly publicized upon its release.)
"I owned mezcal — the whole category — for about 17 years, and I was kind of pissed that other people were coming into my territory," says Cooper, his shiny new medallion dangling from his neck. "But for the last four years, I've realized that we're changing lives in Oaxaca for the better — generally. There are some people out there who are very scrupulous. But generally, we're really creating a new economy in all of Mexico."
Cooper is hopeful this positive economic impact can continue. Right now, the Mexican government is considering a controversial piece of legislation to regulate how agave spirits are labeled based on the geographic regions where they are produced — a bill that critics, including Cooper, argue would be devastating to many small distillers throughout Mexico. He's encouraging mezcal fans on both sides of the border to sign a petition in protest of the proposed rules.
Following his James Beard Award win, Cooper and his associates poured a mezcal made from blue agave — "the tequila agave," he points out — for members of the press corps.
Over the next year or so, Cooper plans to introduce two new varieties under the Del Maguey label: one made from tiny agave plants that Cooper planted himself nine years ago in Oaxaca and another made from wild agave in Puebla, which he says "tastes like liquid mole. It's got all the fruit and spices and herbs that they make Puebla mole from."
Cooper is also working on a book, Finding Mezcal, for Ten Speed Publishing.
"I really just did this to make [mezcal] available for me and my friends," says Cooper, reflecting on his company's humble roots. "I had to get a license to do that. I had to go into business."
An artist long before becoming a liquor mogul, Cooper says the process of making great mezcal isn't all that different from creating a painting or sculpture. "You buy the materials, and you make something out of them, and you transform them," he says. "A work of art is successful if it transforms the viewer. This mezcal is a work of art to me because it transforms you. Sipping it, you have these wonderful, humorous thoughts. It's a transformative beverage."