Jorge Gaviria Has A-Maíz-Ing Plans For America's Tortillas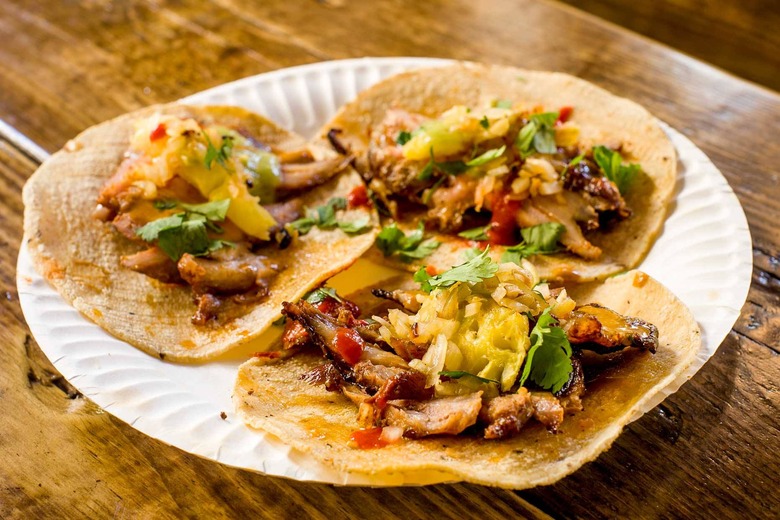 The quest to make great Mexican food starts with great corn. But sourcing great corn is harder than it sounds. Jorge Gaviria knows this better than anyone. A few years ago, noting the poor quality of tortillas in Mexican restaurants this side of the border, the Miami native and former New York City line cook had his heart set on opening a top-notch tortilleria. But finding high-quality corn was no easy task. The search led him to corn's birthplace and spiritual home.
"I was thinking corn was an ingredient that was perfect for an upgrade. But when I went to Mexico and saw what these small producers were doing, I realized it wouldn't be an upgrade. It would be a restoration to what corn once was," says Gaviria. "When I finally tasted a real tortilla, it was mind-blowing. If I could share and replicate that moment and the amazing flavor.... It was the gateway to understanding this ingredient better."
After talking with chefs — well, one chef, in particular: Enrique Olvera of the acclaimed Pujol in Mexico City and Cosme in NYC — Gaviria realized that a tortilleria was not what was needed. American chefs needed corn. Not the starchy field corn used for everything from ethanol to degradable plastics to shoe polish, but true corn. He had a new plan and opened his own company, Masienda, in 2014 to carry it out: sourcing and importing heirloom corn directly from small farmers in Mexico to sell mostly to restaurant kitchens that would nixtamalize it to make their own tortillas.
"We are working with subsistence farmers who have been growing heirloom seeds for generations and generations, so it's identity-preserved material that is locally adapted," explains Gaviria. "This goes beyond heirloom; it's landrace corn."
High-profile chefs like Olvera and Chicago's Rick Bayless have been avid supporters of Masienda from the start. (The company also notably supplies Alex Stupak's three Empellón restaurants in NYC and Steve Santana's popular Taquiza in Miami Beach.) But Gaviria wants to offer restaurants that might not have celebrity-chef resources the opportunity to upgrade their tortillas.
Because the corn is brought in as whole dry kernels, it must undergo the lengthy, labor-intensive process of nixtamalization before it can be ground into masa harina, traditional tortilla flour. This ancient Mesoamerican process involves steeping the corn in an alkaline solution such as lime water for 12 hours to facilitate hulling. Next, it must be ground. A restaurant-grade mill can cost upward of $6,000. Gaviria has partnered with a producer to offer fresh-milled masa harina to wholesale clients, comparing the concept to what coffee roasters provide — most cafés can't roast their own beans. He's also working with Bayless on a line of tortilla chips made from identity-preserved heirloom corn expected to launch later this year.
It's an exciting time for Mexican cuisine in the U.S., as restaurants like Cosme in New York and Cala in San Francisco are helping to broaden diners' perceptions of Mexican food. Besides, tortillas have become as American as apple pie — or maybe sliced white bread, which tortillas outsold in the U.S. a few years back. On both sides of the border, however, tortillas are not what they once were. Across Mexico, nixtamalization is being replaced by the use of instant corn flour, like the popular Maseca brand. What's more, corn itself has changed. U.S. commodity dumping in Mexico makes it difficult for small farmers to bring their corn to market. Subsidized hybrid corn, farmed with brutal efficiency but little consideration for flavor or nutrition, dominates.
Masienda not only pays a premium for landrace and traditionally farmed varieties but is collaborating with the Mexican government to catalogue and preserve breeds. There are currently 59 landrace varieties of corn, all of which are endemic to Mexico, and 27,000 unique samples documented from the fields, the results of evolution or cross-pollination or intentional cross-breeding. Masienda offers up to 20 corn varieties, all of which are landrace, focusing on breeds best suited to tortillas. The objective, according to Gaviria, is to "understand the taxonomy of corn the way we understand tomatoes."
"We want more people to have access to our product," he adds. "My goal is that one day it won't be just high-end restaurants consuming this material. I want to make it available to immigrants living in diaspora in the United States who probably long for these flavors more than anyone else."