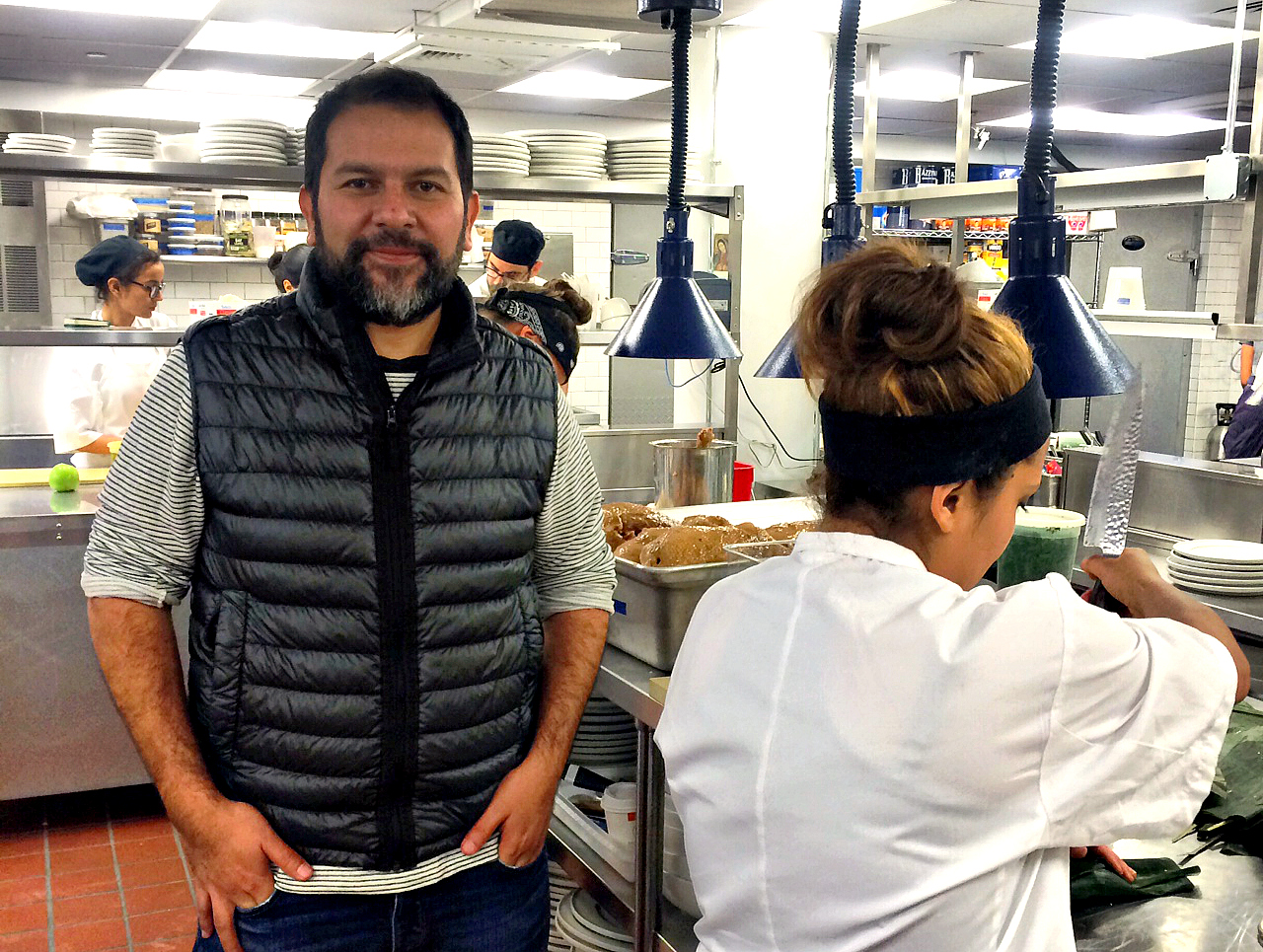 "I didn't come here to cook like my grandmother," says Mexico's most famous chef, Enrique Olvera, sitting on a stool at his new restaurant Cosme in NYC's Flatiron district. "If I did, I would be missing a very great opportunity." We'd been talking about wasabi — a product never used on the tasting menus at his acclaimed restaurant Pujol in Mexico City, recently listed as Number 20 on the World's 50 Best Restaurants list — and how he's incorporating wasabi into a scallops dish with jicama, cucumbers and lime at Cosme.
We'd also been talking about black garlic and yuzu kosho, which he uses in his strip steak paired with a puree of tarragon and peas and fried sashito peppers. "It tastes like tacos bistec," he says, comparing the Japanified steak to the taqueria classic, and how the swapping out of some traditional Mexican is part of the master plan at his restaurant that some observers have called the most anticipated opening of the past couple years. For any great chef, bringing together complex flavors in perfect harmony is the ultimate challenge. "But when you see a dish, it shouldn't be, what the hell is this?" he says while stressing the three major tenets he plans to follow. "The food should be simple, have a Mexican soul and must be delicious."
The night before, I had arrived at Cosme knowing much less. The space is modern-minimal and slightly ascetic with concrete floors and limited wall coverings. Olvera describes the room in these early days as like the apartment of newlyweds. "We're figuring out the flowers, which will make it cozier. Some rugs are entering the picture very soon."
He's currently operating the restaurant as a soft-opening, meaning for the past week he's limited the covers to 100 paying customers a night. On Tuesday, he will open for real, doubling the service size with a causal café in front serving what Olvera describes as "munchies," including guacamole and Palomas made with grapefruit syrup. The restaurant will offer an à la carte menu with small and medium-sized plates fit to share. After opening reservations a couple weeks back, according to the chef, the restaurant is already booked through the year. Most anticipated opening, indeed.
"We know that the expectations are high," Olvera admits, adding that a "Mexican momentum" in New York City has helped fan the flames, with guys like Alex Stupak and Julian Medina laying the way for Cosme's deafening buzz.
As for the cooking during my early visit, I ordered three dishes. A crunchy tostada was topped with mussels escabeche, cold potatoes and raw peas tossed with a light chipotle mayonnaise. It was everything I wanted in a Mexican dish — crunch, acidity balanced with richness. Newness. It was wonderful. Less so was a large bowl of smoked ayocote beans buried under a heap of sorrel leaves. I tell Olvera and he takes it in stride. "Yesterday, the beans were a little runny; it should have been more like hummus," he admits, adding that the menu during the opening will change a lot. (This is hardly a review, mind you, just some open-source feedback.)
My favorite dish was both interesting as a concept and delicious. Cobia al pastor, placed over thinly sliced pineapples and cilantro, wrapped in warm blue corn tortillas that are made using the restaurant's molino — which happened to stop working the week before, requiring Olvera to fly in a company rep from Mexico to fix it. Olvera's stocking several varieties of corn grown throughout Mexico, with my batch of tortillas made with a product grown in Jalisco. The attention to detail pays off on the plate. Simple, sure, but this was the most delicious tortilla I have ever tasted outside of Mexico.
I ask the chef, straight-up, if he is worried about the perception that he is an outsider, an interloper even, in a town notoriously tough on outsiders. The chef laughs at the suggestion and says he's catching the most shit in Mexico for not spending enough time there (Pujol has been open 15 years, with several trusted employees and family members currently running it).
"Last week there was a conference in Monterrey and all these chefs were grumbling that I wasn't in Mexico," he says, smiling. Since the summer, Olvera has been living in New York City, renting a small one-bedroom apartment at University Place and 10th Street. With two small children back at home, the separation is difficult, with lots of Facetime and short trips back home. But he's planning on staying in New York as much as possible, while changing the perception about what Mexican food can be in New York City in the year 2014.  "It's not tortilla soups and enchiladas," he says. "That's for sure."
Also see: With A Country On His Shoulders, Enrique Olvera Is As Cool As A Bowl Of Guacamole