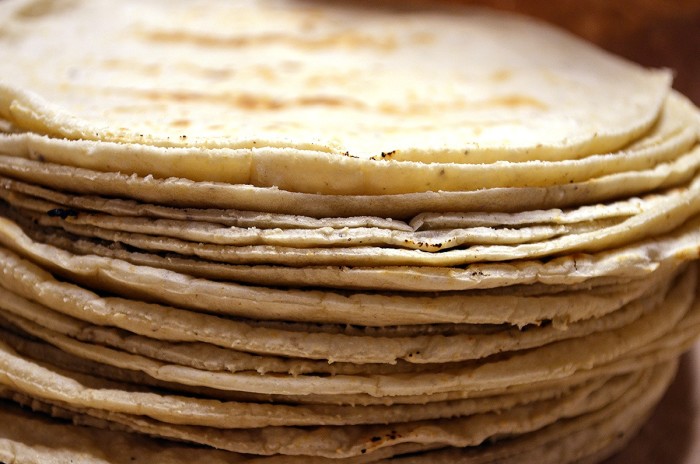 There are few better ways to get excited for taco night than picking up a sack of masa harina — the lime-cured corn flour that is a staple of Mexican cooking — busting out the tortilla press and churning out a couple of dozen fresh discs. But wait! Are you actually making fresh tortillas, or is that big pot of fresh carnitas about to be fooled?
Leslie Brenner, restaurant critic at the Dallas Morning News, recalled a meeting with culinary authority Diana Kennedy (author of nine of the most essential Mexican cookbooks under the sun) during which they discussed fresh masa versus masa harina in tortilla-crafting.
"I'll never forget her expression when I told her I was in the habit of using masa harina to make mine: I might as well have told her I was a regular at Taco Bell. She was scandalized," wrote Brenner.
What? The last time I made fresh tortillas for taco night I received a disproportionate amount of praise relative to the effort. And that is where the conflict lies. Kennedy insisted that tortillas made from fresh masa — that is, corn kernels cooked in a lime solution (that is, ground limestone), then pulverized and formed into a dough — are the only truly fresh tortillas. She's completely right, of course, but that doesn't make obtaining ground limestone, cooking corn with the rock dust, then crushing the whole business into a paste with a large mortar and pestle any more likely to occur in a home cook's kitchen. As Brenner wrote, "When I'd gotten to the part of the two-page process that said, 'Meantime, crush the lime if it is in a lump, taking care that the dust does not get into your eyes,' I stopped reading."
Enter: Alex Stupak's new cookbook, one of Food Republic's favorite cookbooks of 2015 and a wealth of innovative taco recipes from the sweet and briny to the briny and briny to the "practically a deli sandwich." In the book, the Empellón chef pens a decree entitled "In Defense of Masa Harina."
"A warm tortilla prepared with harina may not hit the same celestial notes as one made with fresh masa, but it is still an absolute revelation if all you've ever tasted is reheated, store-bought tortillas. There's irrefutable value in that, so I stand by it," says Stupak, both wholly agreeing with Kennedy's devotion to fresh masa and refuting it so that the home cook need not destroy the kitchen to prove a point.
Assuage your guilt over your total lack of interest in heading to your friendly neighborhood Home Depot for a cup of powdered limestone, and knead that masa harina dough like you mean it! There's a pot of carnitas whose livelihood depends on it.