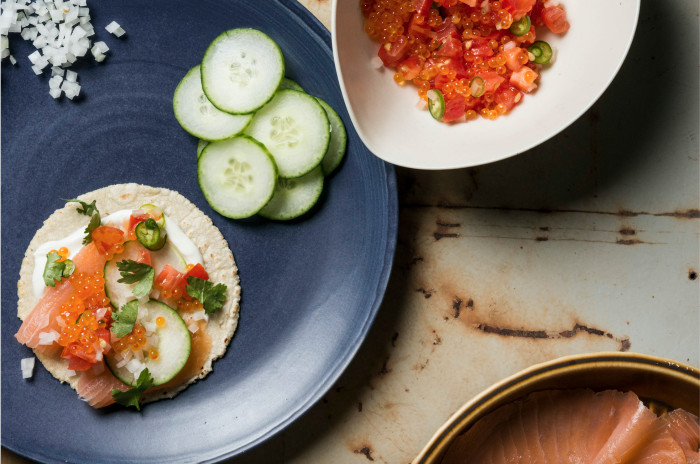 Taco benders will never be the same, thanks to Alex Stupak's seductive guide to Empellón-grade fare at home. The pollo and carnitas are as solid as ever, but look beyond the expected and you'll be well rewarded with fresh, inventive spins wrapped in homemade tortillas. Your neighborhood taqueria workers will miss you, but if they saw this smoky, briny salmon-on-salmon creation, they'd understand. 
When I venture into nontraditional tacos at Empellón, it's hard to know exactly where to draw the line. I'm constantly asking myself if some outré creation I've dreamed up feels natural or is rooted in a Mexican idea, or if it teeters on appropriation. When I do cross cultural borders at the restaurant I tend to take cues from what's around me or what I grew up with — the foods of New England, where I'm from; the flavors of my Italian-American childhood home; and the culinary touchstones of New York City, where I live and cook now. The last is the idea behind this taco, a nod to the Jewish delicatessens and appetizing shops of lower Manhattan, with cream cheese, lox, and beads of salty salmon roe.
Ingredients
Salmon roe salsa
1

plum tomato, diced small

1

serrano chile, thinly sliced

1/2

medium white onion, minced

1

tablespoon

fresh lime juice

1

cup

salmon roe
Filling
1

8-ounce package

cream cheese, room temperature

2

tablespoons

fresh lime juice

12

ounces

thinly sliced smoked salmon
To assemble the tacos
1

small cucumber, thinly sliced

60

cilantro leaves (from about 15 sprigs), roughly chopped

2

limes, each cut into 6 wedges

12

tortillas
Directions
For the salsa
In a bowl, combine the plum tomato, serrano chile, onion, 1 tablespoon of lime juice, and salmon roe; stir gently.

Transfer to a container and refrigerate until ready to use.
For the filling
In a stand mixer fitted with the paddle attachment, combine the cream cheese and 2 tablespoons of lime juice.

Mix until the cream cheese is completely smooth and spreadable. Transfer to a container and set aside until ready to use.

Warm tortillas.
For the assembly
Lay out the warm tortillas on serving plates. Place a tablespoon of lime cream cheese on each tortilla and spread using the back of a spoon.

Evenly distribute the smoked salmon among the tortillas and top with the cucumber slices, a spoonful of salmon roe salsa, and the chopped cilantro.

Squeeze a couple of the lime wedges over the tacos and serve the rest on the side.