What KFC's "Re-Colonelization" Means For The Future Of Fast Food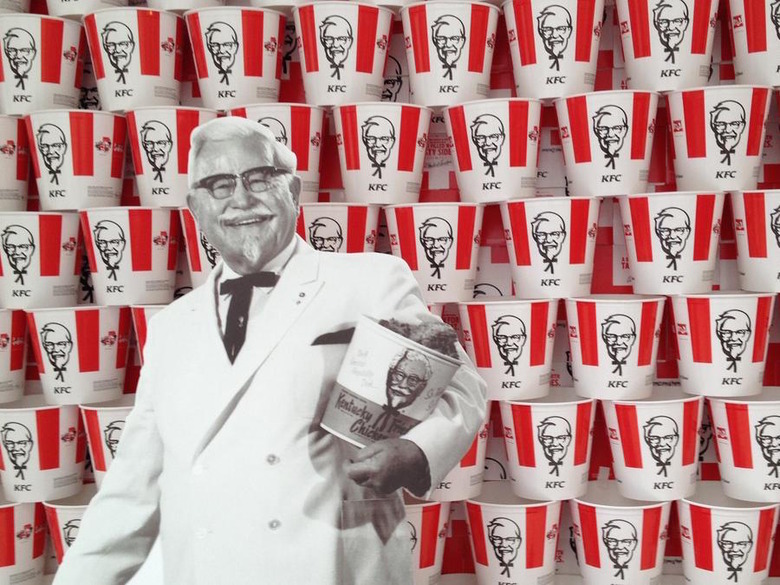 Two weeks ago, members of the Food Republic staff received an email from representatives of KFC, along with an invitation to an event promising to reveal news "that will affect the future of one of the world's most iconic brands." The fried-chicken chain even went so far as to state that this "transformational announcement...may be 2016's biggest story in fast food." Expectations were high. Minds wandered wildly — could KFC be hiring a new colonel?
While somewhat disappointing to those of us who let our imaginations get the better of us, the resulting statement falls in line with similarly minded fast-food execs, who are looking to get a leg up on the competition. Effective immediately, if customers aren't satisfied with any part of their KFC order, the restaurant will remake it, free of charge. This pledge to quality (officially called a "re-Colonelization") comes after the chain admitted that its food does not taste the same as it once did; the move follows an extensive employee-retraining program that focused on re-creating original recipes.
It is important to note that KFC's marketing ploy comes at a time when the company is losing a significant amount of its sales to rivals, most notably Chick-fil-A. Despite having fewer locations (and being closed on Sundays), Chick-fil-A has retained its status as the highest-grossing chicken chain in the U.S. since 2012. Much of this success can be attributed to its family-friendly approach, which highlights healthier menu options and dine-in venues. Sure, it may be a view held by largely the same demographic of people who view Chipotle as "healthy food," but the perception has been there for a few years now that the overall quality — and nutritional value — of Chick-fil-A and KFC's food differs highly. Millennial diners tend to view KFC as the fast food of old, electing instead to take their business to the well-marketed spicy chicken sandwiches and tenders of Chick-fil-A.
KFC recently attempted to inject some flavor into its menus with the addition of Nashville hot chicken, offering its own take on a regional staple. That move reflected the trend of national fast-food chains adding novel options to appeal to a wider customer base — McDonald's made the popular decision to offer its breakfast selections all day, while Taco Bell's endless obsession with combining menu items reached unprecedented heights with the release of its irrepressible Quesalupa.
The continual movement toward more wholesome meals has caused fast-food chains to have to keep pace with not only one another but also with the fast-casual sector's creative and ever-evolving approaches. In other words, scrambling to recapture the "finger lickin' good" glory days might not be enough to propel KFC forward amid all the modern places offering superfood grain bowls. Then again, the chain might prove us wrong and start hawking smashed avocado–topped, quinoa-based biscuits that change up the whole ballgame.