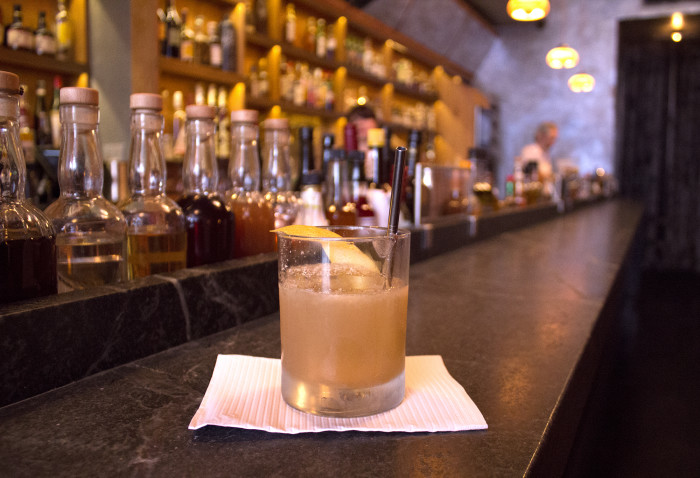 At first glance, the menu at Williamsburg's newly opened Fresh Kills, created by co-owner and lauded barman Richie Boccato, might seem akin to one of the Milk & Honey family's well-known drink lists, but upon closer inspection, it's clear that this unique array of tactfully placed adaptations is anything but ordinary.
Under a section called "shaken and served down," or on the rocks, Boccato has revamped the United Service Punch in cocktail form, both as an homage to this stalwart punch of the 19th century and as a means of broadening the spectrum of smoky drinks outside of whiskey and mezcal. Though food science and modern gastronomy may be commonplace in cocktail creation these days, for Boccato, the idea of even introducing a smoky Lapsang Souchong syrup to his tried-and-true bar stations was a big deal, but well worth it.
The United Service's pungent Batavia Arrack base — an Indonesian spirit that predates, but is similar to, rum — provides a molasses sweetness on the nose, accented with lemon, nutmeg and the well-chosen addition of smoke from the tea and sea salt. Boccato is keeping his specs for this rich tea syrup close to the vest; pressing for details is apparently akin to asking a chef for his "special sauce" recipe. It's not how Jerry Thomas would have made this punch, but it's a welcome evolution that gives this underappreciated drink new life.
United Service Punch
Servings: 1 cocktail
Ingredients
1 1/2 ounces Batavia Arrack van Oosten
3/4 ounce fresh squeezed lemon juice
3/4 ounce salted Lapsang Souchong tea syrup
Nutmeg
Lemon
Directions: 
Combine ingredients in a shaker tin and add ice.
Shake vigorously for 10 seconds and strain into a chilled rocks glass over ice.
Add a straw and garnish with nutmeg and a lemon twist.
Difficulty: Easy
Prep time: 3 minutes