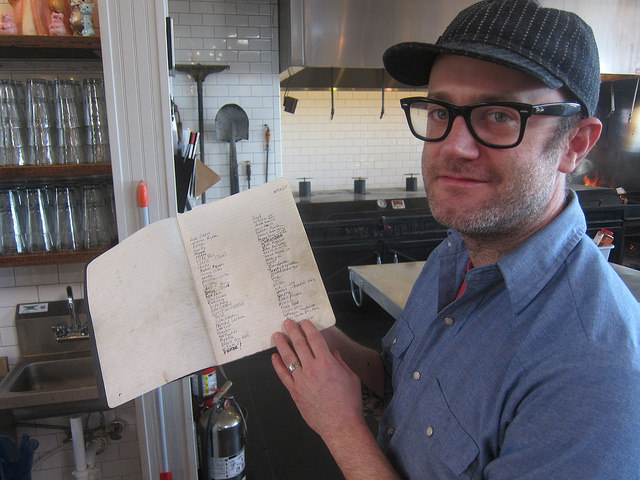 Elliott Moss is passionate about his barbecue, but don't call him a purist. While other smoked-meat obsessives kvetch about the details — whether the fuel source is hickory, oak or (gasp!) gas; or whether the sauce contains ketchup, vinegar or mustard; or whether the meat is pig or cow — Moss has one laser focus: to create the most delicious food possible in his particular corner of North Carolina.
So he has no qualms about following Eastern North Carolina–style cooking traditions at his restaurant, Buxton Hall, located in the Western North Carolina city of Asheville — a move some sticklers would consider cross-cultural trespassing, or worse, barbecue blasphemy. (For the uninitiated, Eastern N.C.–style barbecue generally refers to a whole hog prepared in a vinegar-and-pepper sauce, while the western part of the state veers toward pork shoulder in a tomato-based sauce.)
Moss just doesn't see it that way. "My style of barbecue is how my family cooked it and how they taught me to cook it, and that's how I'll cook it wherever I am," he says.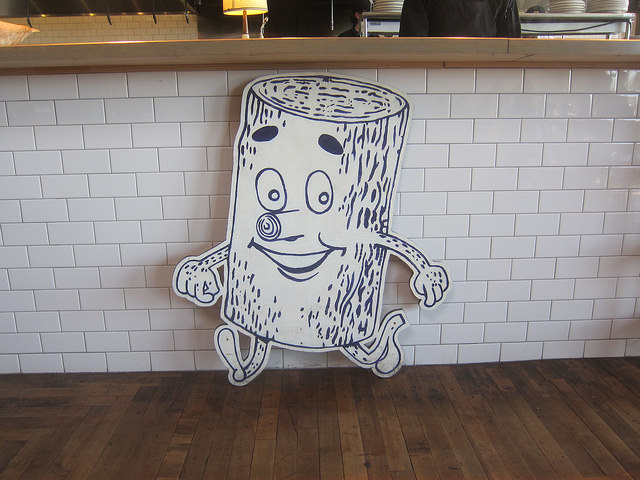 The chef's path to pitmaster has been a winding one. He learned his chops and earned his laurels cooking elevated bar food at the Whig in Columbia, South Carolina, and later at the Admiral in Asheville, where he scored a James Beard nomination as Best Chef-Southeast in 2013. He also relied on eight years in the kitchen at Chick-fil-A to teach him how to run a restaurant and serve customers quickly and efficiently. But his deepest barbecue DNA comes from growing up in Florence, South Carolina, where both his grandfather and father worked as welders.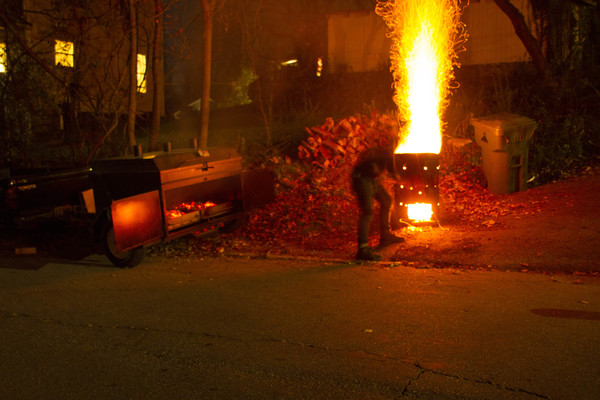 "I've been around hot sparks and fire my whole life," says Moss. "My family also raised hogs and liked to cook barbecue on weekends, so we were always building our own custom pits." Moss's homestead was about 30 miles from Rodney Scott's famous whole hog pits in Hemingway, South Carolina. "So that's the style of my hometown," he explains. "I never even went to North Carolina growing up until I moved to Asheville and discovered their barbecue was different."
Still, Moss doesn't obsess over the terroir of his barbecue. Rather than commit to one particular type of wood to create the smoke for his whole-hog barbecue, Moss uses red oak, white oak, hickory, cherry or whatever his "wood guy" has for him. "We don't cut down any trees," he says. "I'm at the mercy of whatever's leftover from commercial developments around here. We're trying to do this sustainably." But it must always be wood. "I wouldn't do it without wood, " says Moss. "I guess it's the pyromaniac in me." For cooking strictly over wood fire, Moss has earned the "True Q" designation — a controversial sort of certification in these parts, albeit one that carries some clout. But again, he's not obsessive about it. "Oh, yeah, those guys dropped by a little while ago and gave us some stickers and buttons, so we must be doing something right," he says.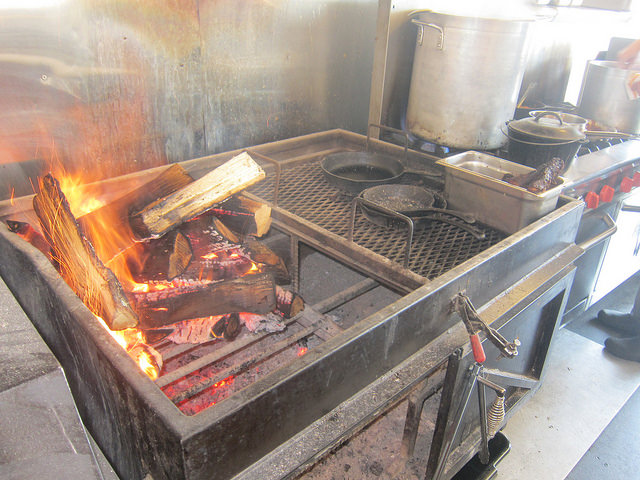 His three custom-made whole-hog smokers were designed to mimic the legendary pitmaster Sam Jones's smokers at the Skylight Inn in Ayden, North Carolina. These special smokers stand front and center in the open kitchen at Buxton Hall. Because they are indoors, the smokers must be under ventilation hoods, a factor that affects how Moss cooks his pasture-raised hogs. "I don't season and sauce my meat until I'm pulling it to serve," he says. "If I open the hood to mop the hog, those fans suck all the heat and smoke off the pig."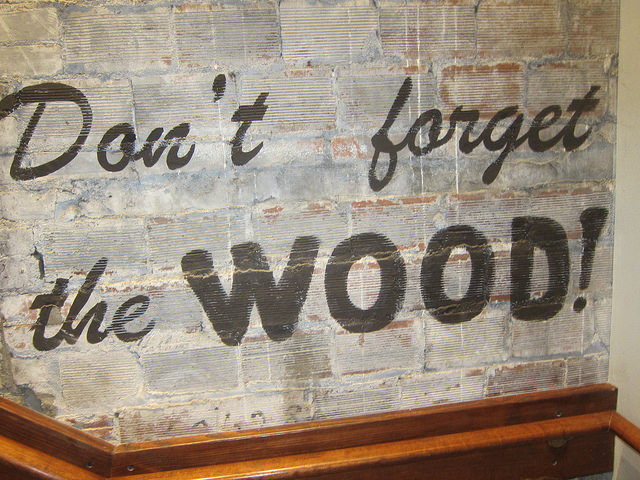 Because Buxton Hall only serves pork pulled from the shoulders, ribs, loin and belly, and also chopped from the hams, you can't order ribs off the menu. There's a fire burning pretty much 24/7, so that Moss can have a hog ready for lunch and another for dinner, but still he runs out occasionally. Fortunately, that Chick-fil-A experience came in handy as Moss designed a crispy fried chicken sandwich with bread-and-butter pickles, pimento and American cheeses and white barbecue sauce as one of the primary supplements to his barbecue menu. Another highlight is the smoky fried catfish, cured with salt, sugar and spices to firm up the meat, smoked for 10 to 20 minutes until it is halfway cooked through and then fried up à la minute. "That dish was inspired by my grandfather's catfish pond on the farm growing up and has always been on my menus," he says. "It's our sleeper hit."
Even more notable are the side dishes at Buxton Hall. Often an afterthought at other barbecue joints, Moss treats his sides as an opportunity to showcase his culinary talents while also featuring seasonal ingredients from local farmers. "I call them chef-driven, grandma-influenced sides," he says.
Exhibit A: a tray of perfectly toothsome green beans cooked under the pig, delicately seasoned with subtle smoke and pig drippings. "I was just standing there looking at the fire burning and the smoke going up the chimney and thinking of ways to capture that flavor," Moss explains. "So I cleared enough room in the hot coals for a hotel pan and showered those beans with an inch of pig drippings and fat." During other seasons, Moss employs a similar technique to cook mushrooms and Brussels sprouts, to the same amazing effect.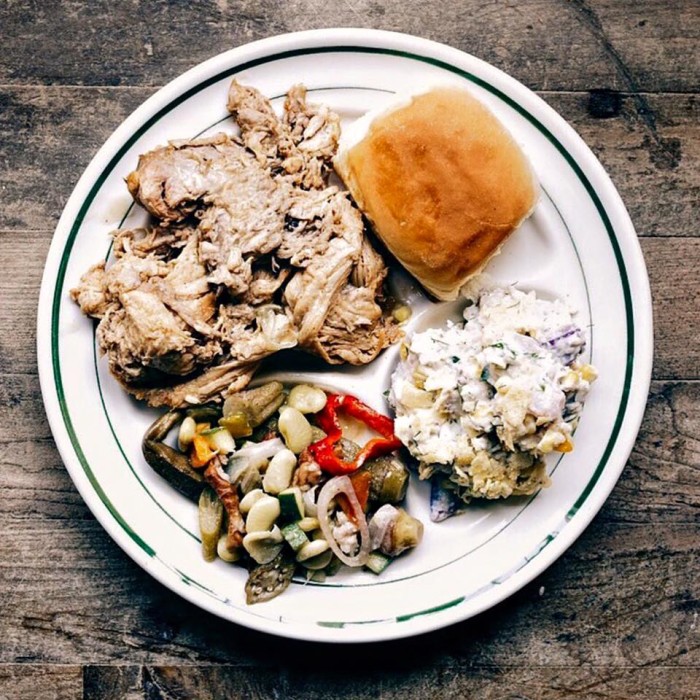 Sticking to his aim for sustainable cooking, Moss tries to utilize as much of the hog as possible. The pig skin is dried and sold as dog chew treats. His staff pulls the bones, and crunchy bits of meat are added to stewing collard greens for flavor. Even the fatty, gristly bits of the meat are added to his BBQ hash and rice, a regional South Carolina dish that combines flavorful simmered pork, chicken livers, onions and garlic that are cooked down to the consistency of gravy before being ladled over white rice.
While the menu at Buxton Hall expresses influences from across the South, the building itself has a wonderful sense of place that is even older than barbecue itself in Asheville. The prior tenant had been a wholesale paper company's warehouse; it also housed Asheville's African-American skating rink. The cavernous space is now subdivided into a Buxton Hall, the acclaimed Vortex Doughnuts and one of Asheville's more than 40 craft breweries, Catawba Brewing Co. Which is to say that between the three, you could spend just about any hour of any day eating and drinking at 32 Banks Avenue, especially since Moss has added an extensive beer, wine and spirits program.
The three-story section of the building that houses Buxton Hall includes a mezzanine, where Moss has placed a tiny tiki bar as an homage to another one of his interests that manifested itself as part of his Wok and Roll pop-up events, staged to earn some money while he set up his new barbecue emporium.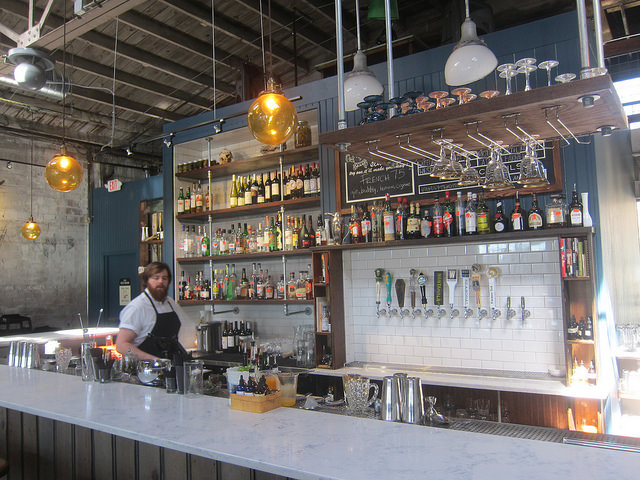 The walls of the massive main dining hall are decorated with fascinating stylized murals of nattily dressed figures engaging in various sports, most of which are, curiously, winter activities.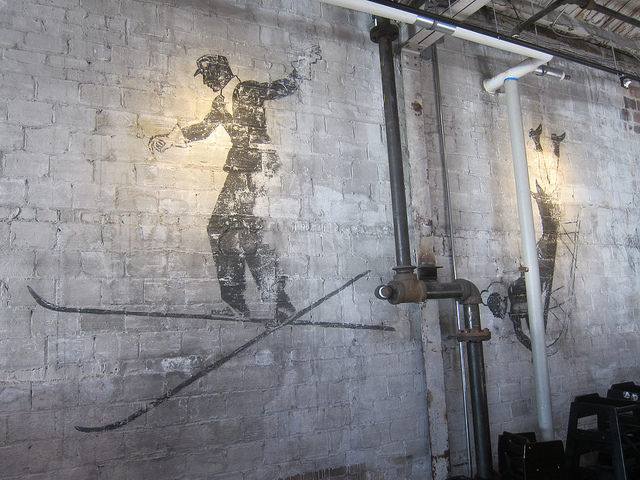 But this unusual juxtaposition sort of fits Buxton Hall and the philosophy of the pitmaster. Eastern South Carolina whole-hog barbecue with a vinegar/pepper sauce in the middle of Western North Carolina tomato-sauce pork-shoulder country? Sure, why not. Cooking over whatever type of wood comes in the back door to the basement? Yeah, Moss can make that work. Elevated side dishes that would fit in just fine at a fancier restaurant as opposed to mac 'n' cheese and potato salad? Nothing wrong with gettin' a little cheffy with it.
That's why we're anxiously anticipating the upcoming cookbook from Moss, where he'll be sharing his recipes, techniques and eclectic philosophy. Buxton Hall Barbecue's Book of Smoke: Wood-Smoked Meat, Sides, and More is due to publish this October and will cover everything from how to build your own cinderblock pit in the backyard to smoking fish on your stovetop or over a campfire in a contraption made from a Girl Scout mess kit. (Moss does not address how to apologize to your little Brownie, though.)
Moss also presents some of the dessert recipes from his extremely talented pastry chef, Ashley Capps, who has worked in Asheville with John Fleer of Rhubarb and in New York City at Eleven Madison Park. Her pies are already legendary, and if there's a slice of Banana Pudding Pie with house-made vanilla wafer crust available when you visit Buxton Hall, manage your appetite accordingly. But if you have to choose which dish to take to go, eat your meat in the hall and carry that slice of pie home.
Buxton Hall Barbecue
32 Banks Ave.
Asheville, NC 28801
828-232-7216
buxtonhall.com