New Developments In Ballpark Food Spell Certain Doom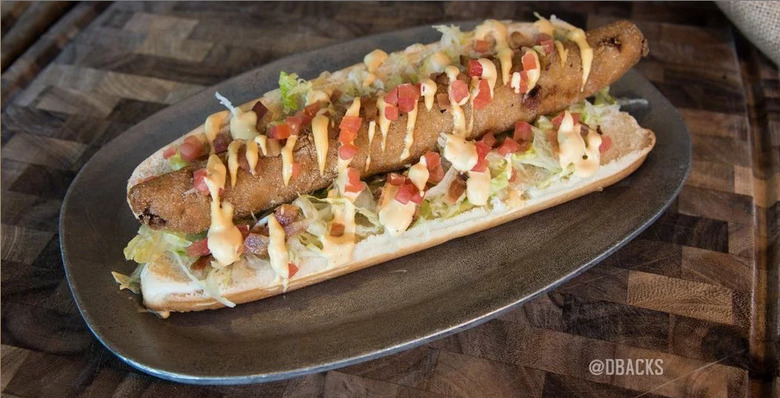 Over-the-top fatty, cheesy, deep-fried stadium food has long been an honored baseball tradition. After all, you need your strength for the wave, the 7th-inning stretch, beer runs and the bathroom line. And nobody's queuing up at the salad booth because 1) salad is not usually on offer, and 2) carrying a salad back to your seat, depending on the city, may garner heckling.
That said, many ballparks around the country have gotten the memo about food trends, and it's now not uncommon to find offerings from respected local chefs as well as an array of craft brews available. Still, there are some fans who would gladly stick to the Bud and basic hot dog menu. And then there are others, presumably, who crave insane mashups of burgers and pizza, apparently. Or at least, three teams are hoping this is the case, given these outlandish new items from the Pittsburgh Pirates, Arizona Diamondbacks and Atlanta Braves, available when the Major League baseball season kicks off next week.
The Pirates' Mac And Cheese Cracker Jack Dog
Salty caramel has been a winning combination since, well, Cracker Jack busted onto the snack scene in 1896. Mac and cheese has long held a special place in hearts, arteries — you name it — since consumption of the meatless, easy-to-prepare dish skyrocketed during World War II rationing. This hot dog, courtesy of the stadium food-service giant Aramark, is a tribute to everything that makes American food, um, great. "CrackerMac Hot Weiner, is what they probably don't call it," says CBS Sports.
The Diamondbacks' Cheeseburger Dog
Hot dog or cheeseburger? Hot dog or cheeseburger? Hot dog...cheeseburger...arrghhh! I can't decide! Good news for those eager to no longer wait in line for food! Famous for truly insane annual tubesteak creations (see: last year's D-Bat Bacon, Cheese and Corn Dog), Chase Field has inexplicably outdone itself this year. We're talking about a footlong dog wrapped in cheese and ground beef, breaded, fried and served on a bun with lettuce, tomato and special sauce.
The Braves' Burgerizza
And sometimes (though rarely) you don't feel like an imitation intimidation-grade hot dog. For those times, there is Turner Field's brand-spanking new Burgerizza: a massive cheeseburger patty housed between two full-on pepperoni pizzas. This newcomer to the roster has elicited such such Twitter comments as:
"Science has reached its greatest achievement since the moon landing: successfully breeding a pizza with a hamburger."
"I feel like the pizza on top should be pepperoni-side down. All the gooey stuff would be in the middle. Just sayin."
And "If Braves baseball isn't going to kill fans, the food will."
According to Time, a spokesperson for the food-service company responsible for the creation, when asked about the calorie count, responded, "We have not calculated that, but we do know the taste is off the charts!"
---
We'd like to nominate another seemingly crazy new ballpark food idea: NYC chef Dave Santos's hot dog lobster roll. Watch him make it: