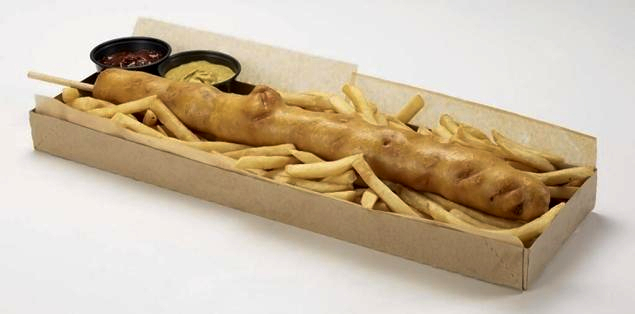 If it's just not a ballgame without a hot dog, Arizona Diamondback fans are in for the best non-game-related news of the season. Chase Field's Big Dawgs are frying up the D-Bat: 18 inches of corn dog stuffed with jalapeños, bacon and cheese nestled in a basket of fries with chipotle ketchup, for the low, low price of $25. And if you're up for the challenge of polishing one off yourself, You're not going to need a 7th inning stretch, you're going to need to walk it off. Maybe to Dodger Stadium.
As you can imagine, this photo tweeted by the team has gotten such responses as:
"It's literally one of the most beautiful things I've ever seen."
"I definitely want one of these for my birthday."
…and from the Arizona Cardinals: "We're pretty sure 10 out of 10 doctors would recommend it."
So batter up, quite frankly, get all your jokes out now and start taking your ballpark dogs as seriously as these guys do.
More stadium eats on Food Republic: