5 Recipes Where French Fries Play A Starring Role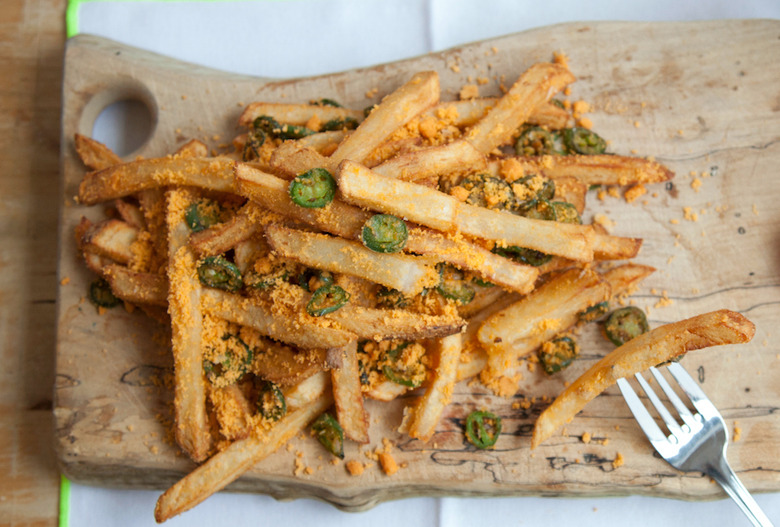 If you can make fries at home, we can steer you in the right direction regarding what to do with them. And sure, you can just hoover them right out of the fryer with salt and ketchup — that's one of the chief goals of Frites Week — but while you've got a hankering for crispy potatoes, why not peruse a few new and exciting ways to serve them? Start with a blank canvas of perfect, golden-brown fries you made yourself, then experiment with cheese, gravy, heat and even salad (yes, salad!).
Check out five of our favorite things to do with homemade fries, and serve up a platter that will have even the most puritanical of fry eaters going for seconds.
Recipe: Ultimate Spicy Cheese Fries
Cheese fries are one of life's great treats. What's not to love about the combination of cheese and fries? At least in theory. Unfortunately, in practice, cheese fries can often fall flat. Unless you intend to serve fries in a single layer on a large platter, you'll probably have trouble achieving even cheese distribution. And you know what I hate? Ordering cheese fries only to be left with half a basket of uncheesed fries after having worked through the glorious top layer. The other way you normally see cheese fries served is with some sort of canned stadium nacho-cheese sauce. But really, just...don't. Don't do that to yourself. Look at me: You're better than that.
Recipe: Brisket Poutine
We borrowed a brisket poutine recipe from Miami Beach gastropub Tongue & Cheek (home of the $2 happy hour beef cheek slider) that pairs just as perfectly with an expertly crafted whiskey cocktail as it does with a huge hoppy beer.
Recipe: Ballpark-Style Garlic Fries
Have all the ballpark dogs you want at the game, but get a big serving of garlic fries to go with them. These stadium staples have been ruining marriage proposals at ballparks with their pungent awesomeness for decades, and you can easily make them with the help of a small deep fryer — a worthy investment for any home cook.
Recipe: Chunky Fries Salad With Ham Hock And Puy Lentil Dressing
Ham and fries get poshed up with a zingy balsamic and lentil dressing. This dressing is also delicious served with grilled fish, seafood, or roast chicken or simply drizzled over roasted veggies. Don't be tempted to use canned lentils here, as they are too soft.
Recipe: Buffalo Chicken Poutine
We make our own Buffalo sauce with a combination of several hot sauces, adobo, horseradish and Izak spice (a harissa-inspired dry blend with sweet red chilies) to really amp up the heat and intensity. The gravy features blue cheese and mozzarella, and our fries are double-fried to ensure a crispiness that can withstand the sauce and gravy. Top that with some crispy chicken thighs and you've got a flawless game-day indulgence.