How To Make French Fries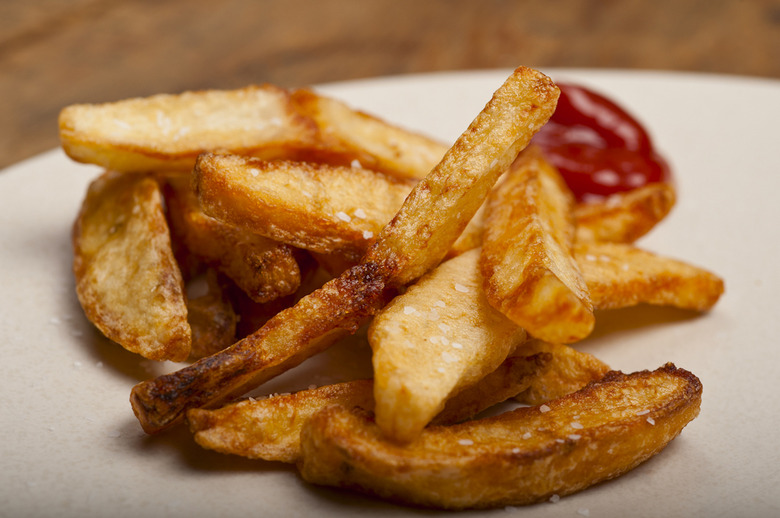 Photo: Mark Shaw
Making your own fries is as important as making your own burgers: everything tastes better homemade. Now unless you have a deep-fryer, these are going to be on the "rustic" side. I personally like them better that way — you get variation in the color and texture throughout each fry that makes it a much more intimate fry-consuming experience than eating totally uniform ones.
Patience and dry potatoes are the keys here: if your potatoes aren't completely dry they'll sputter in the oil, making a mess out of your stovetop and creating uneven temperatures in the pot. Hence, the nifty trick with the dishtowel.
Here's what you'll need:
A large, deep pot
2-3 potatoes per batch of fries
One or two clean dishtowels
A sturdy wooden spoon with a long handle
Enough peanut oil to cover potatoes by 3 inches
Coarse salt for sprinkling
Top and tail the potatoes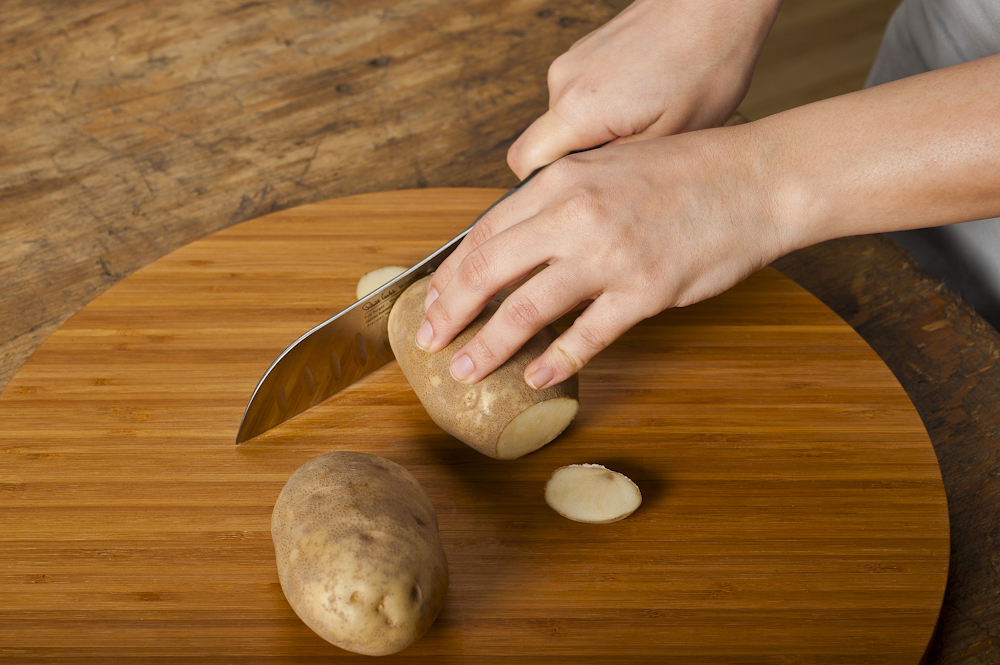 Cut the tops and bottoms off the potatoes so you can stand them up and slice them lengthwise.
Slice the potatoes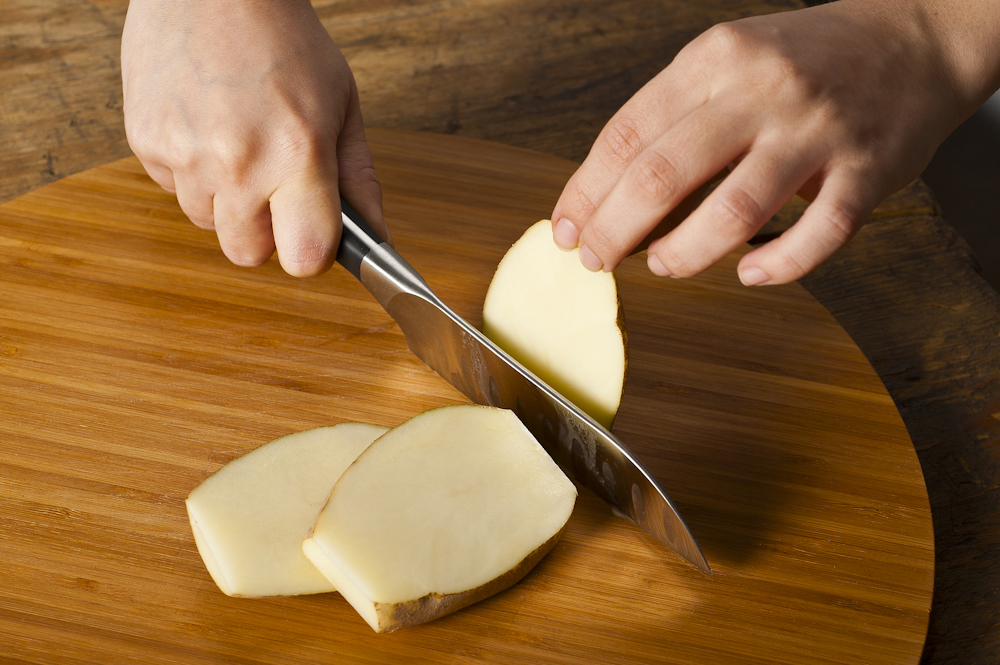 Slice the potatoes into the thickness you want your fries to be.
Cut the slices into fries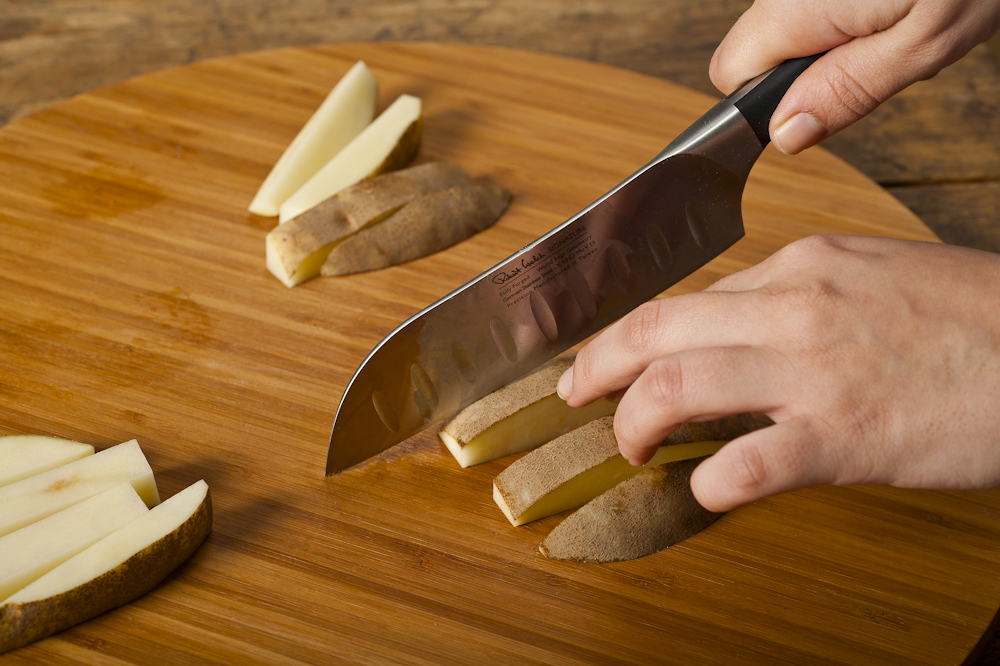 Cut the potato slices into fries.
Soak the fries in water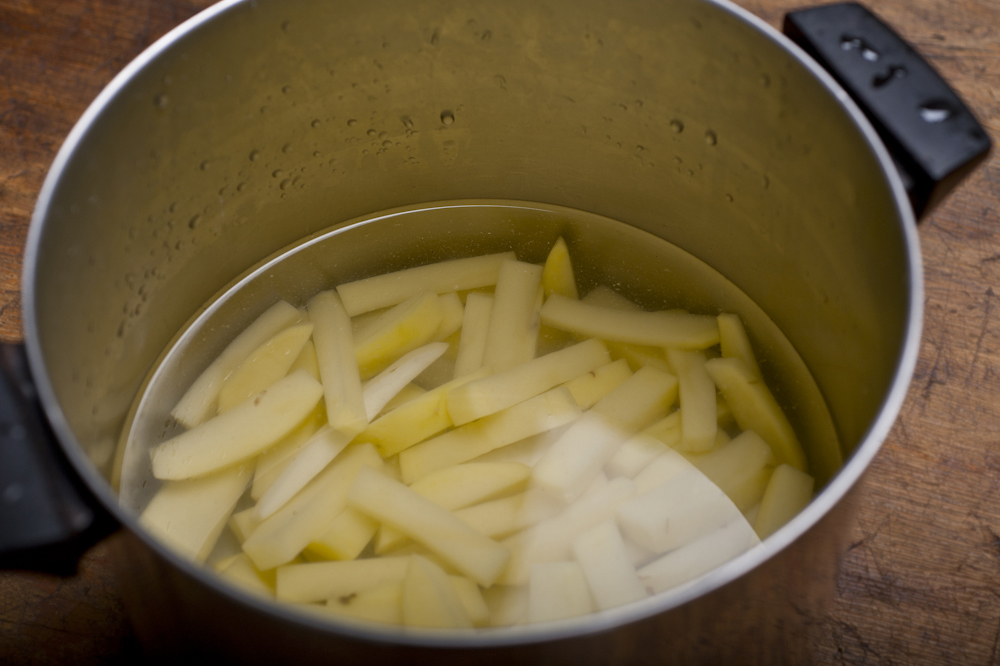 Fill a large pot or bowl with cold water and submerge the fries. This rinses off any excess starch and helps them crisp up to golden-brown without getting soggy.
Drain and place on a clean dishtowel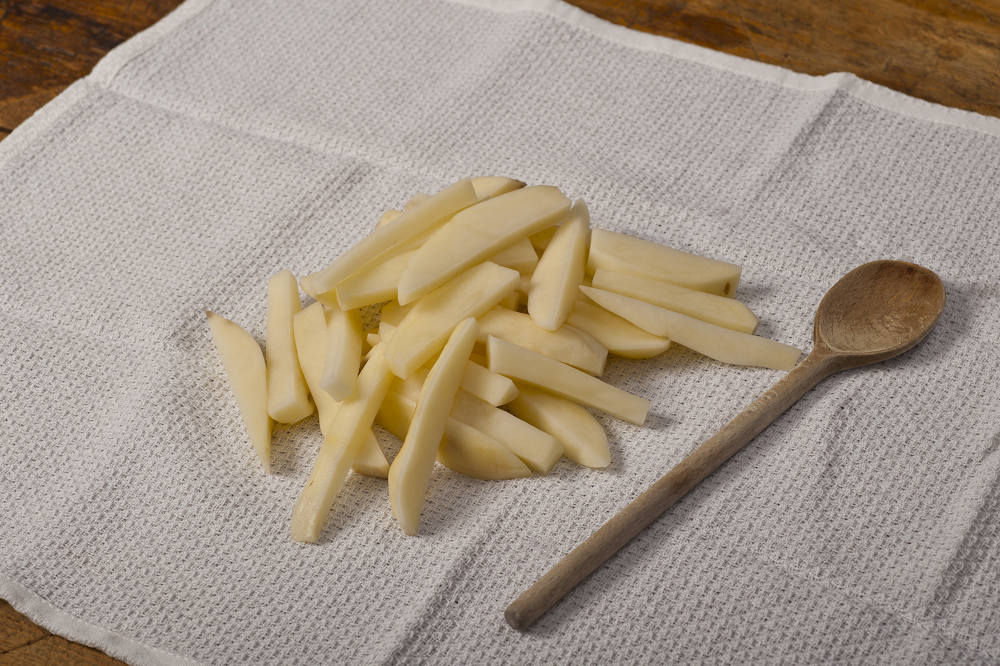 Drain the fries in a colander until water stops dripping, then transfer to a clean dishtowel.
Make a bundle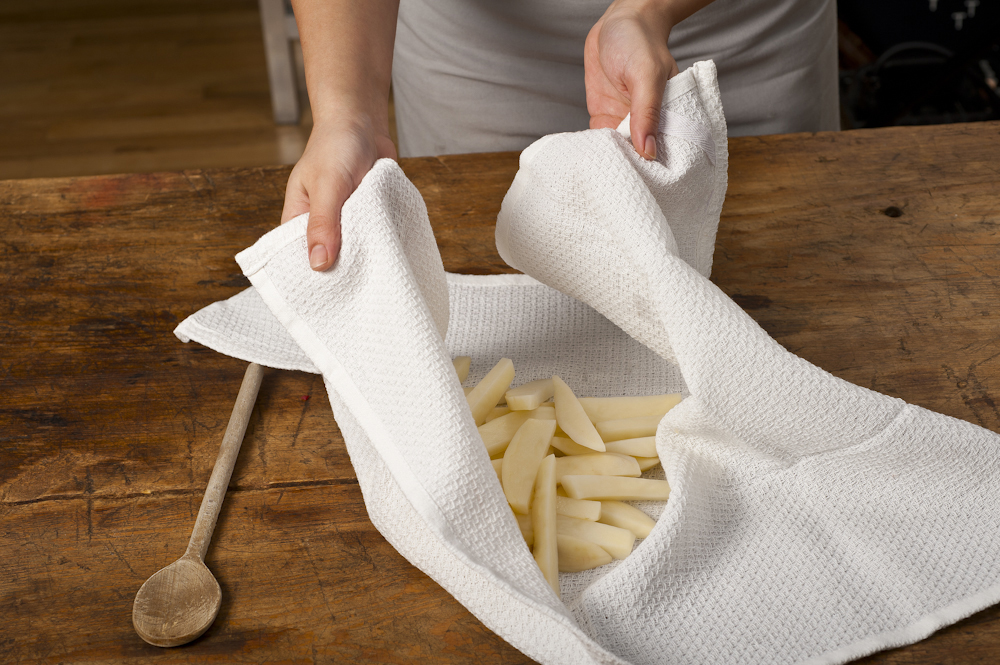 Gather up the edges of the dishtowel to make a bundle, twisting the top.
Insert spoon handle and twist
Insert the handle of your wooden spoon into the twisted top of the potato bundle and use it to squeeze the water out of the potatoes as tightly as you can. Repeat until potatoes are very dry, using another dry dishtowel if necessary. 
Transfer fries to oil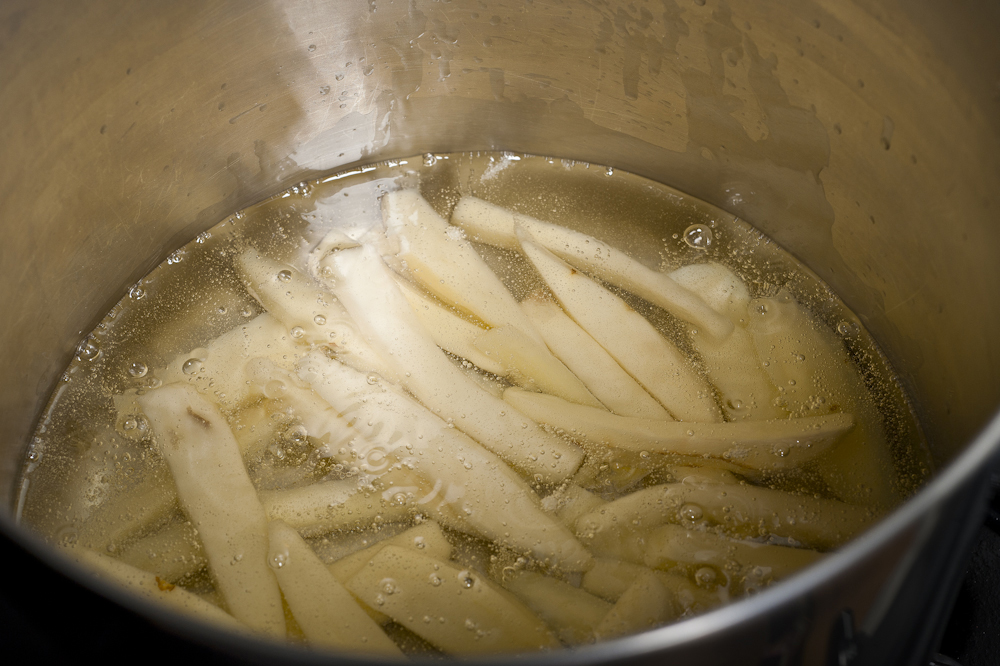 Heat oil to 375 degrees. Gently lower the fries in using a skimmer or spider, then leave them be for about 10 minutes, no touching. Do this in batches so you don't overcrowd the pot, or the fries will never finish cooking.
Keep on frying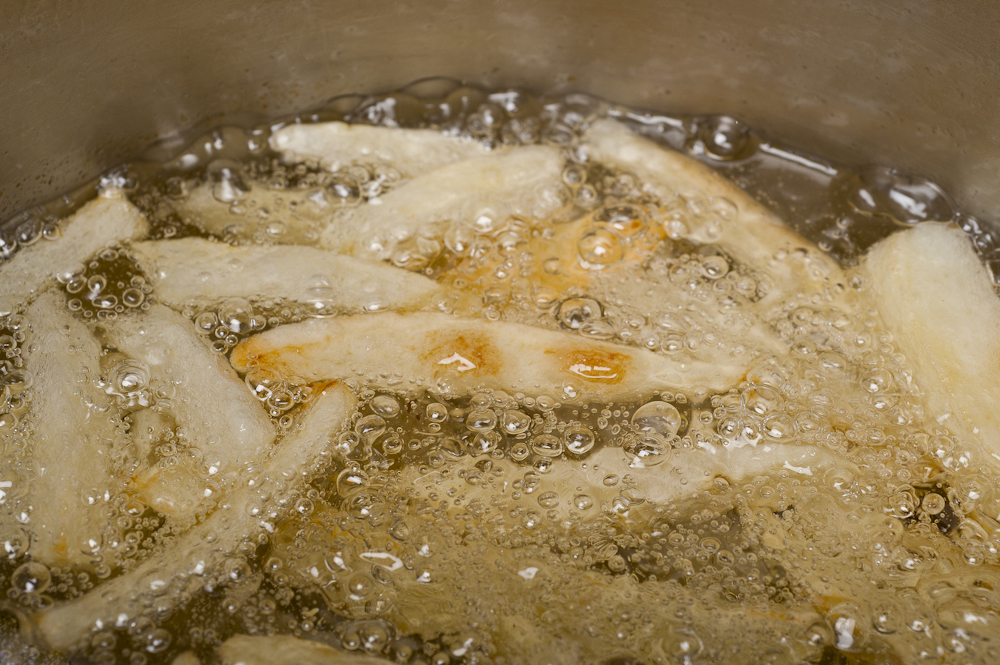 Continue to fry until bottoms of the fries begin to turn golden brown, then flip to cook the other side. Fry for another 10-15 minutes or until fries are finished, keeping a close eye on them so they don't burn. 
Drain on paper towels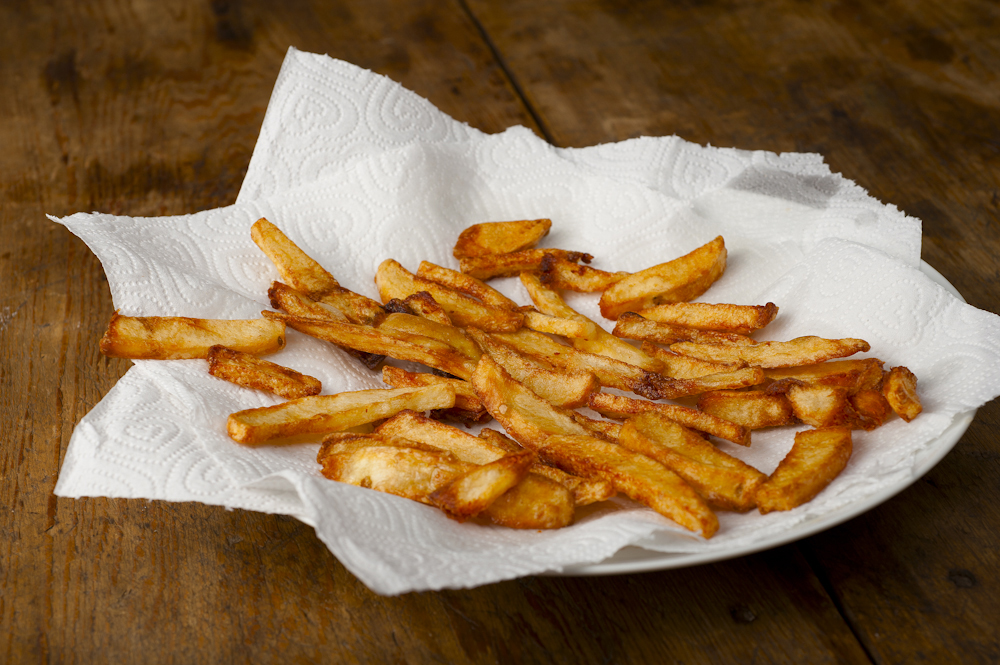 Remove fries from oil using a skimmer or spider and transfer to a plate lined with a thick layer of paper towels. Sprinkle with coarse salt and serve hot.