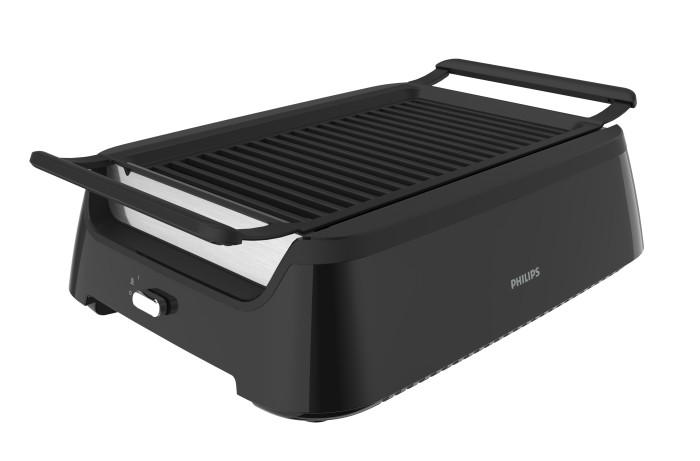 I'm steadfastly averse to countertop appliances. Aside from the essential stand mixer and food processor (okay, and one very cute juicer), I see no reason to own them. Typically they are expensive, underperform and seem to be designed with everyone except the user in mind. However, last week at the International Home and Housewares Show I stumbled upon a seemingly austere device that piqued my interest. It wasn't the flashiest gizmo with the shiniest booth, but it promised something that despite my skepticism I couldn't ignore: smokeless indoor grilling.
This new grill from Philips uses infrared heat technology and a clever reflector system to create a 400°F-plus cooking surface in just under seven minutes. The product design, while modest in appearance, is also incredibly smart. By placing the heat sources at angles and off to the sides of the interior, it uses clear deflectors to focus the energy directly toward the grill plate.
This does two important things. First, it ensures that energy loss, and therefore heat loss, is minimal. Second, and more importantly, it reduces smoking by 80 percent. In traditional outdoor grilling, most smoke is caused by moisture, specifically fats, dripping onto the coals/woods. The oils from fattier meats or heavily marinated items can flare and even cause small fires, charring the very food you're trying to cook to perfection. This is why indoor, burner-top grills and griddles smoke so heavily, too. The fats have no escape route, so they remain in prolonged contact with the hot griddle, causing smoke. By moving the heat sources to the sides instead of directly underneath the cooking surface like in traditional grills, the Philips grill avoids the issue altogether. When fats inevitably drip through the grate, they land on a collection plate instead of the heat.
Philips also made a few other thoughtful moves, including a clean, unimposing black-on-black exterior with only a single dial. Unlike many appliances that boast hundreds of functions and need unique buttons and knobs and handles for each, this indoor grill has one dial with only three settings: off, warm and on. Philips pinpointed the perfect grilling temperature at precisely 446°F: hot enough to sear meats while moderate enough to ensure foods cook through before they burn. The grill takes all the guesstimating out of temperature control, and since it's infrared heat, it's 100 percent consistent across the full cooking surface.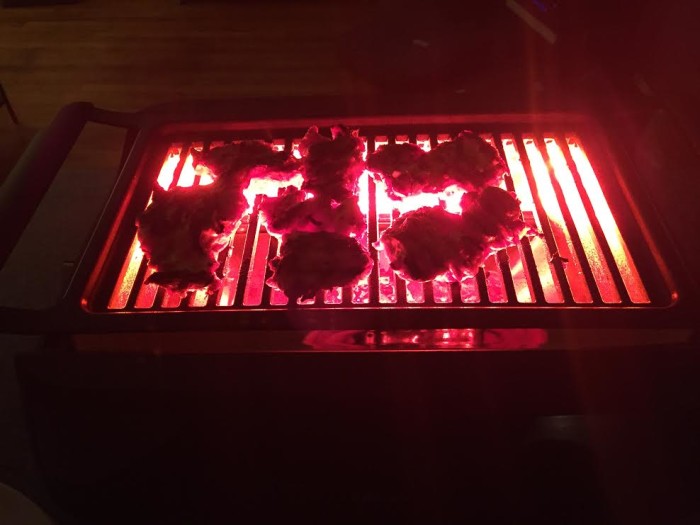 It sounded a little too good to be true. The prospect of grilling regardless of weather is a mean temptation. But after grilling nearly everything in sight — including once during a rainstorm — I now must add a fourth countertop appliance to my kitchen inventory.
Since a proper sear is integral when grilling, I started with steaks. After allowing the grill to heat for the advised six to seven minutes, I took a very deep breath and placed my expensive rib eyes on the grill. I immediately heard sizzling, which brought a wave of relief. I hunched down to get a better view of the surface; I turned the lights on and off; I used a flashlight; I asked my unamused boyfriend for a second opinion. There was, to my sheer surprise, no smoke. After four to five minutes, I turned the meat to get a cross-hatch, cooked it for a few more minutes, then flipped the steaks and repeated. After resting, the steaks were perfectly cooked, salty and fatty. There was no weird residual taste or excess oil. In fact, the sear I was able to achieve on the steaks was nearly as crusty as if I had used a cast-iron pan.
Maybe steaks were a softball? I needed something fatty, something that would drip heavily. Luckily, it was soon Tandoori Tuesday in my apartment and I had a big bowl of chicken thighs marinating in yogurt. Again, I warmed up the grill and without greasing the grill plate, I covered the entire surface with eight goopy, yogurt-covered, full-size thighs. Surely I would lunge for the ceiling fan, but no! The yogurt dripped everywhere, but the only evidence of grilling was the delicious smell of garam masala and a faint apparition emanating from the chicken. It wasn't 100 percent smoke free, but I'm willing to round up from 90 percent. Like the steaks, the chicken didn't stick to the grate, the grill marks were pronounced, and the food was flavorful.
To clean the machine, you simply lift the grates off the surface and wash in soapy water. The collection tray slides out on a track from the underside of the machine and is dishwasher safe. Some excess oil from the tandoori collected on the interior of the grill — and I suspect that after a few thorough uses it will never return to pristine condition. So I quickly wiped it down with a wet paper towel to clean up most of the residue. I recommend a quick pass with a towel after each use to prevent grease buildup, which would probably lead to an eventual funky smell.
The grill emits an ominous red glow when in use, which could either fuel a disco party or irritate your neighbors à la the chicken joint in Seinfeld. I'm going the disco route. Although the grill monopolizes a decent amount of my limited countertop space, it will be a fun, communal centerpiece for cocktail parties. (DIY kabobs!) And finally, I'll be able to satisfy my barbecue chicken cravings in the middle of a blizzard.
The Philips Smokeless Indoor Grill is currently only available at Williams-Sonoma and philips.com, but it will be available in more retailers by late 2016. It retails for $399.99.