The International Home and Housewares Show, or IHHS to insiders, is the industry's biggest trade event of the year, where vendors, inventors and chefs peddle their wares to buyers, retailers and media. For brands, it's a splashy stage to debut their newest products. For everyone else, it's an opportunity to peer into the very near future of home goods and get a first look at the trends that will dictate the coming year's kitchen and home product collections.
It is massive. Occupying three buildings at the McCormick Convention Center in the heart of Chicago, the four-day event boasts various expos, cooking demonstrations, keynote events and more than 2,100 individual vendor booths. There's also a lot of free food. When not leading a session in the Cooking Theater, celebrity chefs turned brand ambassadors prep hors d'oeuvres at makeshift kitchen stations for hungry browsers. It's not uncommon to bump into the likes of Hugh Acheson or Rick Bayless casually searing pork tenderloin while proselytizing for the virtues of a new sauté pan or high-tech blender.
It is overwhelming (and occasionally slightly silly), and for every truly innovative new product, there are four to six derivative pieces of junk. But for any gearhead or home chef with a weakness for shiny new cooking tools, it's nothing short of paradise. This year's show featured the largest design- and innovation-focused expo yet, with nearly 200 brands participating in the "discover design" section. Always-stellar brands like Alessi and Eva Solo were complemented by a number of promising first-time participants.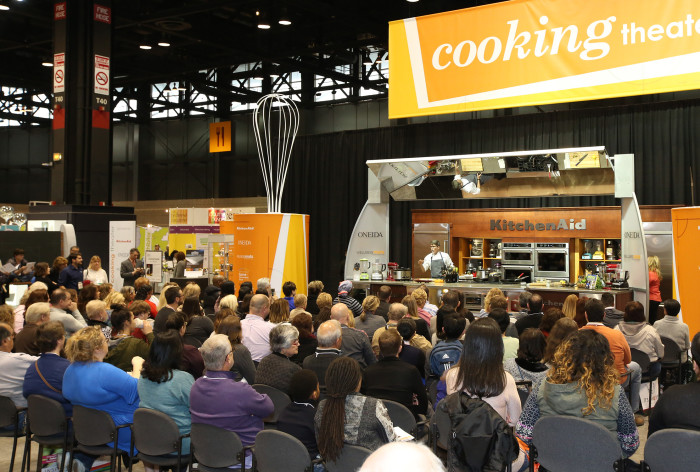 Regardless of booth size or tenure, certain trends could not be missed. Spanning both mass-market megabrands and pricier design-focused imports, below are four of the most prominent themes dominating the current housewares landscape.
Outdoor lifestyle
Don't call it camping. From chic, enamel-coated, tabletop charcoal grills and cleverly collapsible wineglasses, brands are trying to bridge the experiential gap between home cooking and the outdoor lifestyle. Simply being outside of the kitchen shouldn't mean sacrificing quality. There's also a notable youthfulness and urbanism to many of the products, which cater more to temporary, out-of-the-trunk, impromptu outdoor experiences versus the gear-intensive, laborious camping adventures associated with classic Americana. Designers Eva Solo and Kikkerland both exhibited a wide range of portable, outdoor-use products.
Bright white
Call it a return to minimalism: White is everywhere, from countertop appliances to tabletop accessories and utensils. Brands like Finland's Magisso had a clear ivory focus; even the booth display for Lustroware was monochrome white. Material matters, and the best, chicest products use a high-quality color application on more tactile materials, like cast iron and ceramics. Matte white was a particular favorite, so hopefully the trend continues before the market reacts and we see a deluge of glossy primary colors and tart neons.
Pour-over methods
When are coffee and tea not en vogue? You can expect manufacturers to always be producing a new wave of pots, carafes and percolators. With the rise of prestige coffeehouses like Blue Bottle and Stumptown, brands are trying to simultaneously regain some of the home-brew market while also offering innovative products that differentiate themselves among a vast sea of hot-beverage products. Noted products this year combine slow-brew methods like pour-over with the convenience of percolators and auto-drip machines. Victor and Victoria's TaC Brew, for example, operates sort of like a Chemex with an auto-release timer.
"Smart" stuff
I do not need a toaster with an integrated app that tells me when the bread is approaching peak toast. Undoubtedly there are merits to Bluetooth integration, mobile apps and other "smart" features, but too few products employ this technology in meaningful, game-changing ways. The feedback loop is missing. Instead of using valuable consumer data and wireless tech to auto-calibrate tools and settings to improve the user experience, we're left with 3-D printed pancakes (see the video below). But this year's "Wired and Well" expo featured an array of products from companies committed to the intersection of technology and gastronomy, and the future looks bright.