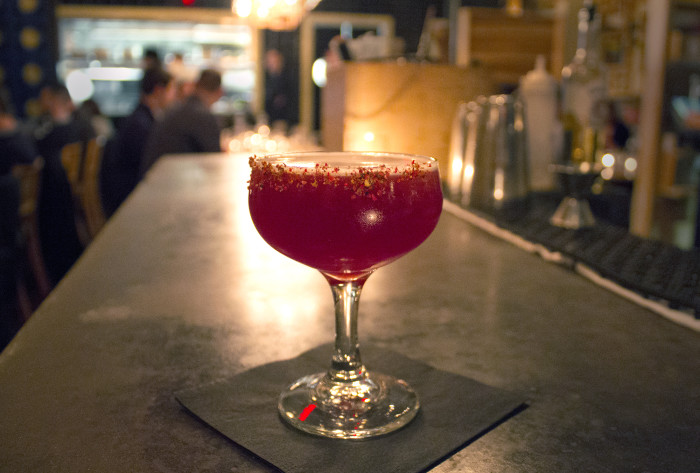 Armed with only a wine-and-beer license and boasting one of New York City's better wine lists, a restaurant like Pearl & Ash likely wouldn't have offered a cocktail program several years ago, but it does today. When distilled spirits aren't available, inventive low-ABV drinks, driven by an ever-growing selection of vermouths, sherries and bitters, are a natural substitute.
Many know sweet vermouth as something that goes in their Manhattans, but in the case of the Holloway cocktail, crafted by barman Cody Hayman, it's the main attraction. Hayman crafted this drink by balancing the floral, aromatic qualities of Cocchi Americano with the botanical-laden Cardamaro digestif, along with a scant amount of the iconic Carpano Antica Formula sweet vermouth for depth. A healthy dose of pomegranate juice adds fruit and color, along with lime to brighten the drink.
Tying all of the flavors together is the surprising addition of fresh pink-peppercorn grounds, which gives the drink its edge. The resulting flavors of fruit and citrus contrast with an herbal and wine-driven afterglow; it's strikingly similar to an applejack-based Jack Rose, but packs far less punch. Whether this shift to lower-proof cocktails is driven by necessity or by experimentation, it's clear we're only seeing the beginning of it. Enjoy.
The Holloway
Servings: 1 cocktail
Ingredients
1 1/2 ounces Cocchi Americano
1/2 ounce Cardamaro
1/4 ounce Carpano Antica Sweet Vermouth
2 ounces pomegranate juice
1/4 ounce fresh squeezed lime juice
1/4 ounce 1:1 simple syrup
Pinch of pink peppercorns
Directions:
Wet the rim of a chilled coupe glass and roll one side in pink-peppercorn grounds to prep the garnish.
In shaker tin, muddle peppercorns with simple syrup. Add all other ingredients and shake well with ice.
Strain ingredients into the rimmed coupe and serve.
Prep time: 5 minutes
Difficulty: Easy