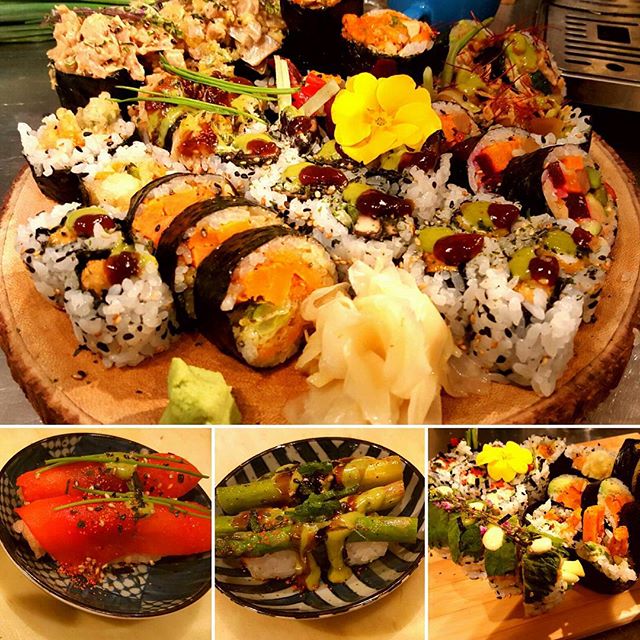 While Japan cracks down on the imposter "sushi" that belittles its culinary heritage, Montreal rolls up a ton of imposter sushi that everyone can enjoy! The land of smoked meat, cheese and gravy fries, and bacon that looks like ham is now home to Sushi Momo, smack in the center of the city, serving sushi végétalien.
Now while this may sound like an organized pile of the cucumber and avocado rolls inevitably left behind on the big wooden sushi boat (what ever happened to those?), the menu proves to be so much more. Previously, vegans were relegated to the aforementioned veggie rolls and maybe a few pieces of sweet potato tempura. Now, they (and you) can feast on grilled sake-cured bell pepper nigiri, miso eggplant rolls, spicy jackfruit gunkan maki ("battleship sushi") and vegan Japanese-style poutine, all prepared in a dedicated vegan kitchen. Those who could never quite fill up on the meager offerings of the regular sushi menu no longer face the question "But don't you live on asparagus and rice?" Futomaki, "fat maki," means stuffing sweet tofu, cucumber, avocado, tempura asparagus, panko-fried zucchini and peanuts into one hearty, loaded roll.
Omakase is an option, should you be able to handle that much organic fiber, and a separate gluten-free menu is available. That should explain the line out the door.
8 Avenue Duluth Est
Montreal H2W1G6
Canada
(514) 825-6363