If Portuguese Vinho Verde wines had a celebrity spokesperson of the moment, it might be Alvarinho. Grown in many parts of northwest Portugal and Spain (where it goes by the name Albariño), this popular white varietal produces wines with clean and crisp, fruit and minerality on the nose and on the sip. "Cleansing" would be a great descriptor. As would "refreshing." The grape's appeal has spread to California and Australia, but no one has quite the finesse and finishing touch like the home country of Portugal.
In our previous two posts, we asked Korean-American chef Esther Choi to pair her heritage on a plate with two very different, but very drinkable Vinho Verde wines. What we thought would be a new challenge turned out to be an extension of something she already loves to do.
"At home, I always drink wine when I'm cooking, and I'm always cooking Korean," offers Choi. "My sisters and I have been pairing wines with Korean food for years now."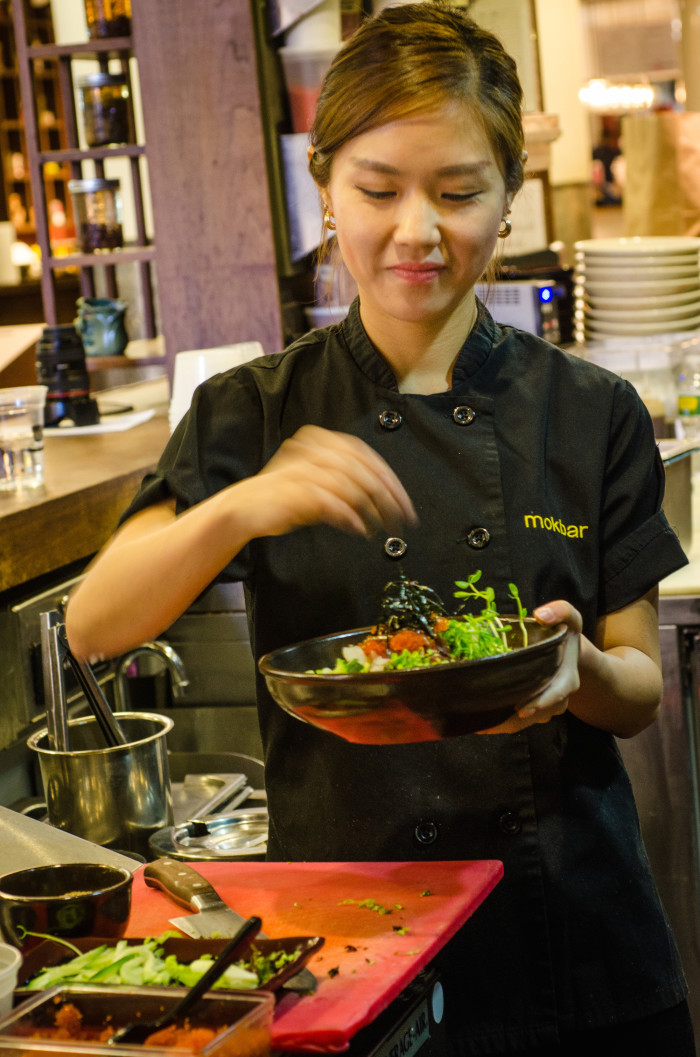 A big fan of white and rosé wines, Choi admitted she was relatively new to Vinho Verde specifically before we popped up in her kitchen at the Chelsea Market hot spot Mokbar, where the menu features cool, Korean-styled ramen bowls. But Vinho Verde wines are proving to have quite the affinity for this cuisine.
Her third wine of the challenge was Pouco Comum Alvarinho 2014 (Quinta da Lixa). Given that Alvarinho is making a case for being the face of this emerging category, Choi decided to pair it with South Korea's own culinary ambassador, bibimbap.
"I think it's fair to say that bibimbap and kimchee are the two Korean dishes people in America know," laughs Choi, who has worked hard to change that since opening Mokbar in 2014. "Bibimbap is known already to go well with white wine. Instead of doing this the traditional way, with all the different roots and veggies and spicy bulgogi beef, I used sashimi. This version has fresh veggies, nori and raw fish and is more like a rice salad. This particular wine is very fruit-forward. This dish is a bit spicy. The rounder, fruit-forward wine cools your palate."
She also splashed the wine into the dressing, lowering her normal recipe's sugar and vinegar to keep the balance.
"In the dressing, I usually use fresh, pureed apples. But this time I subbed out apple [cider] vinegar for two tablespoons of the Alvarinho."
Choi's now admittedly a convert to a great Vinho Verde after this challenge. She's also hoping this small, fledgling trend of Asian food paired with European and American wines will continue. "In South Korea, it's mostly still shochu, but you are definitely seeing Western wines stocked in nicer restaurants, too," she says. "I think the Vinho Verdes are so light and easy to drink … or to cook with, even. It's a great wine for someone who loves refreshing, dry whites that have great flavor and balance."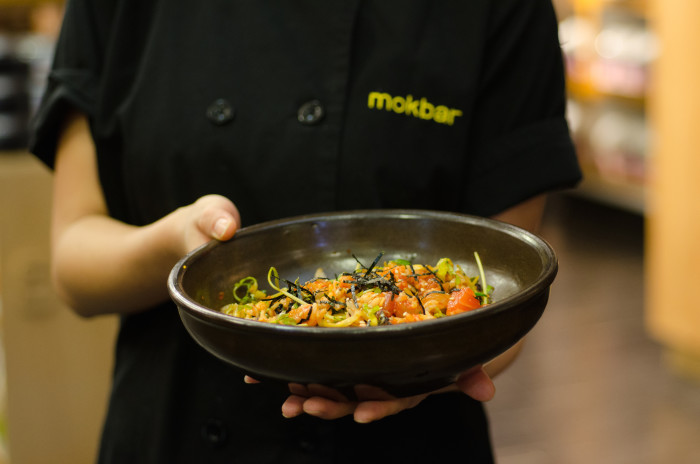 Hwae (Sashimi) Bibimbap
Serves 2
Ingredients:
2 ounces sushi-grade tuna, cut into 1-inch pieces
2 ounces sushi-grade white fish, such as red snapper or yellowtail, cut into 1-inch pieces
2 ounces sushi-grade salmon, cut into 1-inch pieces
2 cups cooked white rice, room temperature
2 tablespoons masago
½ English cucumber, julienne
½ cup sprouts, alfalfa or peashoots
1 cup red leaf lettuce, shredded
2 stalks scallion, chopped
Chojang (apple gochujang dressing)
2 tablespoons gochujang
1 tablespoon Vinho Verde Alvarinho wine
1 tablespoon apple cider vinegar
1 tablespoon sugar
1 teaspoon sesame oil
1 teaspoon garlic, minced
Directions:
In a small bowl, mix ingredients for chojang together.
Separate the 2 cups of rice in separate bowls.
Top with hwae (fish), masago, cucumber, sprouts and red leaf lettuce.
To serve, garnish with scallion and serve dressing on side. Mix dressing with bowl all together.
Chef Choi's Pairing Notes: Bibimbap pairs well with fruity wines, like this Vinho Verde Alvarinho. The subtle sweetness helps tame the spice and in this case, hwae dupdap is almost like a light salad.
Wine Pairing: Vinho Verde wines, like Alvarinho, show great versatility in pairing with a range of flavors and heat and acidity levels. Alvarinho is also a great example of the more premium and structured wines that Vinho Verde can produce from its stock of indigenous varieties. Try these examples:
Pouco Comum Alvarinho: Made from one of Portugal's most noble grape varieties (100 percent Alvarinho), this wine has an aroma that is an intense mix of floral and fruity notes combined with hints of lemonade.
Arca Nova Alvarinho: This wine is fragrant with aromas of lemons and orange blossoms complemented by tropical fruits.
Quinta de Santiago Alvarinho: Quinta da Santiago works exclusively with Alvarinho, making this wine elegant, complex and very unique.
Ask for the Vinho Verde section at your local wine shop, or check out Wine Searcher to find a bottle near you.
Brought to you by our friends at Vinho Verde: