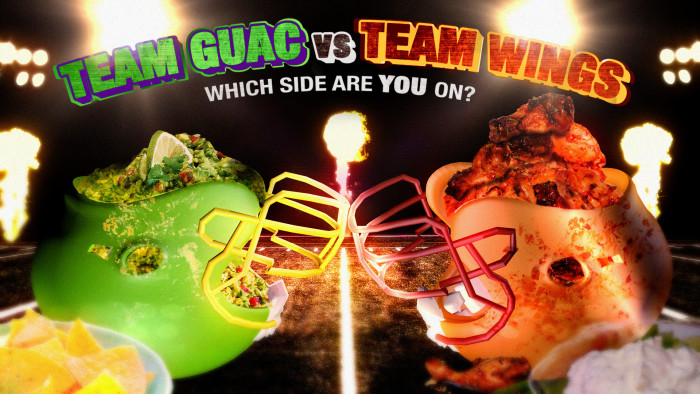 Last year at Super Bowl time, in a nationally televised pregame interview, President Barack Obama was asked to make a crucial decision, one that revealed the commander-in-chief's true allegiances once and for all. Mr. President, which do you prefer: Chicken wings, or chips and guacamole? "Now, that's tough," the president told NBC's Savannah Guthrie. "You know, I'm going to go with chips and guac. I'm a fanatic about guac."
Indeed, it was a big night for Team Guac. Beyond the Obama bump, fans of Gang Green celebrated another major victory on the publicity front as well. A clever debut TV commercial by the trade group Avocados From Mexico reached more than 114 million viewers and created the second-biggest social-media buzz of the Super Bowl with its #FirstDraft hashtag. As a result, avocado imports increased by a reported 25 percent, and U.S. sales spiked to more than 50 million pounds per week. That's a lot of guac!
For poultry partisans, meanwhile, the presidential snub only underscored a somewhat subpar outing for the historically dominant Super Bowl staple. According to the National Chicken Council, Americans consumed an estimated 1.25 billion wings during Super Bowl Sunday in 2015 — the same amount as 2014. Optimistic wings fans might describe these numbers as "steady"; pessimists might say "flat."
This year, Americans can expect a rejuvenated Team Wings heading into the big game on February 7. The latest industry forecast is predicting higher numbers for Super Bowl 50 — 1.3 billion wings, a 3 percent increase over last year's figure.
You know what that means: REMATCH!
We, the avid sports fans and ravenous snackers at Food Republic, want to know which side you're on: Team Guac or Team Wings?
Send us your cheers, jeers, comments and photos via Facebook, Instagram and Twitter. Be sure to include the proper team hashtag: #TeamGuac or #TeamWings. And please add our signature tag: #FRavorites.
May the best snack win!
For recipe ideas, check out these links:
Super Bowl Practice Round: Chicken Wings
Super Bowl Practice Round: Spreads, Dips, Salsas And Guacamoles