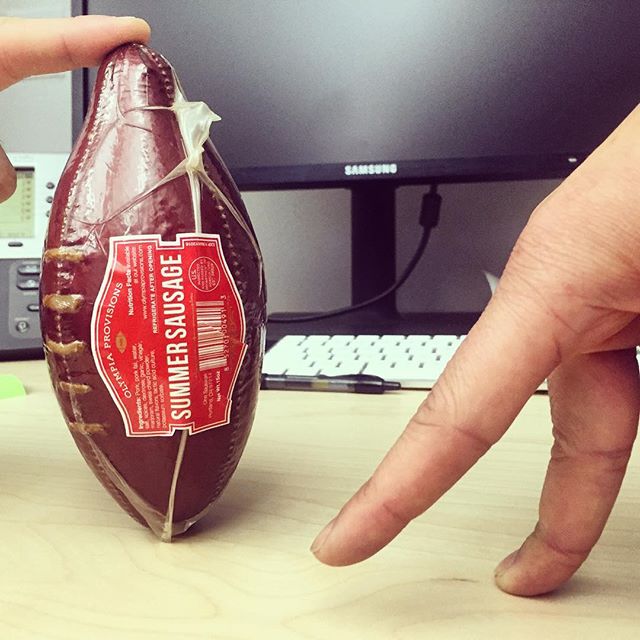 Meet Elias Cairo, champion of cured pork and cultivator of "house flora" at Oregon's first USDA-approved salumeria, Olympia Provisions. His team butchers antibiotic-free Pacific Northwest pork and processes it into damn fine charcuterie using age-old Swiss techniques. Just because he takes his cured pig seriously doesn't mean he can't have a little fun with it come Super Bowl. It turns out that summer sausage, a softer, almost bologna-like fermented creation spiced with garlic, mustard and black pepper, makes a superb if slightly difficult-to-catch football.
"We've always kidded around with the team in the meat shop about creating a summer sausage football because everyone is such a huge sports fan. Our idea was to create our take on sort of a kitschy sports fan classic," says Cairo. "I buy the casings from the Midwest and use our classic OP summer sausage recipe; we taper-stitch the casing into the shape of a football, stuff and smoke it. Our plant manager Josh throws an epic Super Bowl party every year, and it's become tradition for the entire OP meat shop family to celebrate that way: chili, nachos, wings and now our summer sausage football."
Cairo's favorite way to serve the football: peel, slice into rounds and serve with crackers, mustard and pickled or raw onions. While you're obtaining this actual pigskin, order OP's Game Day Grillin' pack and get brats, franks, kielbasa, a hefty stick each of "manly spiced" navarre and soppressata of the finest quality, plus not one but TWO beer koozies. Cairo's got your back.