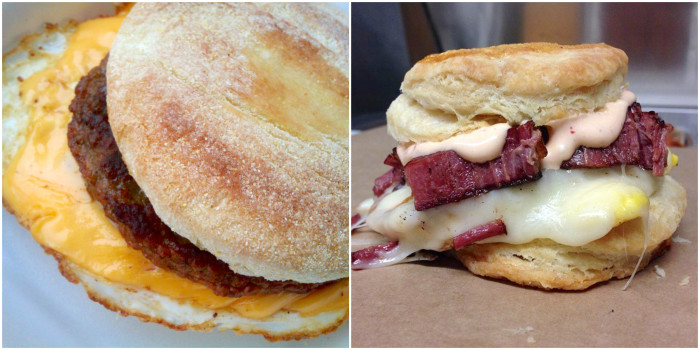 Let's start with a disclaimer: There is absolutely, positively nothing wrong with a standard deli breakfast sandwich of bacon, sausage or ham, a griddled egg and slice of American cheese on a white sandwich roll, English muffin or bagel. New York City has a lot of delis — big, small, clean, grimy, fancy, weird sign, sometimes with a resident cat. Any of these places churn out this delicious, uncomplicated morning sustenance by the dozen. Then L.A. comes in with insanely photogenic loaded breakfast sandwiches that seriously undermine both our deli and brunch cultures. We New Yorkers kind of thought we had that game down. Why mess with perfection, right?
If people liked the classic — proven beyond a shadow of doubt by the success of Taco Bell's new breakfast Crunchwraps and waffle tacos, Chick-fil-A's biscuit sandwiches and McDonald's reported fourth-quarter earnings following the October launch of its all-day breakfast campaign— they'll LOVE the new and improved, right? Well, in the past few years since Los Angeles became an outspoken proponent of the breakfast sandwich, it's starting to look like we New Yorkers never really had game to begin with. How's even the most perfect deli sausage, egg 'n cheese (complete with delicious congealed smudge of cheese you peel off the foil) supposed to compete with Eggslut's version?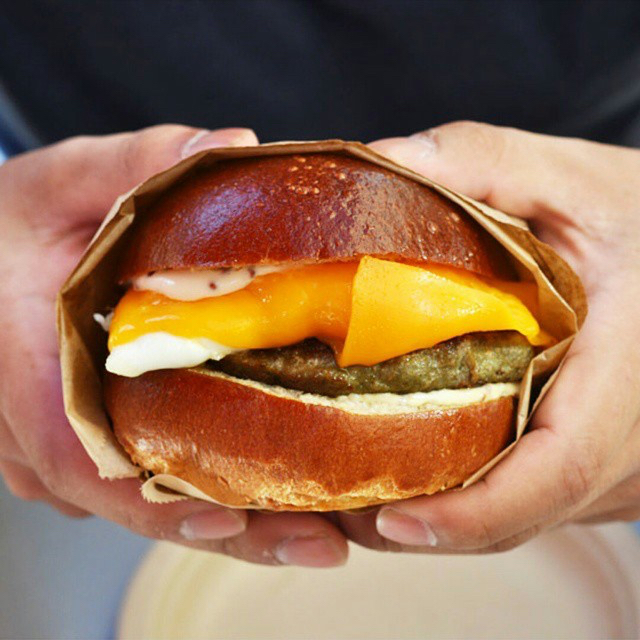 It's like a model-actor with a cool name who's also working on a singing career and has 50,000 Instagram followers. You can't really wake up on the wrong side of that. The turkey sausage is made in house with product from a 90-year-old all-natural turkey farm an hour away. A squirt of ketchup, perhaps? Pshhh, not when you have honey mustard aioli. And don't bother with the sandwich roll, cause if you're cheating on paleo with white bread, at least make it brioche. Gjelina's breakfast sandwich includes braised kale and melted Gruyère, and the bialy egg sandwich sports harissa ketchup. Division 3 slings mini biscuit sliders with corned beef, jack cheese and over-mediums. New York has its fair share of fancy egg sandwiches, too, but none with 50,000 Instagram followers.
Now, L.A. already has the breakfast burrito locked down — we don't even pretend to try on that one. For all intents and purposes, you cannot get a great breakfast burrito here in NYC. So why encroach upon our well-established sandwich turf? And perhaps New York did borrow L.A.'s whole "perfect fast burger" concept…then it quickly went national and then worldwide (have a Shroomburger in Kuwait!). But even Shake Shack boasts an only slightly upgraded A.M. special without getting all fontina, rosemary and arugula about it.
By the way, does that fancy Eggslut thing come with a blue and white Greek-patterned paper cup of coffee and friendly glare from the greatest mouse-hunter this side of the Hudson? It does not, no.
L.A. can have its beautiful weather, its year-round produce and its perfectly pornographic breakfast sandwiches. Here in NYC, we've got moxie.