Sitting Down? Breakfast Arrives At The Grand Central Station Shake Shack.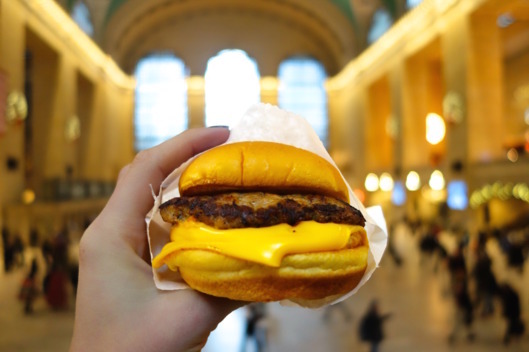 Potato buns. Sausage. Bacon. American cheese. Eggs. Are you hungry yet? That's too bad, you'll have to wait for tomorrow morning, when you can get one of Shake Shack's new breakfast sandwiches at their Grand Central Terminal location (served weekdays from 7:00-10:30 a.m.).
My office is near Grand Central. It's convenient to get to and from, but the cons of the neighborhood tend to outweigh the pros: tourists that all seem to be venturing into a big city for the first time (judging by the way they navigate the sidewalk), old ladies that grab you to steady themselves as they almost fall onto the subway tracks and deli after deli that are all basically the same. Those delis are fine, and I do love a nice sausage, egg and cheese some (many) mornings, but those sandwiches don't get me excited.
You know what does get me excited? An epic sausage egg and cheese sandwich. You know where you can get an epic sausage egg and cheese as of now? Shake Shack inside Grand Central. Do you know what I'm doing on my way to work tomorrow? And possibly the next day? Watch as I slowly turn into the breakfast version of Violet Beauregarde.
More Shake Shack on Food Republic: