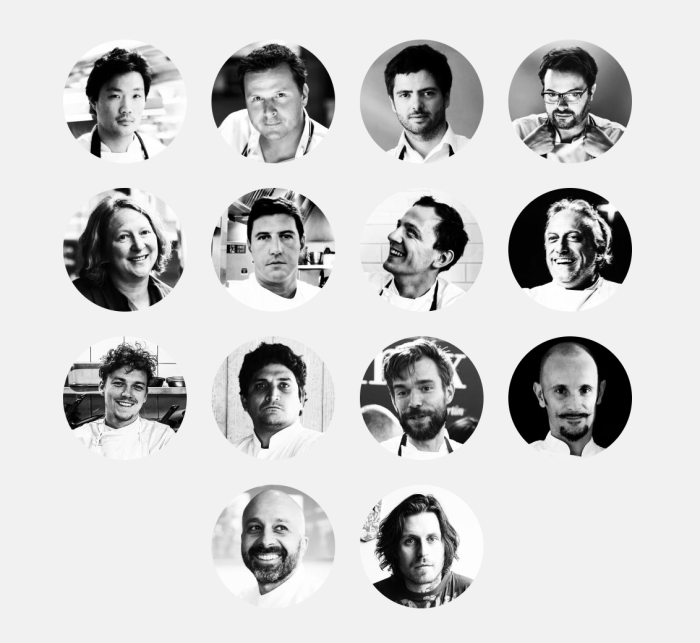 Gelinaz! has been responsible for two of the more memorable and extravagant chef gatherings in the past couple of years. The collective of worldwide cutting-edge chefs famously surprised Wylie Dufresne in 2014 at his now-shuttered wd~50 for a tribute meal that included over 30 chefs from around the globe. Last year, the group was behind an unprecedented chef swap — 37 acclaimed chefs traveled to another country and cooked in another restaurant's kitchen for one night in an event titled "The Grand Gelinaz! Shuffle."
So what new collaborations could Gelinaz! possibly have planned for the upcoming year? The collective announced today that 14 of the world's most reputable chefs will join forces in London's Shoreditch for a one-of-a-kind culinary adventure called Walk With Us London. A total of 100 guests (tickets are now available) will have the privilege of taking part in one of two meals, hosted separately yet simultaneously at the Clove Club and Lyle's. The participating chefs — listed below — will be paired up at random at one of the two restaurants, using the same ingredients, with a total of seven chefs cooking at each. Guests at each restaurant will be presented with a total of eight starters, four mains and four desserts, promising a cross-cultural plethora of flavor and style. The restaurant-chef pairings will not be announced until the day of the event — Sunday, February 28.
The London edition of Walk With Us will be just the first installment of a four-part major city event series this year. The other three cities have yet to be revealed, naturally.
Walk With Us London: Sunday, February 28
U.K. (London)
Claude Bosi — Hibiscus
Margot Henderson — Rochelle Canteen
Andrew Wong — A Wong
Lee Tiernan — Black Axe Mangal
Italy

Enrico Crippa — Piazza Duomo (Alba)
Niko Romito — Reale (Castel Di Sangro)
Davide Scabin — Combal Zero (Rivoli)
Belgium

Christophe Hardiquest — Bon Bon (Brussels)
Austria

Philip Rachinger — Mühltalhof (Neufelden)
France

Mauro Colagreco — Mirazur (Menton)
Mathieu Rostaing Tayard — Café Sillon (Lyon)
Sweden

Petter Nilsson — Spritmuseum (Stockholm)