Dooney & Bourke Made A Chef's Purse For Roxanne Spruance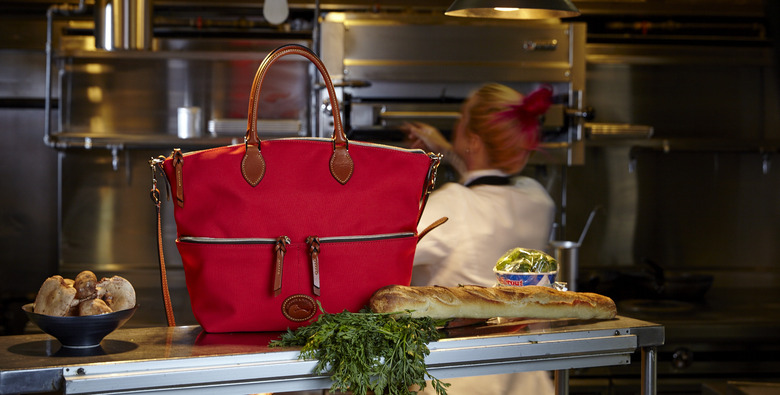 In the day and age of well-known fashion labels teaming up with awesome chefs, a bag has emerged to serve the lady cook in your life. Fine accessory maker Dooney & Bourke has a new series of purses inspired by women artisans who work with their hands, including chef Roxanne Spruance of New York City's contemporary French-American restaurant Kingsley. D&B's Roxy bag boasts ample space, sturdy leather, several deep pockets and a classic design that transitions seamlessly from lunch service to a private cheffing gig. In fact, that's where the Roxy bag came from.
"I fell into the relationship with Dooney & Bourke as I was freelancing while getting Kingsley together," Spruance explains in an email. "I was private-cheffing for Peter Dooney on his yacht in the Virgin Islands, which turned into a couple more events in Bermuda, Greenwich, and Watch Hill, Rhode Island.  Both Dooney & Bourke and Kingsley value quality, craftmanship and attention to detail. The Roxy bag is inspired by my quest for the best ingredients."
Sounds like the gig was a success.
Any chef will tell you that versatility is of the utmost importance with any gear, from coats to footwear to the bags they use to carry their many implements of destruction. Ideally, it shouldn't force you to compromise your personal style.
"My style is ever-evolving, much like my food," adds Spruance, "but I always try to be ready for any situation. You never know when you have to go from being in the kitchen to a photo shoot to a meeting with an editor,to TV and then running back to break down a pig."
And should she have to break down a pig in close quarters with her fabulous accessory, might we recommend the easily wiped-down nylon model?