Craving A Burger In NYC? That'll Be $20.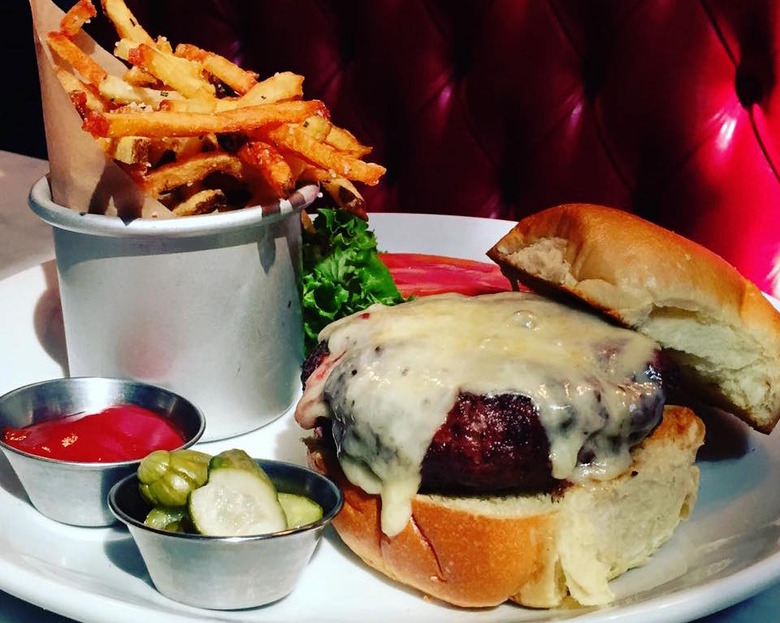 Gone are the days when you could walk into an NYC neighborhood bistro, order a burger and a beer on tap, drop a $20 bill on the table and perhaps even expect some change. At the same time as fast-food chains are competing with one another to lower the prices of their menu items, the price of a hamburger at a sit-down restaurant in New York City has never been higher. Once seen as a basic alternative to the hot dog — a quick grab 'n go bite — the burger has reached unprecedented levels of popularity on restaurant menus throughout the city, and the cost reflects that.
Let's clarify one thing here. We're not talking about any of the absurdly gimmicky burgers offered for hundreds of dollars as novelty items and Instagram fodder for the rich and careless. We're not even talking about the city's plentiful "chef burgers," which consist of some of NYC's top chefs offering premium cuts of ground meat, often dressed up with ingredients like truffles, rare cheeses and foie gras. Those can regularly run in the $30-40 range. Daniel Boulud is credited with ushering in this era with his Original DB Burger ($35), consisting of a sirloin burger filled with braised short ribs and foie gras and served on a black truffle Parmesan bun. Minetta Tavern's $32 Black Label Burger is another popular one that falls into this category. Steakhouses have also been known to throw together ground meat trimmings and serve a limited number of pricey burgers each night. But let's move past these extravagant examples and focus on burgers in their simplest form.
Food Republic HQ is located near Herald Square, right around the corner from Madison Square Garden, in bustling midtown Manhattan. A walk around exactly one square block near our office earlier this week turned up four different sit-down restaurants with a burger on the menu. Average cost? $19.12. That's before tax and tip. Add on cheese, bacon and/or avocado or substitute a gluten-free bun and the cost approaches $30. For a burger. The burger at Pennsylvania 6, for example, sets you back at least $19. Want bacon? Add another $2. On the lower end of the spectrum, Friedman's burger is only $15, but that's before any possible additions, including onions, mushrooms or cheese ($1 each), avocado ($2) and bacon ($2.50).
Sure, the argument can be made that this one neighborhood is not indicative of an entire city. But the fact remains that these rather pedestrian (by both reviewers' and the public's standards) restaurants are quickly setting new expectations for how much can now be charged for what was once known as the simplest of dishes. And it's not only in this neighborhood; colleagues report seeing similarly high-priced burgers all over the city at nondescript restaurants and respected neighborhood joints alike — FR staff's beloved Prime Meats in Carroll Gardens recently was charging $23 for its burger, before cheese or bacon (each $3 extra). There is an increasingly growing disparity in price between an inexpensive, low-quality burger from a chain restaurant and one of these burgers. Any sort of middle ground is fast disappearing.
So who or what is to blame for these inflated burger costs? Perhaps it's just a sign of the times, when dining out at a restaurant is more expensive than ever, and we're simply getting sticker shock from a food item many of us have always viewed as basic. Maybe it has something to do with the increasing minimum-wage laws that recently took effect in NYC restaurants and have owners experimenting with no-tipping policies and increased menu prices to maintain profits. A quick scan of menus at various restaurants serving burgers in large cities like Chicago and Los Angeles reveals that the prices in New York City are, in fact, an anomaly. One thing is for sure: Famed beef supplier Pat LaFrieda and his contemporaries are certainly enjoying the city's appetite for high-priced ground beef.