Here's A Japanese Whisky Cocktail That Won't Torpedo Your Evening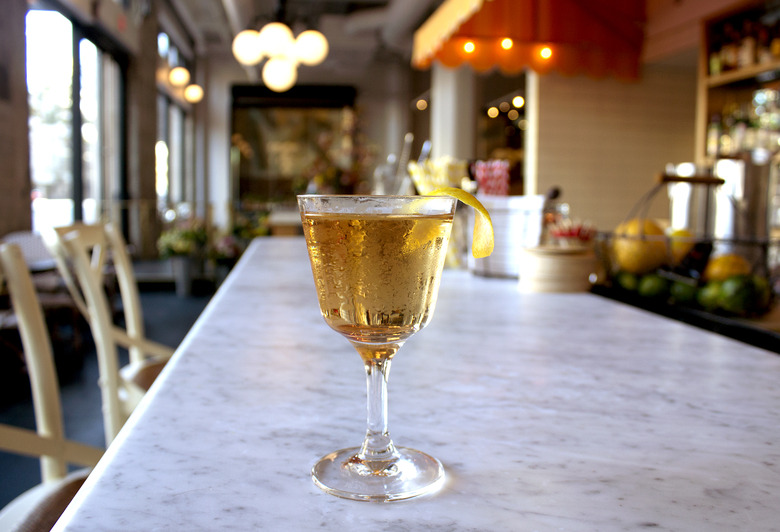 The complexity of an elegant stirred cocktail is one of life's great pleasures, though it can pack a punch. At San Francisco's recently opened Bon Marché, bar director Eric Quilty built the drinks menu with a focus on lower-proof spirits like sherries, vermouths and aperitifs to lessen the blow and allow guests to imbibe a little longer, should they fancy another. Named after French films and coupled with lines from them, the drinks on the menu give off an air of romanticism or fascination, perhaps making one's selection a bit more guided by story than a list of ingredients.
One of the top sellers is a Japanese whisky cocktail called Le Samouräi. "It satisfies both the whisky drinkers and even the martini drinkers who want something a little different but are not ready to drink heavier whisky cocktails," says Quilty. Starting with two Oregon-based spirits — Mirabelle Plum Liqueur and the Petal and Thorn aperitif — Quilty marries fragrant notes of plum with chamomile and citrus peels, to which he adds one ounce of White Oak Distillery's Akashi Grain Whisky, which brings just enough bite to carry the drink.
The result is remarkably light and delicate for a spirited whisky drink. It's definitely dry enough to be mistaken for a martini, but it's also cleansing and floral. It works beautifully with the restaurant's brasserie fare, and while one might expect to see a three-Soylent lunch over a three-martini lunch in San Francisco these days, I'm not surprised that this low-ABV sipper is a hit. Sometimes a little austerity goes a long way.
Le Samouräi
Servings: 1 cocktail
1 ounce Akashi White Oak Grain Whisky
1/2 ounce Clear Creek Mirabelle Plum Liqueur
1/2 ounce Dolin Dry Vermouth
1/2 ounce Petal and Thorn Apertif
Directions:
Combine ingredients into a chilled mixing glass with ice.
Stir and strain into a chilled Nick & Nora cocktail glass.
Garnish with a lemon twist.