2015: Best Drinking Experiences. The Ones We Remember. International Edition.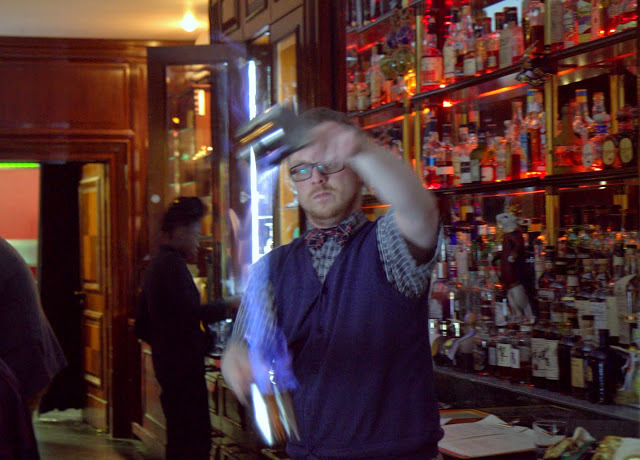 As the fog of New Year revelry subsided, we asked some of our writers to list their top drinking experiences while traveling abroad in 2015. Here are their picks:Fragrances and the Curtain Club (Berlin, Germany)
Centrally located in Berlin, two of the city's best bars are both in the Ritz-Carlton Berlin, both run by bar manager Arnd Heissen. The first, Fragrances, is an upscale cocktail sanctuary and one of the world's show-stopping bar concepts, a museum-like exhibit with spirits bottles and ingredients displayed next to fragrances that inspired each cocktail, from Giorgio Armani to Yves Saint Laurent. In the main lobby, the Curtain Club is a completely different experience, but no less wonderful. Where Fragrances is refined, Curtain Club's long bar, dark woods and fat armchairs buzz with locals and travelers, set to live music around the grand piano. Heissen and his talented team of international bartenders keep the vibe playful with an only-in-Berlin sense of humor and the most engaging presentation of a classic Blue Blazer cocktail anywhere set to music (the lights go down and each bartender has his or her own song and choreographed interpretation of the flaming 1800s drink).
—Virginia MillerLe Syndicat, Mabel, Little Red Door and Le Mary Celeste (Paris, France)
Returning from Paris just four days before the horrors that happened November 13, I am even more eager to cheer on the thriving cocktail/bar scene. I would give a four-bar tie to cocktail havens where I experienced the most gracious service I've ever had in Paris. Le Syndicat wows with inventive cocktails (like Calvados with fresh carrot and celery juice), French-only spirits (Cognac, Armagnac, absinthe, pastis, eaux de vie, etc.) and bartenders with a cheeky sense of humor in an intimate space. Mabel is a husband-and-wife-run gem (he's from France, she's from New Jersey) in the back of a grilled cheese shop: Cofounder/bar manager Joseph Akhavan crafts complex, delicious cocktails in the back bar while his wife grills up oozing cheese sandwiches. Little Red Door offered the warmest welcome, thanks to Remy Savage and his team. The bar is hidden behind a red door (naturally), the kind of place where bartenders sing along to tunes as they craft expert cocktails from a broad range of spirits. Le Mary Celeste is a charming, romantic spot in the Marais, with drinkable cocktails that pair beautifully with French oysters and small plates featuring ingredients from Mexico to India.
—Virginia MillerHotel Michelberger (Berlin, Germany)
Berlin is starting to develop a serious cocktail scene, and one of the leaders is the Hotel Michelberger, a beyond cool hipstered-out hotel located just below the Warschauer Straße U-Bahn station. Just this year, the hotel shifted gears with its cocktail program, adopting the slogan "Small is beautiful" and featuring artisanal ingredients, including a few special fruit brandies made in Berlin. It's a beautiful setting, with completely unique design, a place to see and be seen while sipping tasty and well-made drinks.
—Rachel SignerLe Vin Papillon (Montreal, Canada)
One of Montreal's best spots for drinking (and eating) is this casual and hip wine bar opened by a former Joe Beef server. Le Vin Papillon serves a rotating list of low-alcohol, fresh, easy-drinking natural wines, and the incredibly knowledgeable staff knows each bottle inside and out. There's an incredible scene here in the summer when the patio is open and chefs are grilling Quebecois asparagus and meats au plein air.
—Rachel SignerEl Greco (Athens, Greece)
My best drinking experience this year was one that I thankfully never had. Hearing my father and I converse with each other in English as we strolled down a quiet street in Athens, Greece, last month, an elderly man came up to us, introduced himself as Theodore and struck up a friendly discussion about our city of origin and our reason for visiting Greece. We replied truthfully that we lived in New York and were in town for my grandmother's funeral (common sense and first grade–level "don't talk to strangers" lessons be damned).
Wouldn't you know it, but the local excitedly informed us that his brother runs a restaurant in Astoria, before adding — with an impressive amount of pathos — that his mother had recently passed away as well. Insisting on writing down the name and address of this family-operated "restaurant" for us at a "shop he owned down the street," the man led us to a minuscule bar, where we proceeded to find ourselves with a single bartender and three attractive women dressed along the lines of, er, ladies of the night.
The man offered us drinks, persisting on serving us increasingly aggressively each time we politely refused (at this point, we had — finally — realized that the fix was in). After forcibly leaving the premises — our host had transformed from jovial bystander to threatening enforcer in a matter of minutes — my father and I immediately Googled the bar. It appears that good ol' Theo (aka George aka Nicholas) has been running this scam for years, pressuring unsuspecting visitors to drink at the bar, while also having the scantily-clad females request to be bought drinks, before dropping a check charging between 30 and 50 euros per drink (there have also been allegations of the drinks being drugged). Glad that our dimwitted selves eventually came to our senses and narrowly avoided some sort of father-son brothel-bonding bar night, my father and I giggled all the way back to our hotel...promising each other to "never tell Mom."
—George Embiricos