Now Slurping In Oakland: Ramen For The Moment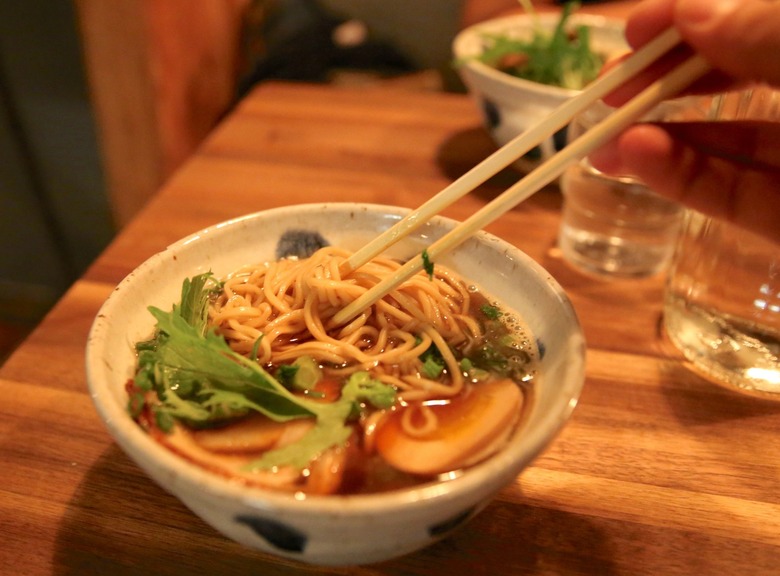 (Photos: Ethan Fixell
Forget what you know about ramen. While traditional Japanese noodle houses serve specific staple dishes all year round, the owners of Oakland, California's Ramen Shop have pledged to use only fresh and seasonal ingredients for a constantly evolving menu that evokes a new level of mindfulness.
Ramen Shop co-owner and chef Jerry Jaksich had no intention of learning to cook when he moved to Japan to be a teacher more than a decade ago. Homesick and missing his girlfriend, Jaksich discovered ramen as comfort food. "I couldn't stop eating it," he explains. "Eventually, I quit my job and called up like, 20 different restaurants through the old-school classified ads in a newspaper." He found work at an izakaya and learned all he could about Japanese cooking before returning to the States.
Back at home, Jaksich began bartending at Chez Panisse — the critically acclaimed restaurant owned by food activist Alice Waters — where he would meet future partners Rayneil De Guzman and Sam White. When White returned from a trip to Japan using Jaksich's travel recommendations, he was floored: "He came back saying, 'Dude...out of all the places you recommended — all of the famous sushi spots — the $8 ramen in shitty little restaurants was the highlight of my trip,'" Jaksich recalls. Overhearing this conversation, De Guzman mentioned his love for cooking ramen, which instantly bonded the three noodle lovers. "Every shift, customers would not get their drinks because I would be sitting there talking to Sam and Ray about ramen," says Jaksich, who moved back to Japan before long to delve deeper into the art of the noodle soup. Upon his return in January 2013, the three aspiring restaurateurs opened Ramen Shop.
Despite the casual reputation of its namesake dish, Ramen Shop has always shared more in common with fine dining than fast food. Rather than slurping down a pile of noodles in five minutes before running off, guests are encouraged to interact with employees for a more immersive experience. "Every time I drop off a bowl," Jaksich says, "I'll explain, 'Listen, you can actually get all of these ingredients at your local farmers' market. You can get eggs from this farm, and you cook them for this long.' To make the customers [more aware] and better cooks through our interactions is super-important." Never before have ramen diners been so engaged in the moment.
In addition to offering hands-on service that educates and challenges consumers, Ramen Shop also offers a more thoughtful and complete menu than most bare-bones ramen joints. The available appetizers (such as smoked black cod and tempura-fried tofu-stuffed squash blossom), cocktails (some of which feature artisanal liquor from St. George Spirits in nearby Alameda), and beer ranging from regional imperial stouts to Belgian sours are not only numerous — they are painstakingly crafted and curated. "We wanted to elevate not only the experience, but also the quality of the ingredients," says Jaksich. 
And the availability of these ingredients dictates the dishes on Ramen Shop's constantly changing menu, which may feature pork shoyu ramen with broccoli rabe and chanterelle mushrooms, vegetarian Meyer lemon ramen with shiitake and king oyster mushrooms or Hokkaido-style miso ramen with sweet peppers and Japanese eggplant. Traditional Japanese ramen restaurants source their produce from commodity farms to provide the same bowls of ramen in August as in January, but Jaksich winces at this, likening it to "tunnel vision" as opposed to Ramen Shop's "freestyle" approach. "We can't have tomatoes in the wintertime and we can't have squash in the summertime," he explains of Ramen Shop's philosophy. "For instance, I'm going to the market in 20 minutes, picking up all the ingredients that I see and then adjusting the menu accordingly."
The ingredients aren't only seasonal, they're local, which helps further connect customers to the experience. Everything from the beverages to the woodwork adorning the restaurant comes from Bay Area suppliers. "We wanted to [build the restaurant] with local artists, growers, distillers and brewers to create a community," explains Jaksich. "We work with Moonlight and Magnolia and those same brewers are constantly coming in to eat. Ramen Shop became a great representation of Oakland because it's all Bay Area residents that are providing stuff for us, and in return we're providing food."
Using local suppliers only strengthens the food quality. "We go to a farm and see what they're doing, and it helps us treat the ingredients with more respect," Jaksich explains. "In return, when they come to our place, they [say], 'Wow...I was inspired by that meal. Is there anything I can grow for you in order to enhance your ramen?' That symbiotic relationship is so important to take the cooking to the next level."
But buying and cooking local does come at a cost, and some Oakland residents aren't ready to accept a $17 bowl of ramen. Just as with tacos, burgers or any other formerly "peasant" or "fast" food that made its way into popular restaurants, consumers need time to adjust. In the meantime, Jaksich defends the price point, saying, "If people want that $10 bowl of ramen, that's fine with us. But there are people searching for quality of ingredients. You can taste the difference in organically grown scallions." He also makes a point about relativity: "Spaghetti Carbonara at the Olive Garden costs just as much as our ramen. What goes into a bowl of ramen is much more than what goes into a bowl of spaghetti. It's the stigma attached to ramen that's creating the uproar."
Of course, the ideals that Ramen Shop's three founders strive for aren't novel – they proudly draw many of their principles from their Slow Food–championing alma mater, Chez Panisse. "Chez taught us how to know good food from bad food, and how to utilize good ingredients," Jaksich heartily acknowledges. "Also, the simplicity of cooking with good ingredients. Some things just don't need to be tampered with."
To Jaksich's delight, it seems that the "local, seasonal" values that Chez Panisse has promoted for over 40 years continue to pick up steam everywhere — even in Japan. "The reason I was able to work at this really great ramen shop in Japan was because of the story I told them about Chez Panisse," says Jaksich. "I told them that there are restaurants using seasonal ingredients, and the chef was like, 'That's what I've always wanted to do. It's just...no one has broken that mold yet.'" And yet Japanese ramen shops are now starting to do just that: "Gentei" ramen, limited-edition dishes available only for weeks or even days at a time, are becoming quite common.
Time will tell if mindful cooking and eating will become the norm at ramen shops across the globe. But until then, there's already a place in Oakland where one can sit in front of a steaming bowl of hearty Hokkaido miso ramen and contemplate, for a moment, the origins of each fresh, local ingredient before savoring them all in one harmonious slurp.