Bolivian Food Primer: 10 Essential Dishes And Drinks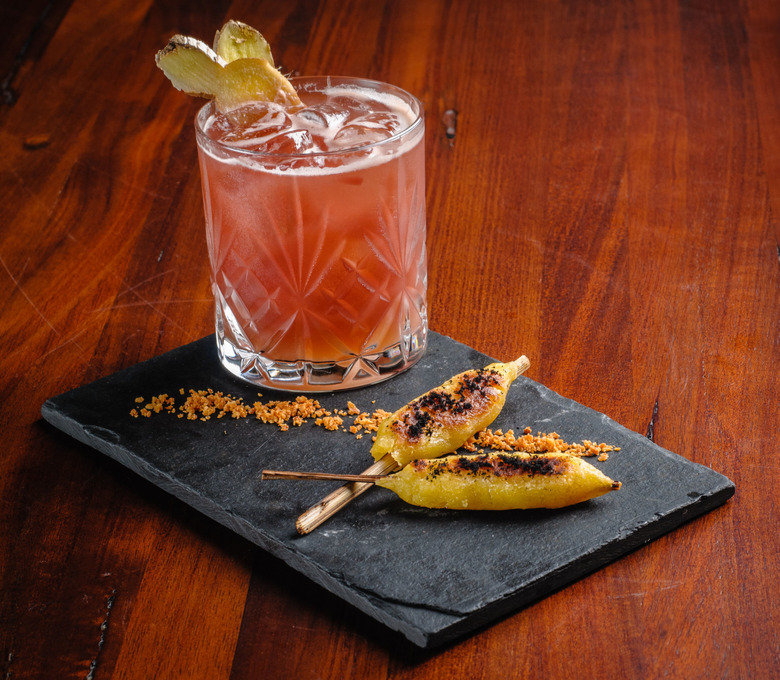 You get your pick of the freshest cuts of fish at Mercado Rodriguez in La Paz. (Photo: Keith Flanaga
What is Bolivian food? Given that it comes from one of the least-visited South American countries, you probably don't have a clue. Look to the country's understated restaurant scene, with its reputation for plain meat-and-potato menus, and you likely won't find many answers, either.
But stroll through Mercado Rodriguez in La Paz, Bolivia's high-altitude metropolis, and you'll find a bazaar that lays the groundwork for the country's broader palette. Here, a vast array of vibrant produce and proteins are splayed by street vendors on equally vibrant textiles, a testament to the country's agricultural prowess. If meat-and-potato quality is the height of Bolivia's restaurant scene, its benchmark for cultural flavor is as varied as locally cured llama meat and more than 200 varieties of potato, not to mention myriad maize, carrots of all colors, more than 1,200 types of chilies and varietal quinoas, naturally.
For any chef, Bolivia's agricultural diversity suggests nothing less than full-flavor potential. Still, Bolivia has no Alex Atala, no Gastón Acurio (no Bolivia: The Cookbook, either). Unlike Brazil, Peru and other neighboring countries, the nation's cuisine has few culinary champions — no one to bolster the cuisine's name before a global audience, or even to piece together its heritage.
That changed a bit in 2013, when Claus Meyer, the Danish celebrity chef and cofounder of Noma in Copenhagen, opened Gustu in La Paz, bringing international attention to Bolivia's culinary heritage. While the restaurant cooks up the country's first florid dishes using exclusively native ingredients (winning awards, as it does), it recognizes that its platform, Bolivian cuisine, is worth boasting about all on its own. Gustu's team has pulled together some of the country's brightest, most cultural flavors, invigorating a cuisine that already exists, albeit quietly.
In the staff's words, here's a starter list of the most notable Bolivian eats and drinks you should know:
Sanduíche de Chola (pork sandwich)
The chola is a classic sandwich from La Paz. "We've had a lady selling chola in our neighborhood for over 52 years," says Kamilla Seidler, Gustu's executive chef. "It's a bun stuffed with ham, but you know, ham that's slow-cooked until it's crispy — with a nice pickle of onions and ahi chili." The soft bun, crunchy pork skin and spicy chili sauce is, as Seidler affirms, delicious.
Anticucho (skewered beef hearts)
Finger foods tend to be messy, so luckily antihucho only comes out at night. "It's pretty much a skewer of beef heart with potatoes," says Seidler. "It's grilled, so you have a lot of flavor from the flames and aromas of the barbecue." Of course, this dish is nothing without its sticky, spicy peanut sauce, and it's among the cheaper Bolivian eats at about $1 a skewer.
Silpancho
This dish comes from Cochabamba, the valleys of Bolivia. Says Seidler, "It's like a huge, very, very flat Milanese made of beef or llama that's breaded." The breaded meat is then served with a beetroot and carrot salad topped with fried eggs, rice and potatoes. "You have pretty much everything in one dish — yes, it's a lot of food," says Seidler.
Aji de Fideos (spicy calf tongue)
"We're not talking about a supermarket chili, or even an Asian chili, that you blend up into a sauce," clarifies Seidler, when describing the yellow chili sauce used to cook the traditional calf tongue dish. "We're talking about aromatic, warmer Bolivian flavors, much more round than just spicy." Once the calf tongue is cooked in the "ahi" sauce, it's served alongside chuño, a dehydrated potato, and a classic Bolivian salsa of tomato, onion and coriander. Says Seidler, "The salsa adds a little bit of freshness to mix up the heavy spice."
Cuñapé (cheesy breads)
Coffee lovers, this might be your new mate. Coming from Santa Cruz, an eastern Bolivian city, a cuñapé is the snack to eat in the afternoon alongside a cup of coffee. "I wouldn't say cakes, because they're not sweet, but you have these little buns that are made with cheese baked inside yuca flour," says Seidler. "Rip it apart," she says. "It's delicious."
Sonso de yuca
"Sonso is like mashed potatoes, but of yuca mixed with cheese," says Seidler. She admits it's one of her favorites, but then again, can't everyone get behind any form of mashed potato? Especially sonso, which is made on an open-fire grill, allowing a smoky barbecue flavor to blend with the gooey cheese.
Chancho a la Cruz (whole hog, slow-cooked)
A whole hog is slow-cooked on a cross, but smoked, and not over a fire. "It takes about 8 to 12 hours to cook, so you put it on in the morning," explains Seidler. "At night, there's a celebration when you cut it up." Just call it Bolivia's version of a party platter.
Humintas (baked tamales)
Sure, there are variations of this dish with different names all over Latin America, but in Bolivia, it's sweet and never savory. "Sweet corn is grated fresh and mixed with cinnamon, and in some cases raisins or sugar, with pieces of cheese in the middle," says Seidler. "Then it's packed in the corn husk, where it's either grilled or steamed." It's part of a Bolivian breakfast, or an afternoon snack.
Chuflay (traditional mixed drink)
While fancy cocktails are uncommon in Bolivia, the Chufly is one of the country's most traditional mixed drinks. It's made with ginger ale and singani, a native spirit distilled from white Muscat de Alejandría grapes, both poured over ice. "It's very simple, but it's very flavorful," says Darren Armstrong, Gustu's head sommelier. "Ultimately it's spicy, sweet and fruity that you're getting with this drink."
Mocochinchi
Armstrong calls this drink simple, but the process wouldn't suggest it. "It's made with the pits of peaches — ones with a little bit of flesh still on them — that have been dehydrated," he explains. "The dehydrated pits are then cooked in water and boiled, usually with cloves, cardamom and cinnamon, or whatever is available." The liquid is then cooled down and served right on the street. Usually, a pit is served right in the glass itself, too. Says Armstrong, "The customer will usually drink it quickly and then will chew on the peach pit, pulling off that last bit of flesh with all of the spices intact."